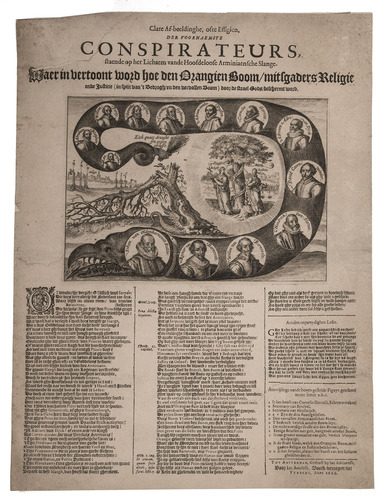 [MAURITS, Prince of Orange].
Clare af-beeldinghe, ofte effigien, der voornaemste conspirateurs, staende op het lichaem vande hoofdeloose Arminiaensche slange. Waer in vertoont word hoe den orangien boom, mitsgaders religie ende justitie (in spijt van 't bedrogh, en den vervallen boom) door de strael Gods, beschermt word.
Utrecht, Jan Amelisz. (printed by Jan Adrieansz. in Amsterdam), 1623. 1mo. Broadsheet (41 x 31 cm), with engraved illustration (16 x 22.5 cm), letterpress title at the head and a letterpress poem in 3 columns below.
€ 550
Popular allegorical print on the failed attempt to assassinate Maurits of Nassau, Prince of Orange, in 1623. The portraits of the conspirators, who were all Arminians, are displayed on a decapitated snake. The body of the dead snake encircles two trees, the felled tree of Arminianism, with Deceit cleaving to its trunk, and the Orange tree flanked by Religion and Justice and protected by divine light. At the left in the picture, the heads of the conspirators are displayed on pikes around the gallows.
A heated theological and political conflict had raged in the Low Countries between the Arminians (from 1610 also called Remonstrants) and Gomarists for more than a decade when it came to a head with the Synod of Dort (1618/19), which decided in favour of the Gomarists. The Synod led to the 1619 execution of the Republic's greatest statesman Johan van Oldenbarnevelt, who had supported the Arminian cause. In revenge his sons Reinier and Willem conspired to assassinate the (Gomarist) Dutch stadholder Maurits of Nassau, Prince of Orange. Other prominent members of Dutch society who had political, religious or personal grudges against the Prince lent their support. The plot was betrayed in February 1623, and the conspirators arrested and executed from March to May.
Some unobtrusively restored tears, but otherwise in good condition. Atlas van Stolk 1560; Muller, Historieplaten 1479.
Related Subjects: