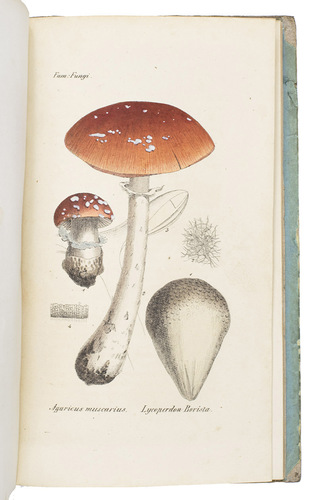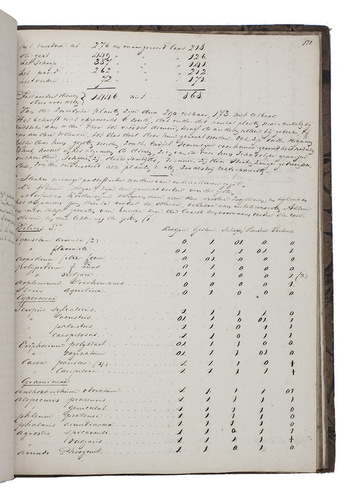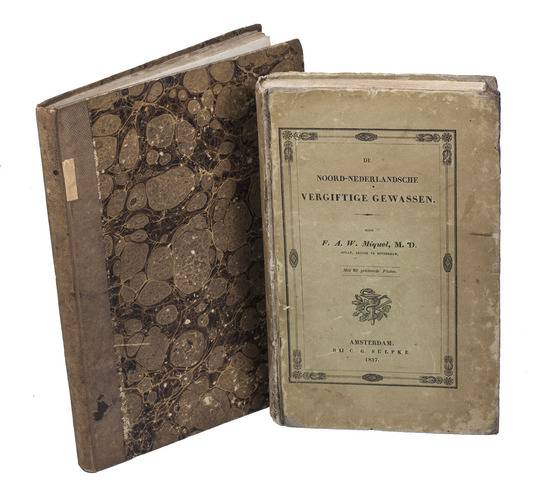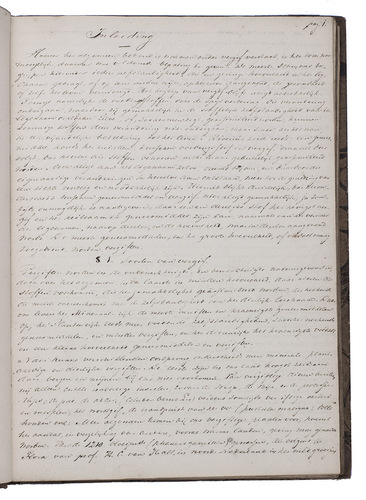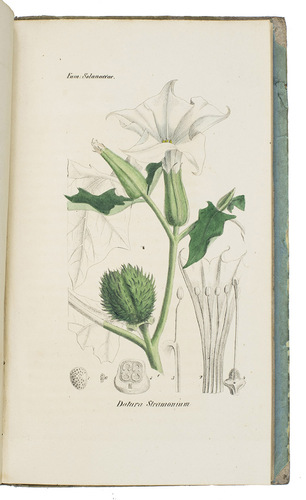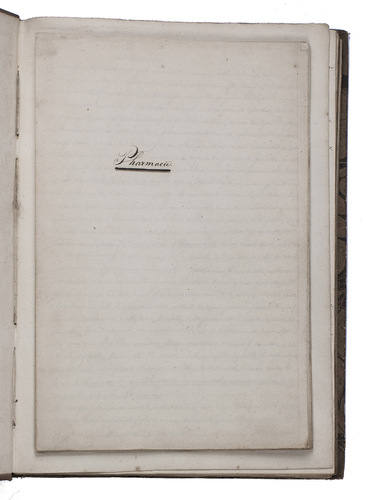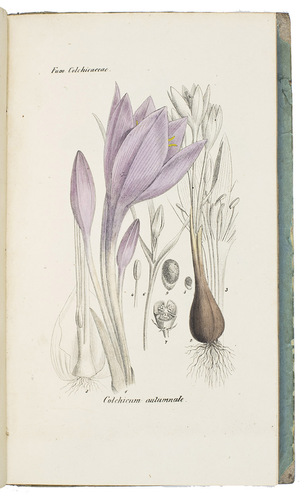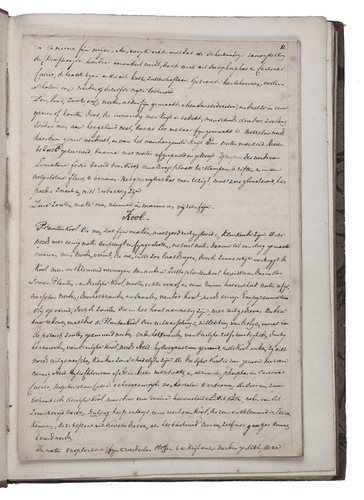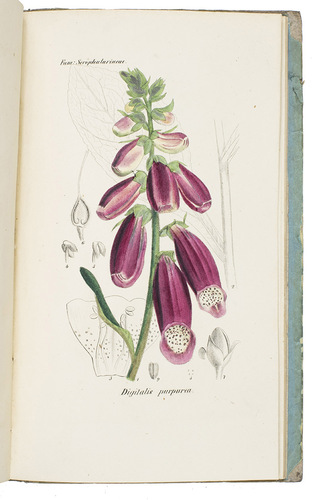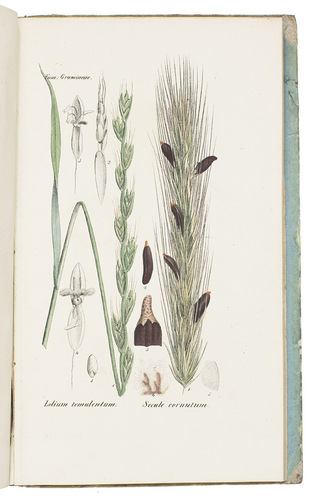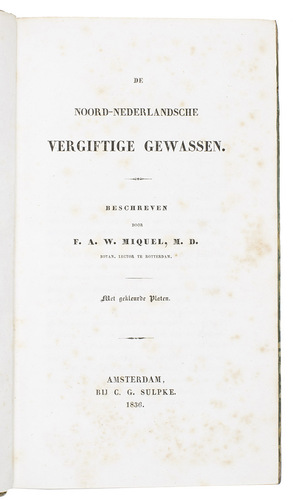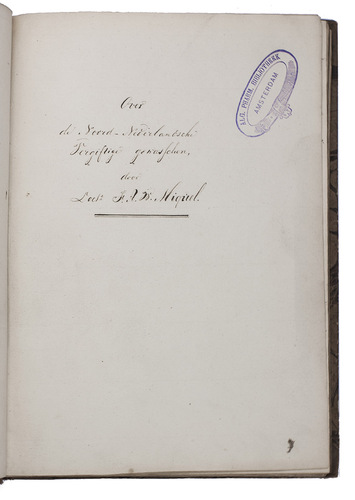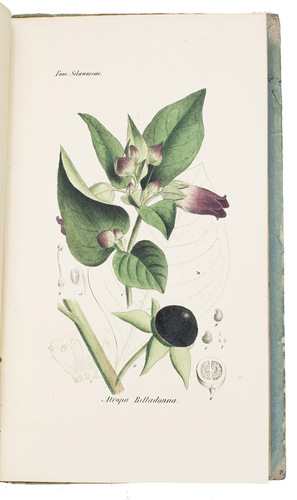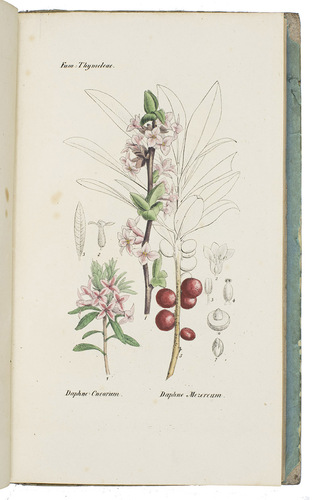 [MIQUEL, Friedrich Anton Wilhelm.].
Over de Noord-Nederlandsche vergiftige gewaschen.
[Rotterdam?, 1836?]. 4to. Manuscript in brown ink on laid paper, written in Dutch in a small but neat Latin hand.With: [MIQUEL, Friedrich Anton Wilhelm?]. Pharmacie.
[Rotterdam?, ca. 1845?]. 8vo. Manuscript in brown ink on wove paper, written in Dutch in a small but neat Latin hand. Near contemporary half cloth (impressed with a diamond diaper pattern), marbled sides (light brown unusual spots on dark brown shell spots, the interior of the unusual spots looking more like "tourniquet" or "Gustav" marbling than Stormont or "cassés"), sewn on 2 tapes. With the second manuscript never sewn or bound and loosely inserted.
Together with: (2) MIQUEL, Friedrich Anton Wilhelm. De Noord-Nederlandsche vergiftige gewassen.
Amsterdam, C.G. Sulpke (back of title-page: printed by C.A. Spin), 1836-1837. 8vo. With 30 partly hand-coloured lithographed plates. Original publisher's printed paper wrappers over boards. Ad 1: [1], [3 blank], 145, [3 blank] pp.; [3], 10, [10], [5 blank] ll., both written primarily on the rectos. Ad 2: 198, [2 blank] pp.
€ 3,950
Manuscript, apparently by the author, of one of the first printed books on Dutch poisonous plants and one of the earliest works of the eminent botanist Friedrich Miquel, giving detailed descriptions and discussing the toxic properties of nearly 200 species: flowering plants, mushrooms, grasses and berries, including belladonna and some species of nightshade. It covers both indigenous species and foreign species grown in Dutch gardens and for most species gives the Latin, Dutch, French, English, German and sometimes other names, the Linnaean class, a physical description, locations and seasons, medicinal properties and a description of the symptoms of its poisoning. It is one of Miquels earliest works, printed in 1836-1837, and was intended primarily for physicians and laymen. Though first published at Amsterdam in 1836 as De Noord-Nederlandsche vergiftige gewassen (with the title matching the present manuscript except that the last word is spelled "gewassen"), the author signed his foreword from Rotterdam, September 1836. The text of the first edition closely matches the present manuscript, but adds the foreword and references to the engraved plates. The manuscript, like the first edition, refers to an 1835 publication. A second edition appeared in 1838.
Loosely inserted in the bound manuscript is a second manuscript, probably somewhat later but in what appears to be the same hand. Its title-page bears only the single word Pharmacie, it appears to be unpublished, is written on unwatermarked wove paper and collates: [A]12 [B]16 = 28 ll., with B12-16 blank. It may therefore be an unpublished pharmacological work by Miquel.
The manuscript volume is here offered together with the first edition of De Noord-Nederlandsche vergiftige gewassen. The preface of this text volume notes that all 30 plates were produced by the acclaimed lithographic artist and printer Aimé Henry in Bonn, some originally for Henrys Die Giftpflanzen Deutschlands and some newly made for the present work.
The printed edition of the Noord-Nederlandsche vergiftige gewassen with an owners inscription on the half-title and an annotation and underlining in the margin and text on p. 9. The binding of this volume is worn and some pieces of paper are missing on the spine, especially at the bottom and around the hinges. Some foxing and browning throughout the book, although a copy with the original publishers binding. A beautiful set of two complementing volumes, not only containing the first edition of Miquels book on Dutch poisonous plants, but also the manuscript of this work together with another rare, unpublished pharmalogical manuscript. Ad 2: Ekama I, p. 373; Landwehr, Coloured plates 140; Nissen BBI 1388; Pritzel 6257; Stafleu & Cowan 6088. For Miquel: Stafleu, "F.A.W. Miquel, Netherlands botanist", in: Mededelingen v.h. Botanisch Museum en Herbarium ... Utrecht, 220 (1966), pp. 1-95, item 11; Wittop Koning, p. 270.
Related Subjects: