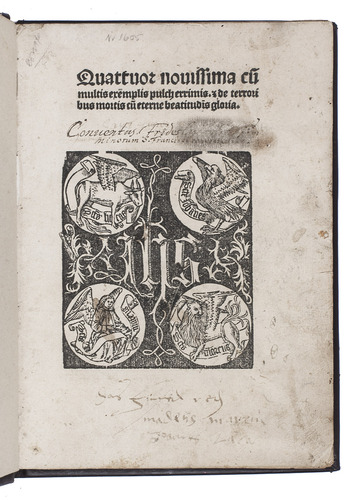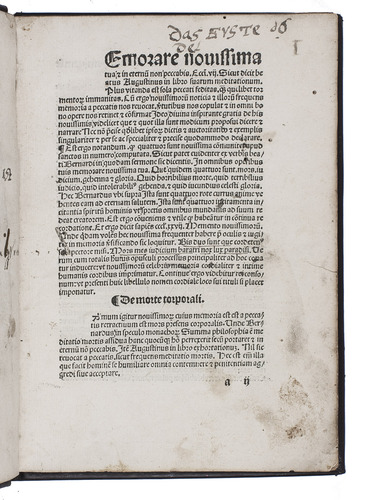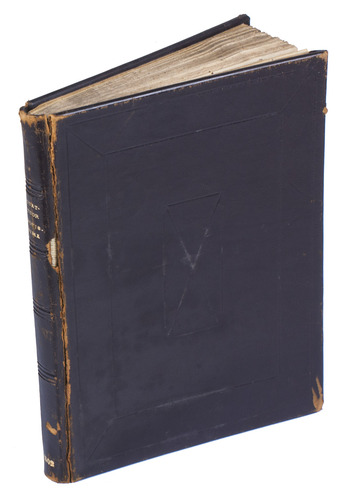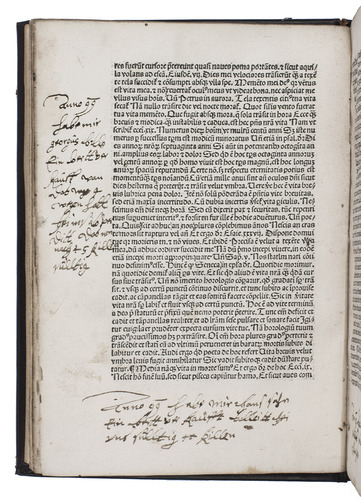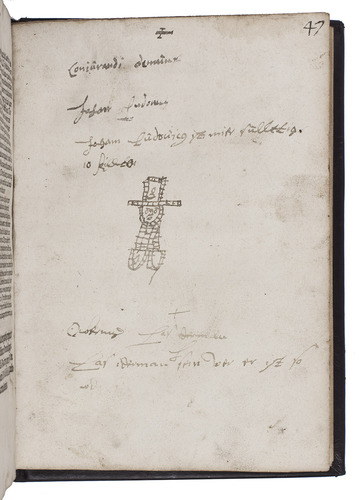 [MODERN DEVOTION]. [VLIEDERHOVEN, Gerardus de].
Quattuor novissima cum multis exemplis pulcherrimis & de terroribus mortis cum eterne beatitudis gloria.
Deventer, Jacobus de Breda, 1502. 4to. With a woodcut illustration (9.5 x 8.5 cm) on title-page with the symbols of the four Evangelists.19th-century blind-tooled calf, title in gold on spine, preserving some contemporary endpapers but also with later ones. [47], [1 blank] ll.
€ 4,500
Rare Deventer post-incunable of a devotional book on the four extremes ("quattor novissima"): death, the last judgement, hell and heaven. This work is ascribed to Gerardus de Vliederhoven , who wrote the Latin work De Vier Utersten (The four extremes) at the beginning of the 15th century, but also Dionysius Carthusianus wrote on this topic. This work is even, however unfounded, ascribed to Geert Grote. It is most likely to ascribe the text of this postincunable, or at least the very original of the text on which this copy is based on, to Gerard van Vliederhoven.
Despite all these ascriptions to different authors, this work played a crucial role in the Dutch reform movement the Modern Devotion, in which piety and moderation are great virtues with regards to Judgement Day.
With some manuscript notes in different hands on the endpapers and in the margins, the one on the last contemporary endpaper dated 1598-1600. Also with some 17th- or 18th-century ownerships entries on the title: "Conventus Frideslariensus Fratrum minorum S. Francisci in conventualium", which is an indication that this book was in possession of the monastery of the fratres minores at Fritzlar. There is also an ownershipss entry on the verso of the title in the vernacular: "Johannes Teuffel tem ist tas buch ..." and in Latin "Johannes Diabolus ergo sum ...". Also another annotations and a small drawing on the last contemporary endleaf, perhaps in another hand and not very easy to read, recording purchases and sales, and on Johannes Ludovicus owning him several amounts of money. Binding slightly rubbed, corners bumped, front hinge cracked. Only some small stains and occasional browning in the margins, not affecting the text. Tear in title-page. With all its fault, still a rare post-incunable in good condition. Adams C2620; Van Huisstede & Brandhorst 1380; Nijhoff-Kronenberg 1605; Vooys, Middelnederlandse legenden en exempelen, p. 57, 253-254; USTC 420029.
Related Subjects: