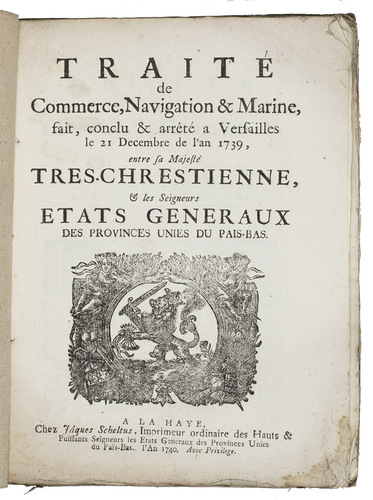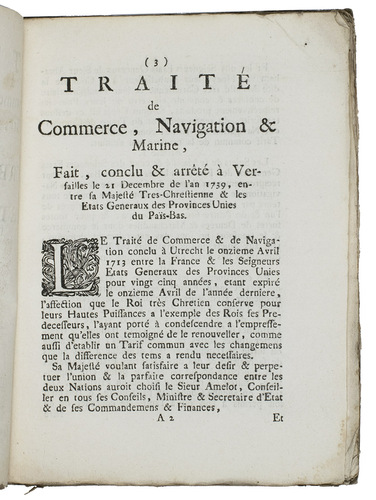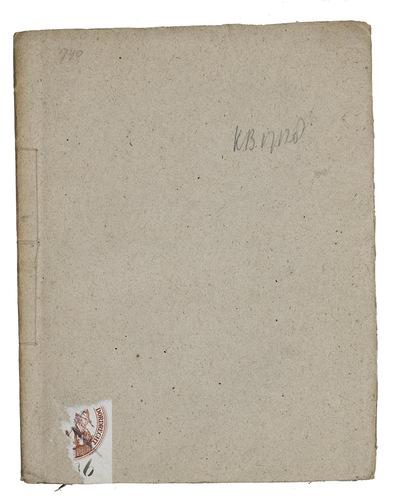 [TREATY - FRANCE & THE DUTCH REPUBLIC].
Traité de commerce, navigation & marine, fait, conclu & arrêté a Versailles le 21 Decembre de lan 1739, entre sa Majesté Tres-Chretienne, & les Seigneurs Etats Generaux des Provinces Unies du Pais-Bas.
The Hague, Jacobus Scheltus, 1740 4to. With the woodcut printer's device of Scheltus and a woodcut initial. 19th-century brown wrappers. 43 pp.
€ 750
First edition of the renewed treaty, originally concluded on 11 April 1713 in the framework of the Peace of Utrecht, simultaneously published in Paris, LImprimerie Royale, 1740, while the Dutch text was printed in the same year by the same printer Scheltus (Knuttel, 17129).
The important treaty is on free trade between the two countries and on common tariffs and imposts (détablir un tarif commun). After 25 years therefore, a revision had become necessary.
The negotiators were Jean-Jacques Amelot de Chaillon (1689-1749) and the Dutch Embassador in Paris Abraham van Hoey (1684-1766).
With the bookplate of the city library of Dordrecht on the paper wrapper (partly gone). Edges a little frayed, otherwise in good condition. Knuttel, 17128; Roussel, Recueil hist., 14, pp. 447-483.
Related Subjects: