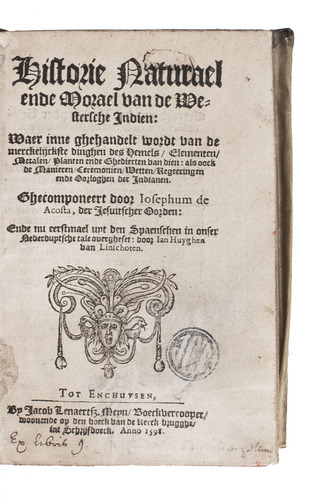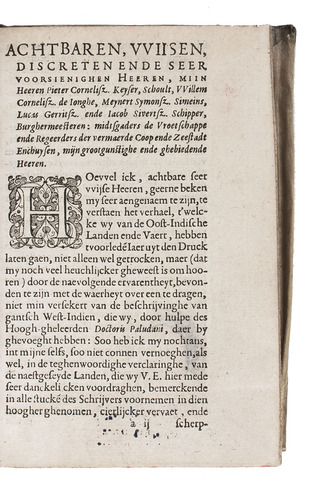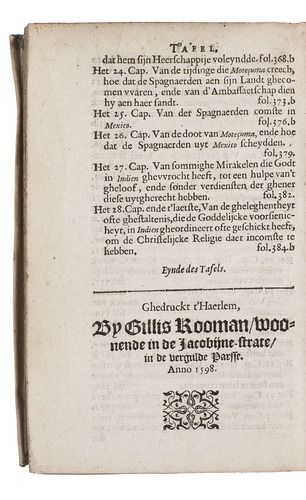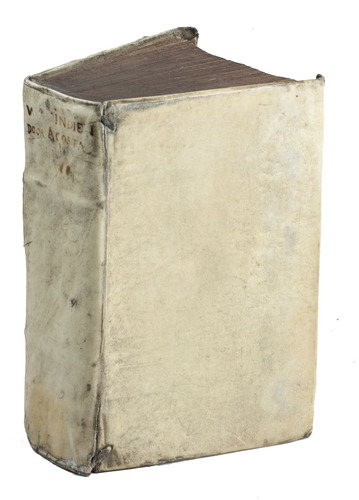 ACOSTA, José de.
Historie naturael ende morael van de Westersche Indien.
Enkhuizen, Jacob Lenaertsz. Meyn (colophon: Haarlem, printed by Gillis Rooman), 1598. 8vo. With a woodcut decoration on the title-page. Vellum (ca. 1700?). [7], 398, [8] ll.
€ 7,500
First Dutch edition of "the most convincing, detailed and reliable account of the riches and new things of America" (Streeter), written by the Spanish Jesuit José de Acosta (1539/40-1600) and translated by Jan Huyghen van Linschoten from the original Spanish. The "West Indies" of the title still referred at this date to the New World as a whole, and the book concentrates on the Spanish possessions in Peru and Mexico, covering the Inca and Aztec people, customs, history, botany, zoology, mineral riches, trade, products, and much more. It was this book above all others that opened the eyes of the Dutch, the English and the rest of Europe to the extraordinary wealth Spain was reaping from its possessions in the New World, and it includes practical information such as sailing instructions, accounts of diseases, etc.
With a 1645 owner's inscription, library stamps and the armorial bookplate of the Marchese of Bernezzo on the back of the title-page. With some repairs in the first two quires, the title-page rather worn and two leaves somewhat browned, but otherwise in good condition. The binding is scuffed and has cracks in the vellum at the front hinge, but is still good and structurally sound. The most influential early work on America, in its first Dutch edition. Alden & Landis 598/3; Palau 1992; Sabin 126; cf. Streeter 32 (1604 Eng. ed.).
Related Subjects: