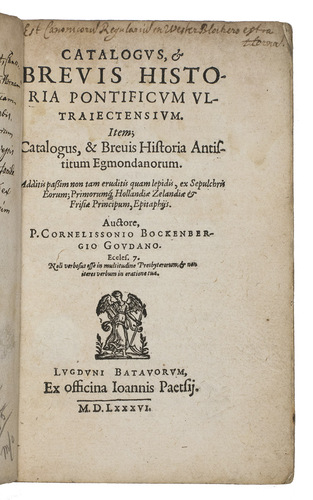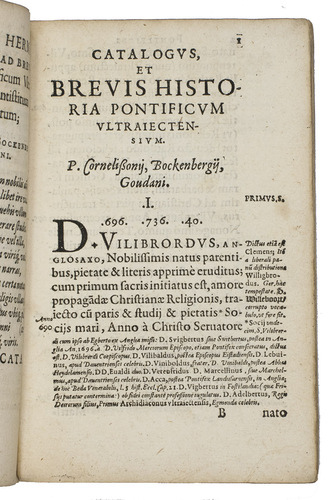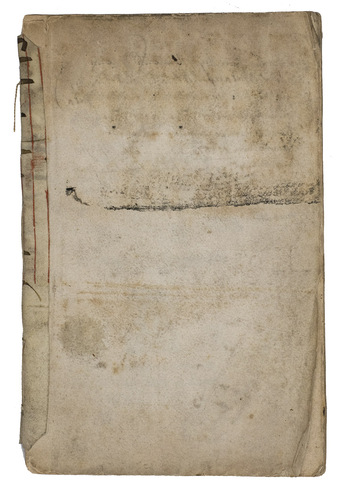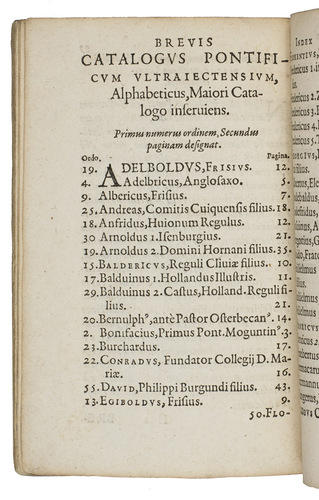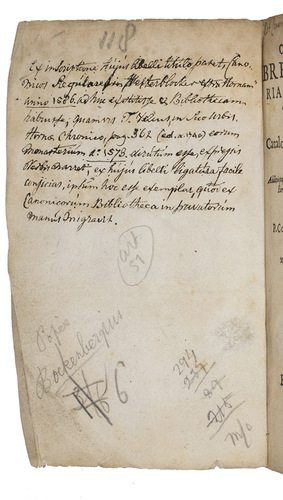 BOCKENBERG, Pieter Cornelisz.
Catalogus & brevis historia pontificum Ultraiectensium. Item catalogus & brevis historia antistitum Egmondanorum.
Leiden, Jan Jacobsz. Paets, 1586 (Colophon: 'Extant Goudae, apud Leonardum Theodori Librarium, ad pontem Hornensem'). Small 8vo. [16], 99, [12] [1 blank] pp.
€ 1,500
First and only edition of this historical work on the Utrecht Diocese and on the abbots and priests of the most important medieval monastery in Holland, the Monastery of Egmont in the northern part of Holland by the Dutch historiographer Pieter Cornelisz. Bockenberg Goudanus (Gouda 1548-1617 Leiden). He wrote a history of Holland but came under attach of Janus Douza who had just written a history on the same subject. Through Johan van Oldenbarneveld Bockenberg was officially appointed Dutch historiographer in 1591.
With a very interesting provenance: owner's entry on the title: 'Est Canonicarum Regularium in Wester-Blockero extra Horna'. The book belongs to the Regular Canons at Westerblokker near Hoorn, c. 40 km. north of Amsterdam. A 19th-century annotation on the verso of the front wrapper justly points out that this monastery - called 'Nieuwlicht' (Nova Lux), founded in 1388 - was demolished in 1573 (referring to Velius' history of Hoorn, p. 362). The author of the annotation suggest therefore that the library of this rich monastery must have been continued afterwards.
A second ownership's entry is on the verso of the back cover, dated Sept. 1798r: W.C. Ackersdijck (1760-1843), a historian and lawyer from 's-Hertogenbosch, the father of the famous Utrecht professor Jan Ackersdijck.
While Bockenbergs name appears on the title-page, he also gives his initials and motto on the last printed page (H8v) above the colophon: "P.C[ornelissonio]. B[ockerbergio]. G[oudano] | Ne vita tragoedia". Both the present copy and the UB Ghent copy have a second motto written below the printed one in a contemporary hand "Juste et pie vivamus".
With an owner's inscription in ink on the title-page. Some minor soiling, otherwise in good condition. Breugelmans, Leiden imprints 17; Haitsma Mulier & Van der Lem 63b; Typ. Bat. 676; USTC 429101; for the author: NNBW VI, cols. 123-124; Van der Aa, II, 2, 683-688.
Related Subjects: