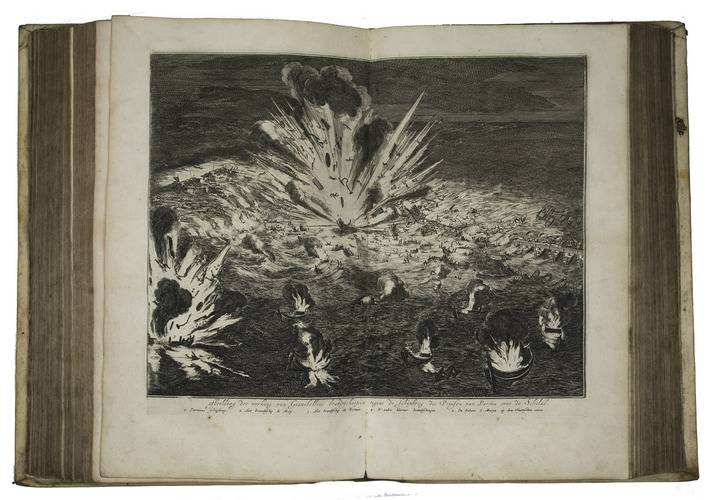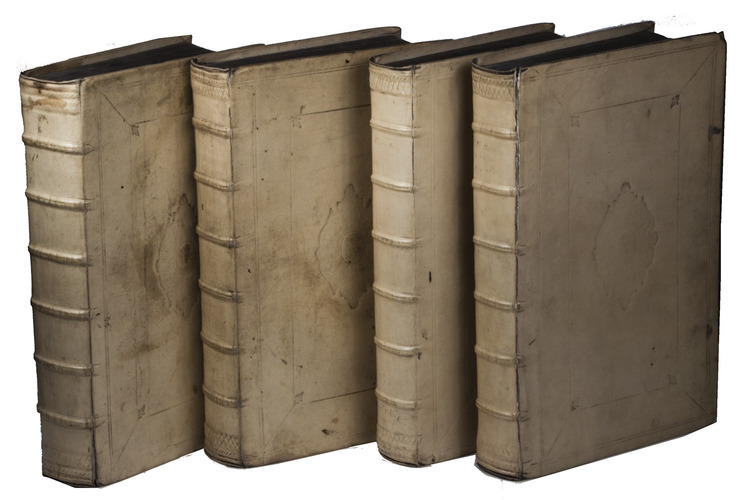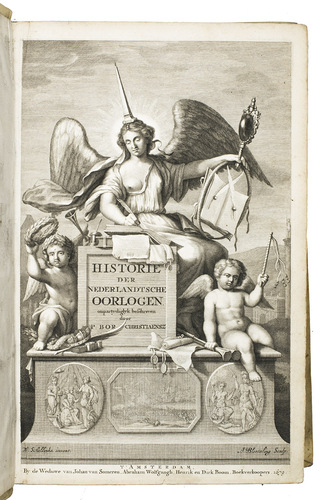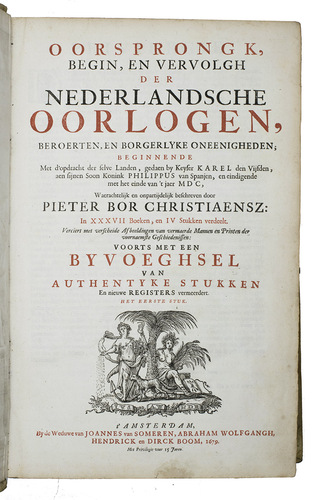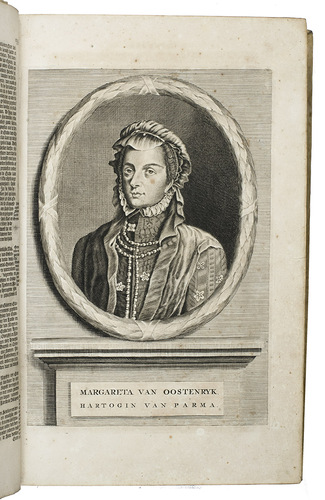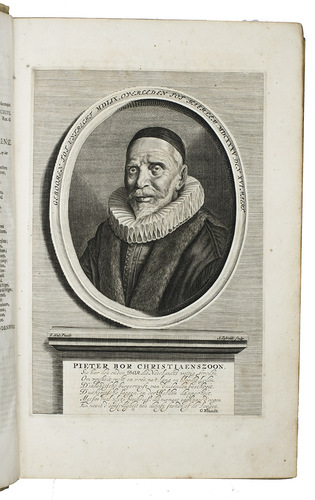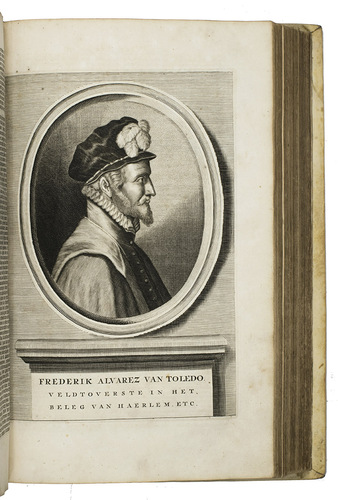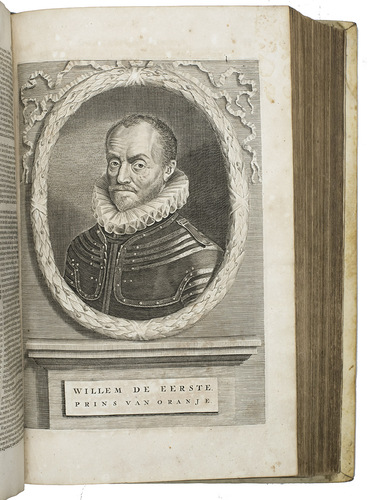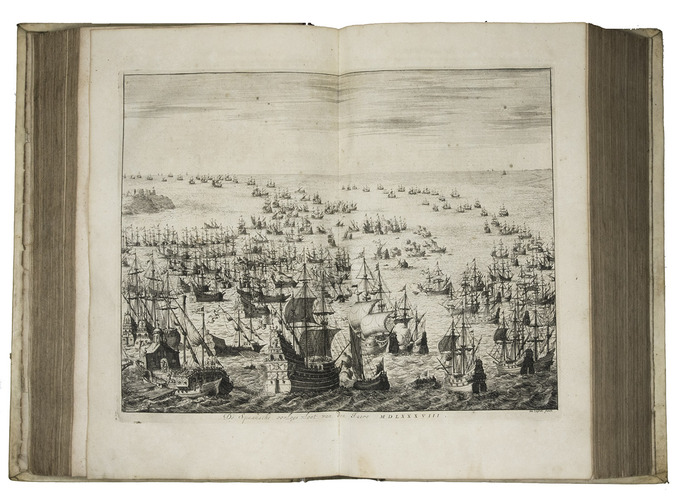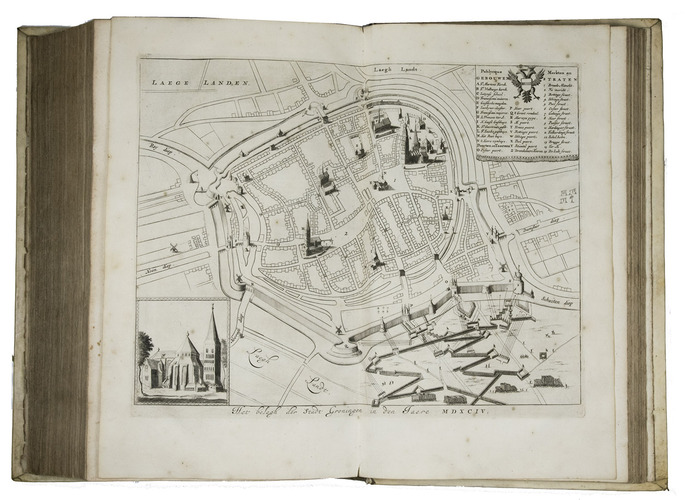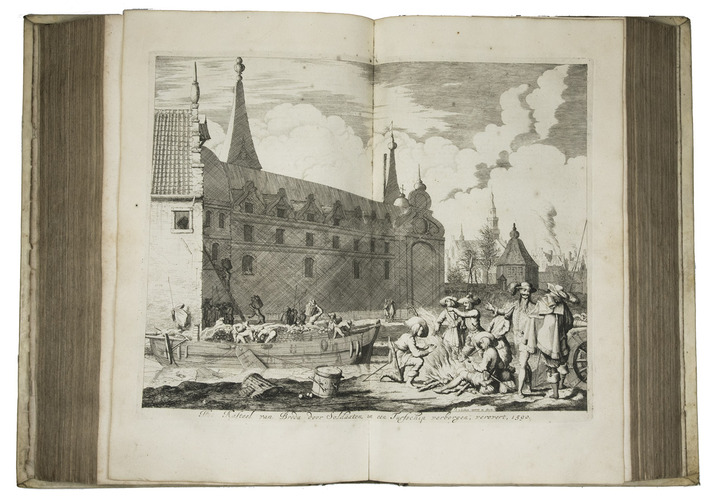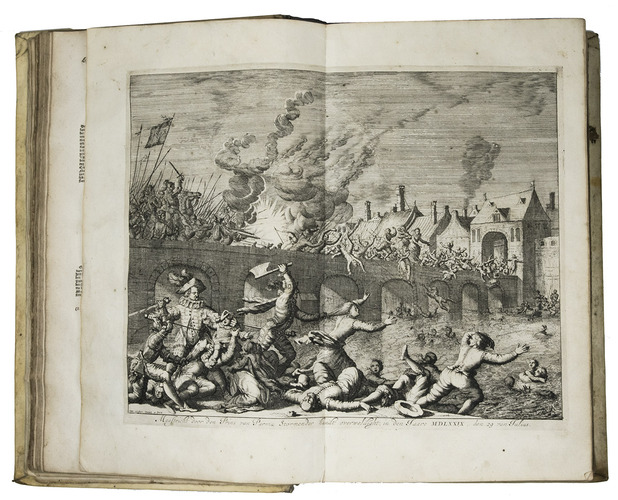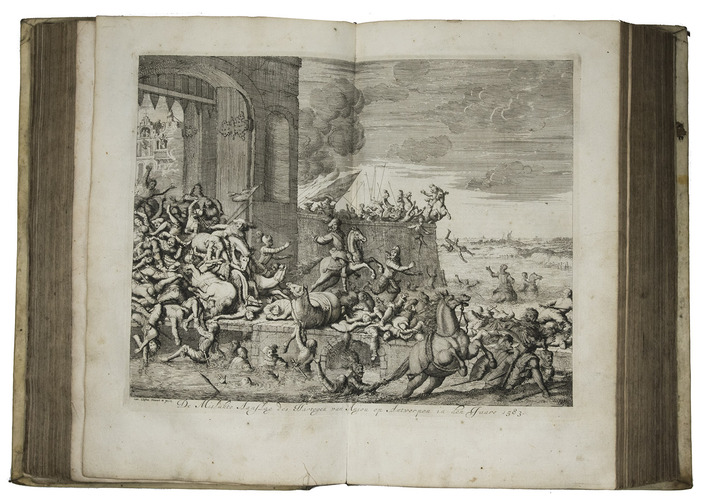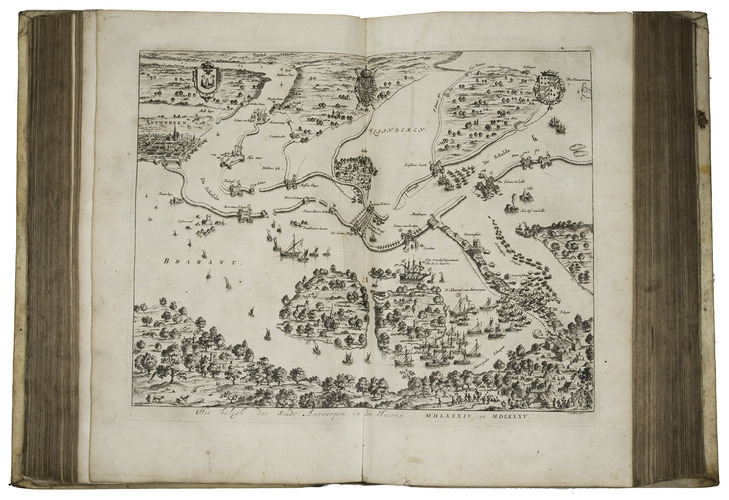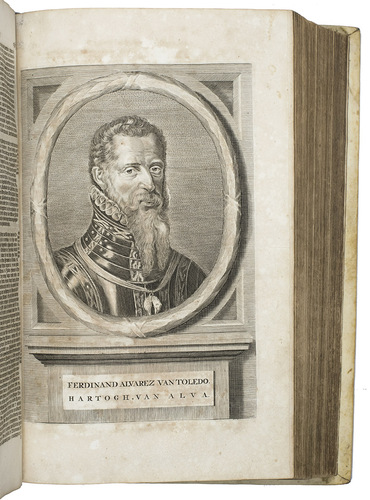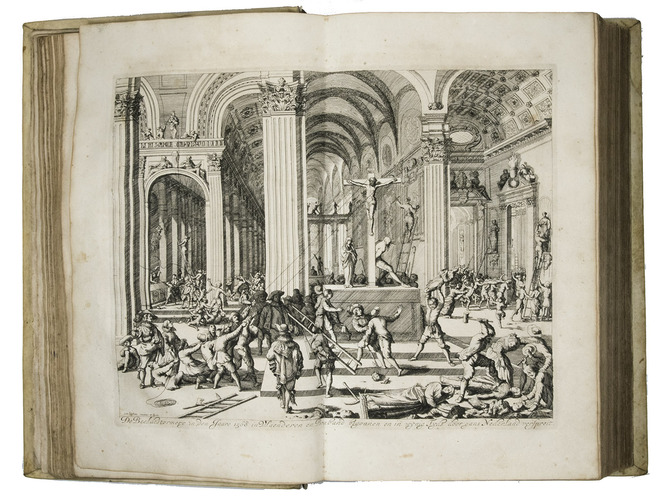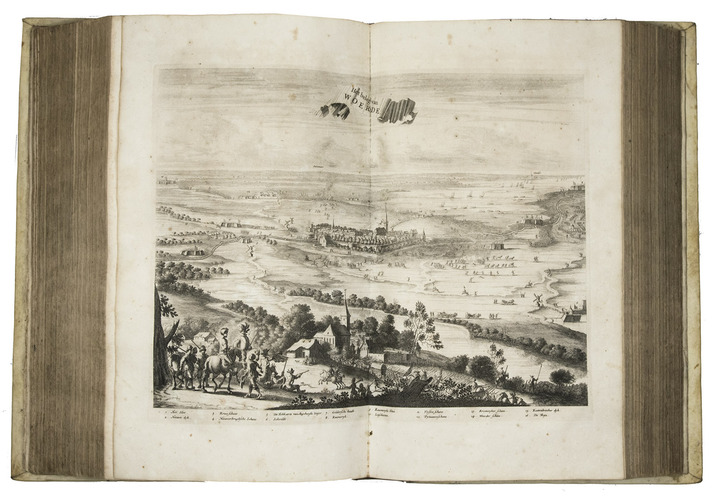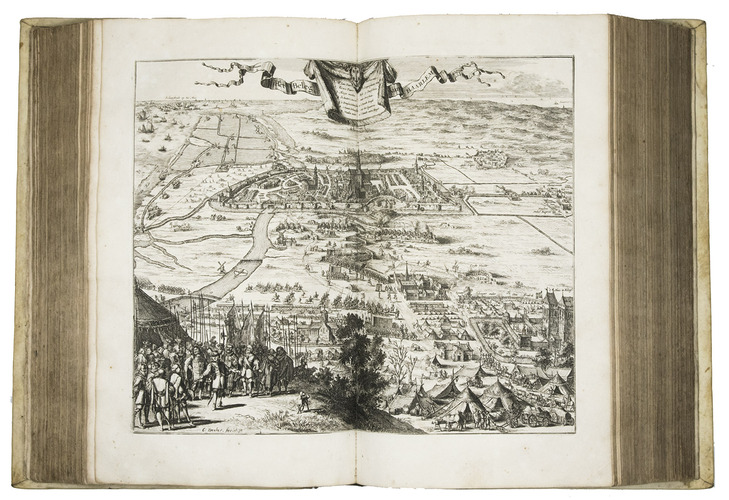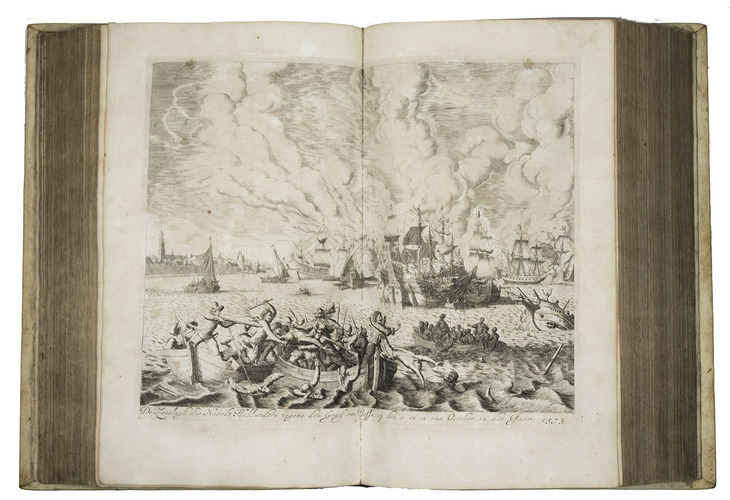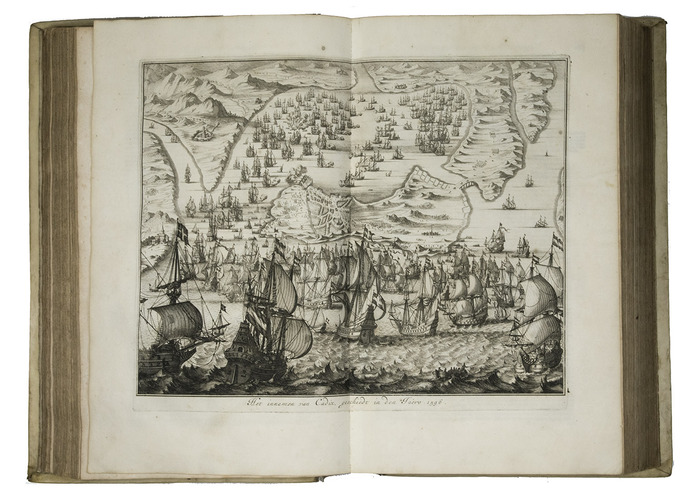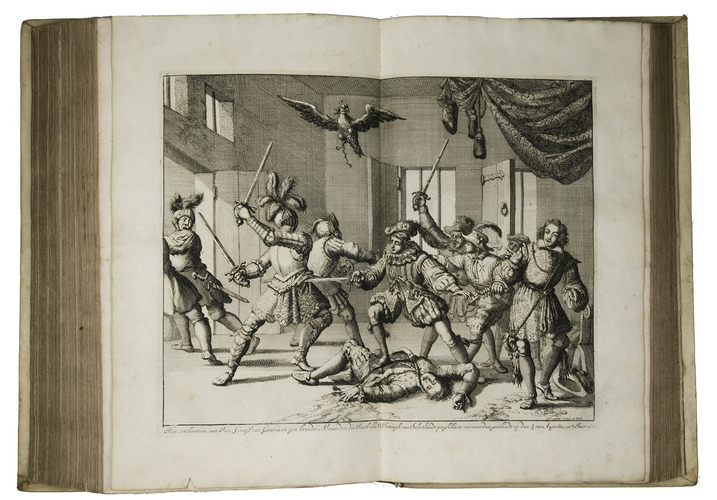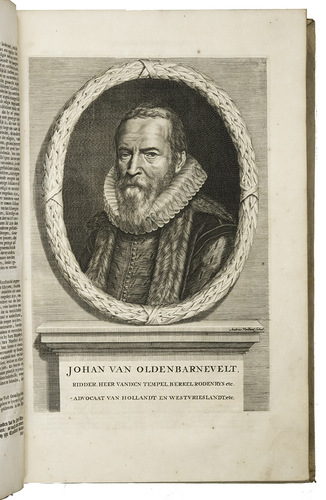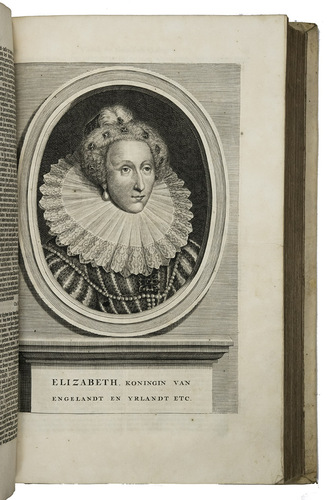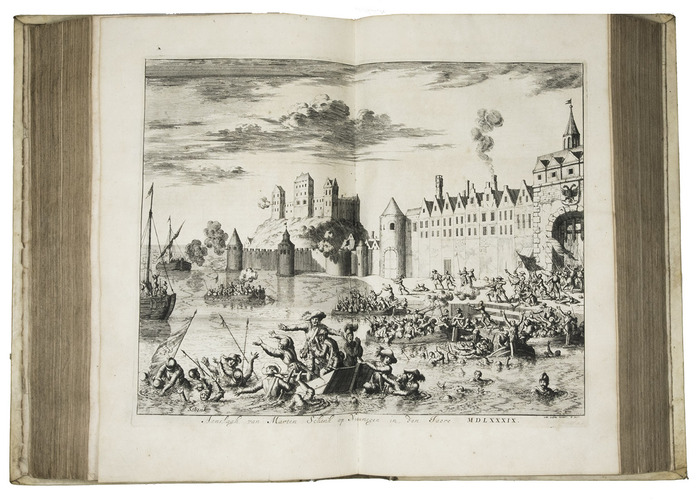 BOR, Pieter Christiaensz.
Oorsprongk, begin, en vervolgh der Nederlandsche oorlogen, beroerten, en borgerlyke oneenigheden, beginnende met d' opdracht der selve landen, gedaen by keyser Karel den Vijfden, aen sijnen soon konink Philippus van Spanjen, en eindigende met het einde van 't jaer MDC, ... voorts met een byvoeghsel van authentyke stukken en nieuwe registers vermeerdert.
[engraved title:] Historie der Nederlandtsche oorlogen. ontpartydiglyk beschreven.
Amsterdam, the widow of Joannes van Someren, Abraham Wolfgangh, Hendrick and Dirck Boom, 1679-1684. 4 volumes. Folio. With the joint device of the publishers (with their initials) on each title-page, four nearly identical engraved frontispieces and a total of 80 engraved plates (including 4 identical portraits of the author and 39 double-page plates). Contemporary blind-tooled vellum with remnants of green ties. [28], 1006, [10], 188; [8], 231, 234-242, 241-672, 679-994, [8], 128; [8], 532, [6], 529-690, 693-896, [8], 28; [8], 419, 432-512, 517-692, 14, 16, [188] pp.
€ 4,850
The most detailed and complete edition of Bor's history of the Revolt against Spain in the Low Countries from 1555 to 1600. Pieter Christiaensz. Bor (1559-1635) was a notary, but he dedicated his life to compiling primary sources, doing historical research, and writing the very detailed, precise and reliable history of the Dutch Revolt during the second half of the sixteenth century. In this edition four supplements (noted on the title-pages) and new registers are added to Bor's chronicle-like account of the Dutch War in 37 "books" in four volumes. The supplements contain even more sources and facts about the period which underline its reputation of the book being the leading work about the subject. The of the four volumes contains a nearly identical engraved frontispiece, with only the indication of the volume revised. The text is enriched by the addition of 80 plates. These include four identical portraits of the author, other portraits of important historical figures and 39 double-page plates of, for example, the siege of Haarlem (1572-73) in volume 1 or the famous plate of a beached whale in volume 4. These plates were produced by Jan Luyken and Romeyn de Hooghe, among others, and the portrait of the Bor is based on a painting by Frans Hals.
The bindings of volumes 1 and 2 are a bit more soiled than those of volumes 3 and 4. The spines are slightly damaged from use, without affecting the overall integrity of the binding. Volume 1 are slightly browned, the others only very slightly foxed. An impressive, illustrated historical work in very good condition. Sloos, Warfare and the age of printing, 12134; Van Eeghen & Van der Kellen 9.
Related Subjects: