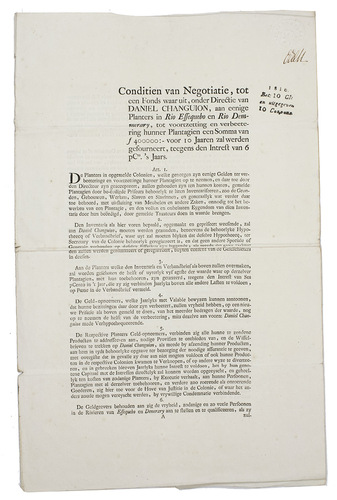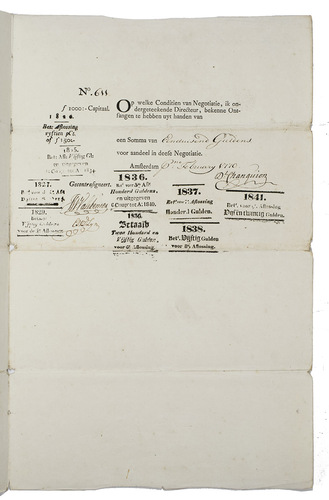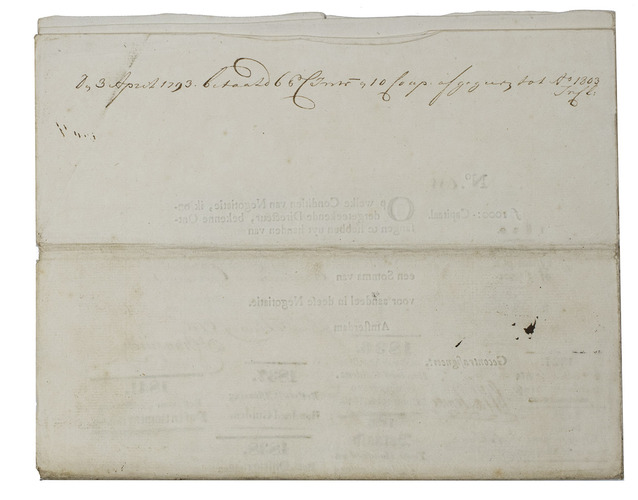 CHANGUION, Daniel; Jan Wouter VALKENIER; Cornelis Jacob VAN DER LYN.
[Signed negotiation contract dated 1770 for an obligation of 1000 gulden for plantations in Rio Essequebo and Rio Demerary].
Amsterdam, 6 February 1770. Folio (ca. 26 x 41 cm). Disbound. [3], [1 blank] pp.
€ 650
Negotiation contract dated 1770, signed by the director Daniel Changuion and his commissioners Jan Wouter Valkenier and Cornelis Jacob van der Lyn, for an obligation of 1000 gulden for plantations in Rio Essequebo and Rio Demmerary. Essequebo, and Demerary which was part of Essequebo, was a Dutch colony from 1616 to 1814 and was part of the colonies which were also known as Dutch Guiana. Also Surinam, which is much more known as Dutch colony in South America, was part of this so-called Dutch Guiana. Dutch Guiana should not be seen as a formal entity, but as a geographical indication for the Dutch colonial area. The sovereignity of the different colonies was varying: Essequebo and Demerary were reigned by the Dutch WIC, which were at that moment in their "second" period and at that time focusing on slave trade from Africa to the Americas, amongst other activities.
Nevertheless, this obligation act reflects the highly optimistic zeitgeist of 1770, when the investments and obligations in the Dutch colonial plantations kept growing. Therefore this negotiation contract can be seen as an important document for the Dutch economical and colonial history.
With an owner's inscription in the right upper corner of the first page and a manuscript annotation on the last page: "Van 3. April 1793 betaald. 6 P. interest, in 10 Coup: af gegeven tot A[nno] 1803 [Infl:]". Only with a few small tears on the former bindings places and on the outer edges of the folds, bottom of the paper a little frayed along the edges. Otherwise in good condition. Cf. Van Stipriaan, Surinaams contrast: roofbouw en overleven in een Caraïbische plantagekolonie 1750-1863, pp. 205-225.
Related Subjects: