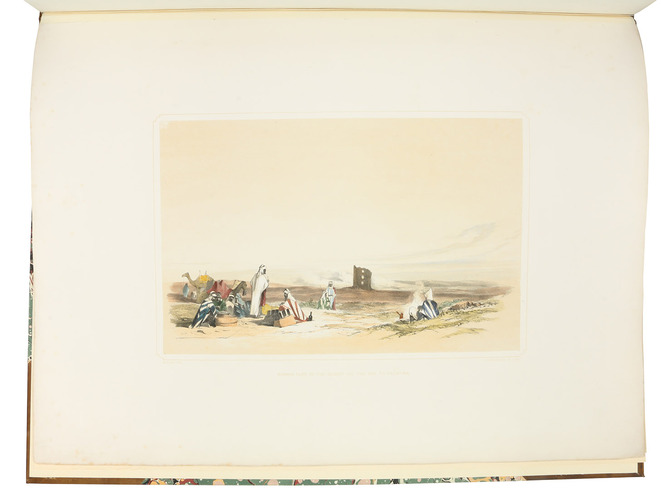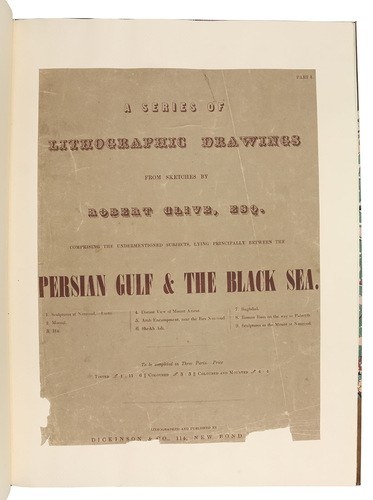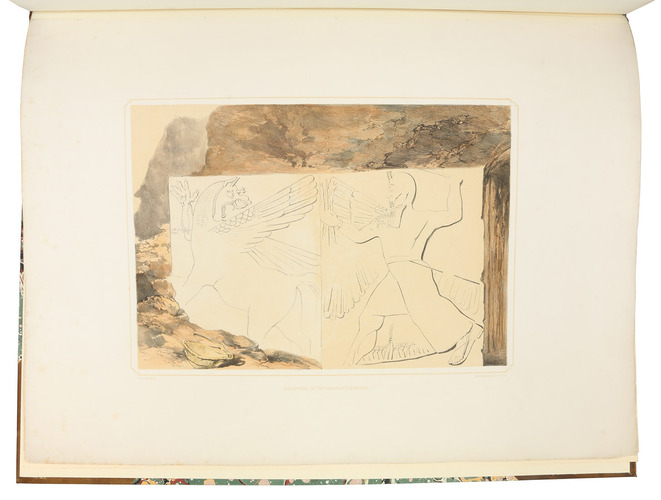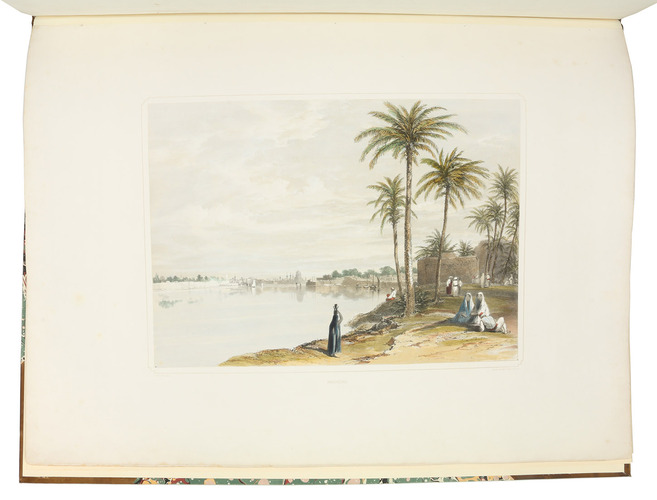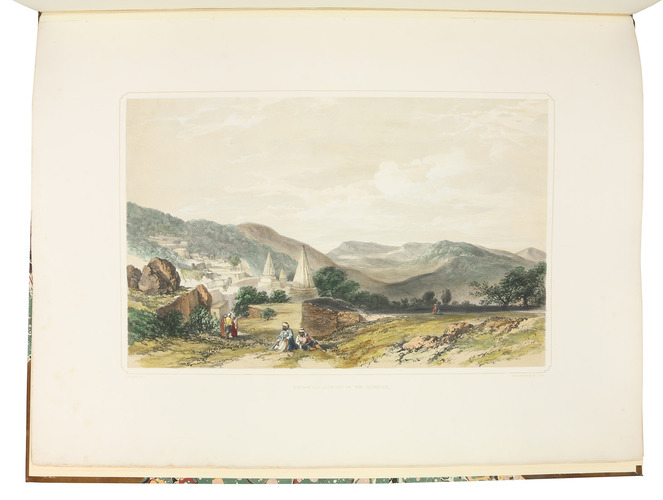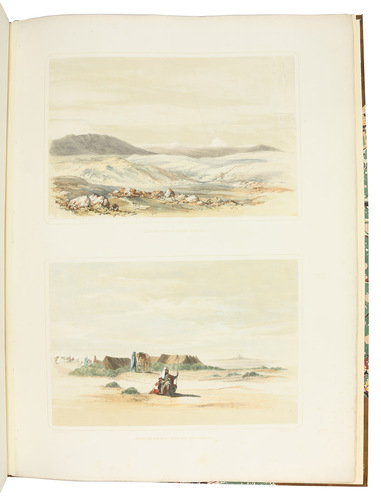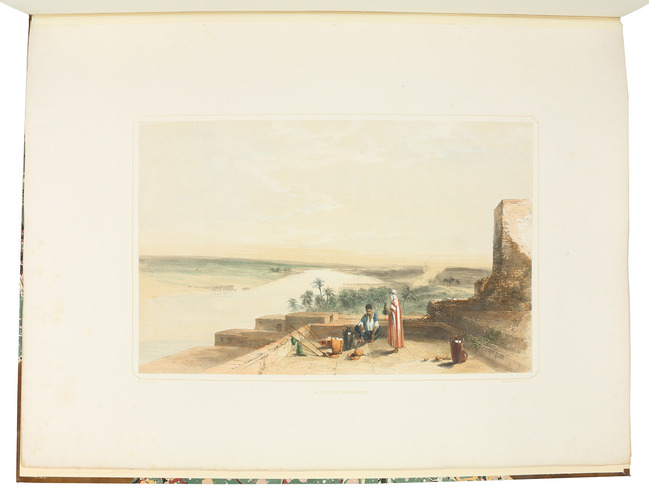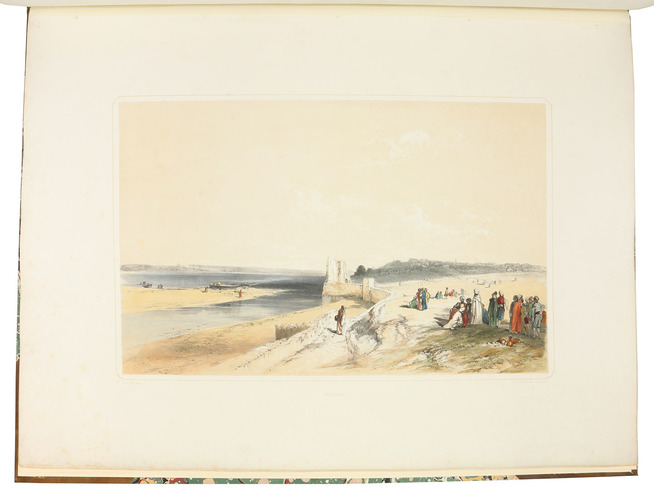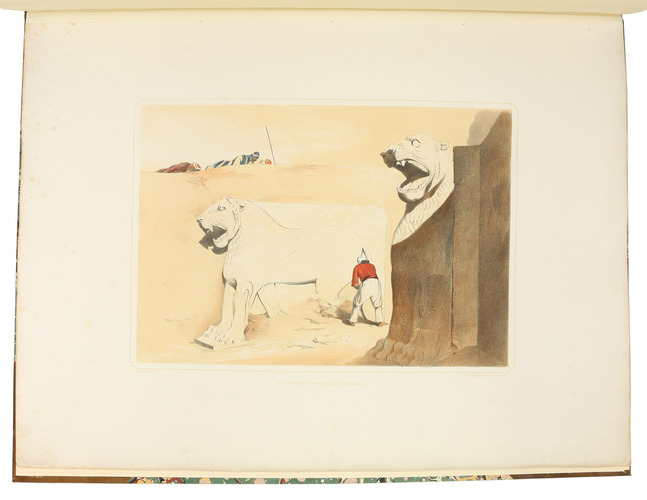 CLIVE, Robert.
A series of lithographic drawings from sketches by Robert Clive, comprising the undermentioned subjects, lying principally between the Persian Gulf & the Black Sea ...
London, Dickinson & Co., (1852). Large folio (45.5 x 590 mm). With 9 tinted lithographs on 8 plates (2 on 1 leaf) after Robert Clive. 3 leaves of letterpress text (plus 1 repeat ), printed on rectos only. Modern half morocco , marbled sides, spine title and decorations in gold. With the original publishers printed front wrapper bound in.
€ 18,000
First edition of a rare lithographic plates book of Mesopotamian antiquities and views. The first instalment of a total of three, containing nine lithographs: 1. Sculptures at Nimroud-Lions; 2. Moosul; 3. Hît; 4. Distant view of Mount Ararat; 5. Arab encampment near the Birs Nimroud (on one sheet ); 6. Sheikh Adi; 7. Baghdad; 8. Roman ruin on the way to Palmyra; 9. Sculptures in the Mount at Nimroud. The Victoria and Albert Museum ascribes this work to the artist Robert Charles Clive (1827-1902).
The publishers front wrapper, torn and somewhat defective, mounted on heavy paper and bound in; plates and binding fine. The two-page list of plates with descriptions is also mounted on heavy paper. OCLC 785146909; not in Atabey; Blackmer; Tooley; Röhricht; Tobler.
Related Subjects: