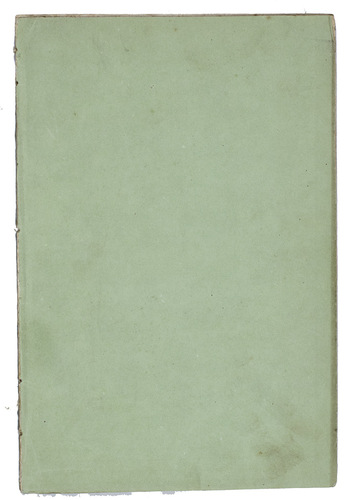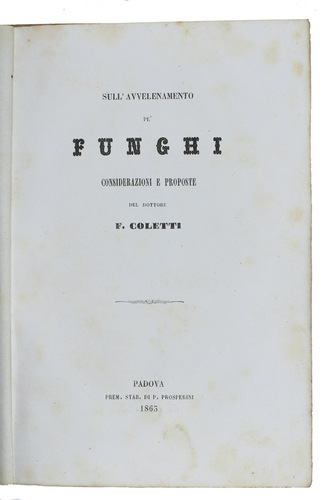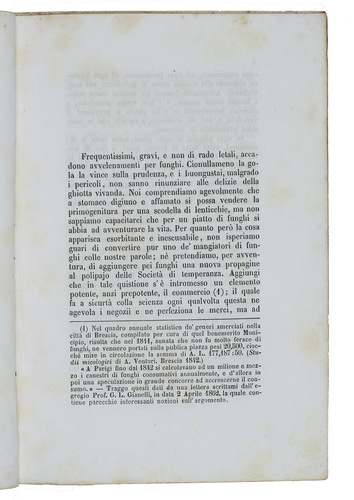 COLETTI, Ferdinando.
Sull' avvelenamento pe' funghi.
Padova, Prem. Stab. di P. Prosperini, 1863. 8vo. Green paper wrappers. 62 pp.
€ 1,250
Extremely rare first edition of an Italian work on mushroom poisoning by Ferdinando Coletti (1819-1881), an Italian physician who studied in Padua and made important contributions to medical knowledge, including toxicology. In the present monograph he goes beyond the edibility and toxicity of mushrooms, surveying the incidence, the reasons why these mushrooms are toxic to humans and also proposing measures to prevent mushroom poisoning. These include better education, control of sale and also more medical research to help prevent further poisonings and improve treatment. This makes it not only an academic report on mushroom poisoning, but also a physicians call to take action to prevent people from eating these toxins.
The paper wrappers lack their spine and back wrapper, and are slightly frayed at the corners, some marginal stains throughout (not affecting text), otherwise in good condition. Index-catalogue of the library of the Surgeon-General's Office, United States Army, p. 227; Worldcat (1 copy); for the author: Premuda, Dizionario Biografico degli Italiani 26 (1982).
Related Subjects: