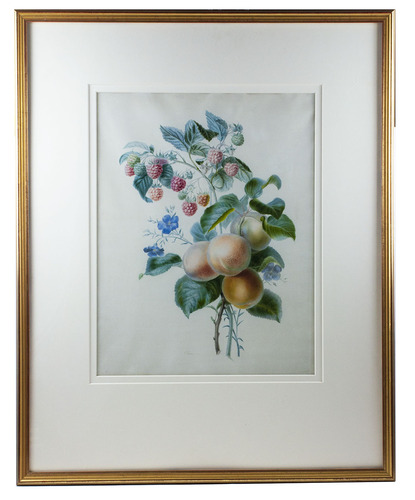 DELARUE, Claire.
[Watercolour with flowers and fruits on vellum, signed].
[Paris, ca. 1840]. (43.5 x 35 cm). With peaches, raspberries and blue flax. Framed.
€ 17,500
Delicate watercolour drawing by Claire Delarue (1821-1906), a pupil of Pierre-Joseph Redouté. Redouté had a class of talented upper-class female pupils, among them Queen Hortense, the wife of Louis Napoleon. They specialized in gouaches of flowers and fruits on vellum in the same manner as Redouté, but signed their works mostly with their first names only. In her work on Redouté, E. Hardouin-Fugier describes the master and his pupils, one of them named Claire Delarue. Although not much is known about her, and no other works by her have been traced, she was a gifted artist, painting every detail with refinement, using subtle colours, with the result near tangibility.
In fine condition. Cf. Hardouin-Fugier, The Pupils of Redouté, p. 39.
Related Subjects: