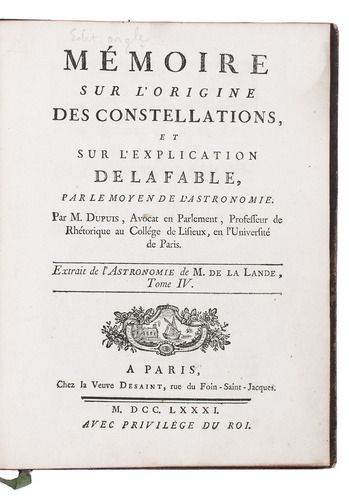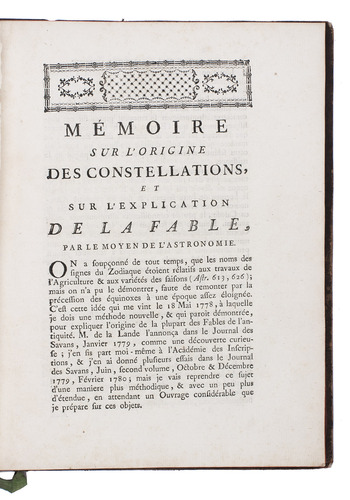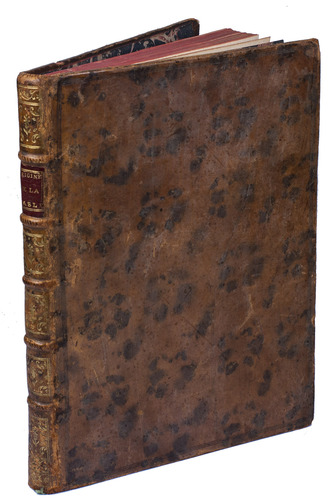 DUPUIS, Charles-François.
Mémoire sur l'origine des constellations, et sur l'explication de la fable, par le moyen de l'astronomie.
Paris, widow Desaint, 1781. 4to. With a woodcut vignette on the title-page. Contemporary cat's paw calf, gold-tooled spine. 228 pp.
€ 4,000
First separate edition of an erudite treatise on the astronomical foundations of religion and mythology. In the late 18th century, the notion of a common origin of all religions had become popular among French Enlightenment radicals, thereby challenging the Church's claim to absolute truth and moving as close as possible to atheism. Basing himself on the work of the astronomer Bailly (1736-1793), Dupuis investigated the origin of the constellations of the zodiac in relation to their given names. Since the constellations do not in any way represent the figure after which they are named, Dupuis concluded that they must have been older than their Greek names would suggest. The signs must have had some sort of connection with the state of the earth and agricultural labour, working as a calendar, and Dupuis ultimately found his original civilization in Upper Egypt, 15 to 16 thousand years ago. On this basis, Dupuis founded his thesis that all religions derived from the Egyptian zodiac and that all gods in various mythologies, including the Christian God, were allegories of the sun.
After publication, the theory was refuted by Bailly, although he praised Dupuis's erudition and ingenuity. Nevertheless, the theory proved popular with radical revolutionaries.
Binding somewhat worn, notably the hinges and back board. With some spots and a small hole in the gutter margin of pp. 187-188; a very good copy. Buchwald & Josefowicz, The zodiac of Paris, pp. 43-62; Edelstein, The terror of natural right, pp. 243-244; Poggendorff I, p. 630; Wellcome II, p. 503.
Related Subjects: