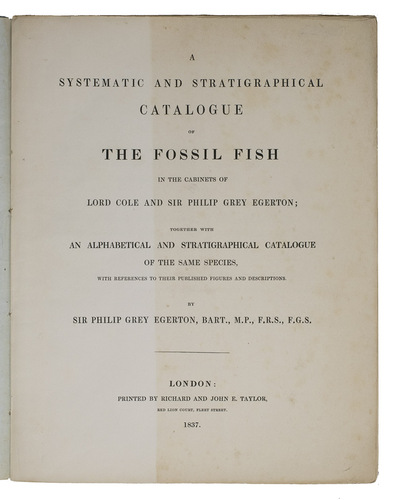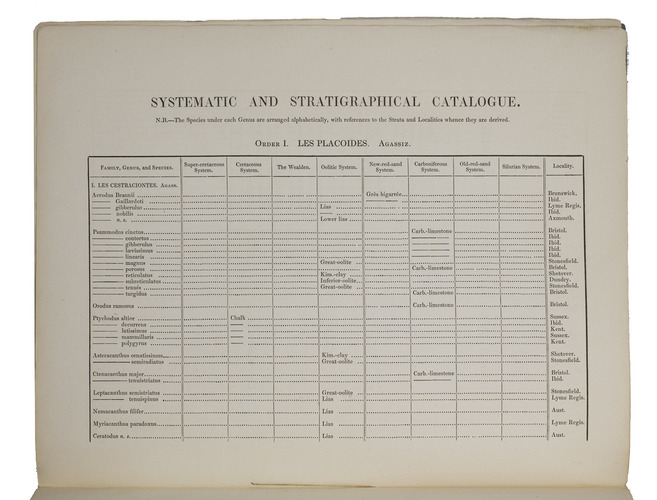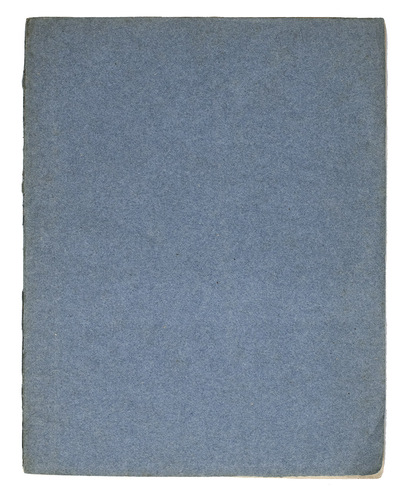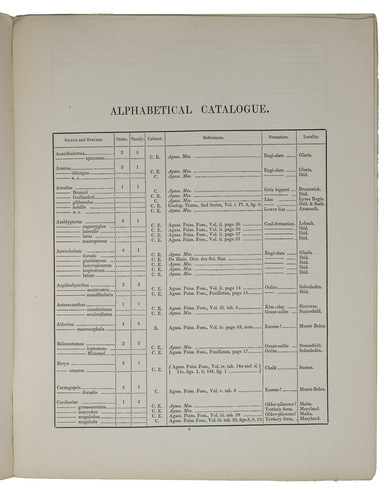 EGERTON, Philip Grey.
A systematic and stratigraphical catalogue of the fossil fish in the cabinets of Lord Cole and Sir Philip Grey Egerton; together with an alphabetical and stratigraphical catalogue of the same species, with references to their published figures and descriptions.
London, Richard & John E. Taylor, 1837. Large 4to (28.5 x 22.5 cm). Contemporary blue wrappers. [22] pp.
€ 1,250
First and only edition of a privately issued catalogue by the owner of one of the cabinets holding the fossils, Sir Philip de Malpas Grey Egerton, 10th Baronet (1806-1881), an English palaeontologist and Conservative politician. He was elected Fellow of the Royal Society in 1831 and was trustee of the British Museum, where Egerton's collection of fossil fish is now deposited.
Since his study at Christ Church, Oxford Egerton was interested in Geology and travelling in Switzerland with Lord Cole (later to be 3rd Earl of Enniskillen) they were introduced to Professor L. Afgassiz at Neufchâtel who inspired them to make a special study of fossil fish. During the following years the two friends collected together two of the largest and finest of private collections. According to Egerton's introduction (p. (3)) "the following catalogues were prepared at the suggestion of Professor Agassiz to whose wonted liberality I am indebted for documents explanatory of his system of Ichthology, hitherto uncommunicated to the public". In his second, alphabetical catalogue (pp. (15-21)) he gives references to "the figures and descriptions in the Poissons Fossiles of Professor Agassiz and other publications".
The structures and affinities of numerous species are further described by Egerton in the publications of the Geological Society of London and the Geological Magazine.
Slightly folded and with the spine worn. A good copy. BM, Nat. Hist., II, p. 513; Bashford Dean/Eastman, Bibliogr. of Fishes, I, p. 355.
Related Subjects: