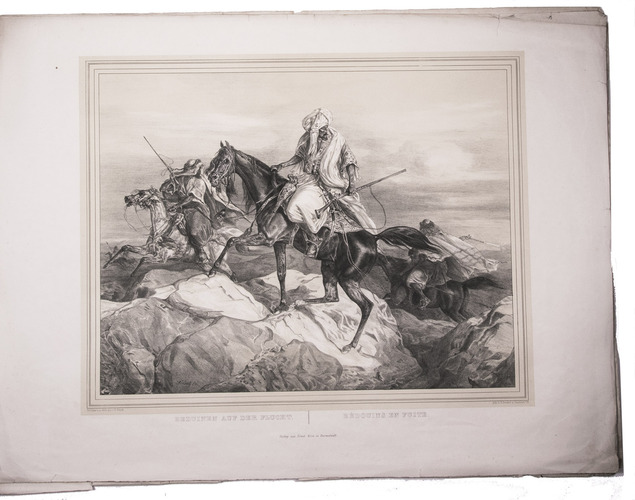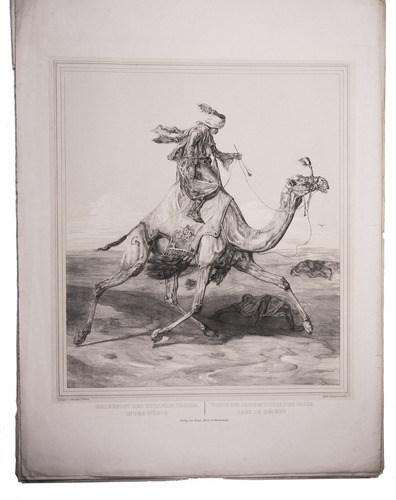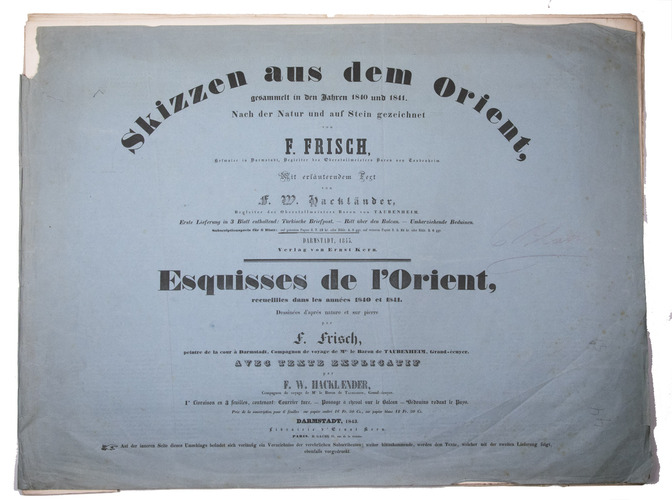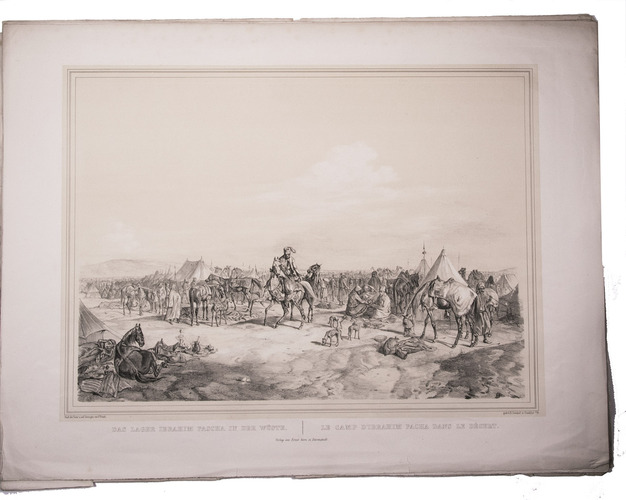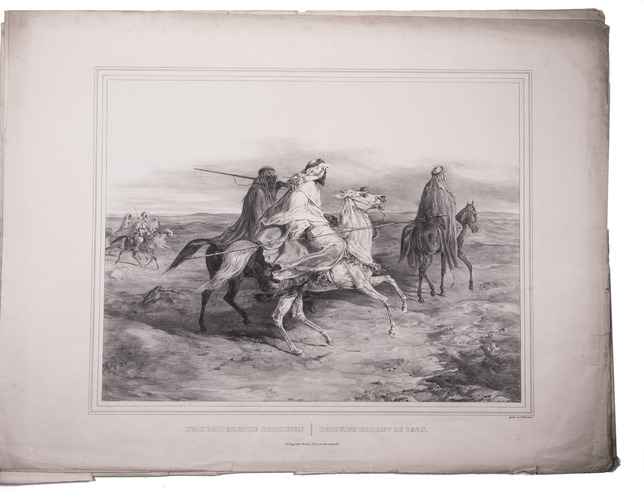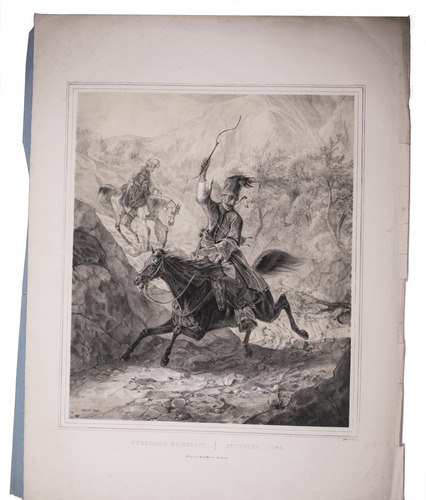 FRISCH, Friedrich.
Skizzen aus dem Orient, gesammelt in den Jahren 1840 und 1841. | Esquisses de l'Orient, recueillies dans les années 1840 et 1841.
Darmstadt, Ernst Kern; Paris, H. Gache, 1843. Oblong 1mo (48 x 63.5 cm). With 6 tinted lithographed plates by Frisch, with captions in German and French below. The first three in the deluxe issue printed by B. Dondorf, Frankfurt am Main, the last three in the regular issue printed by G. Küstner. Original publisher's letterpress printed wrappers, with a list of subscribers and advertisements on the back of the front wrapper.
€ 18,000
Extremely rare set of 6 beautifully lithographed plates showing scenes made on a journey to the Middle East to procure Arabian horses for the Royal Wuerttemberg stud farms Weil and Marbach, by Friedrich Frisch (1813-1886), court painter in Darmstadt. In 1840/41 he accompanied the Wuerttemberg chamberlain Wilhelm von Taubenheim (1805-1894), the writer Friedrich Wilhelm Hackländer (1816-1877) and the doctor Karl Bopp (1817-1847) on this journey, stopping first at Constantinople, where Sultan Abdülmecid I welcomed them. They continued to Beirut, Damascus and Jerusalem, and in Jaffa they met the Ottoman general Ibrahim Pasha.
The set was originally published in two instalments and available in two issues: a deluxe issue printed with a larger tinted background with white highlights (plates 1-3) and a regular issue (plates 4-6). They show: (1) a rider on a dromedary with a letter to Ibrahim Pasha; (2) the camp of Ibrahim Pasha; (3) three Bedouin horse riders; (4) another scene with Bedouins; (5) the group's passage through the Balkans; and (6) a Turkish courier. All views, except the first, include horses.
Hackländer wrote a short text to accompany the set, but it is not included. Two plates slightly soiled in the margins and some tiny tears along the extremities, otherwise in very good condition. Engelmann, Bibliotheca geographica, p. 123; Thieme & Becker XII, p. 491; WorldCat (2 copies, incl. 1 with text only); not in Dejager; Huth; Mennessier de la Lance; Podeschi.
Related Subjects: