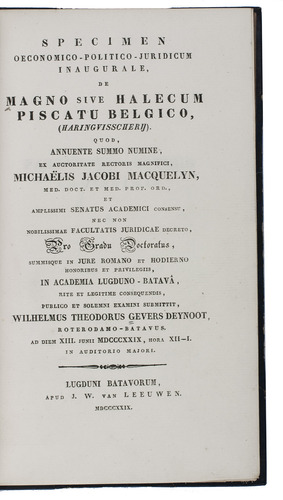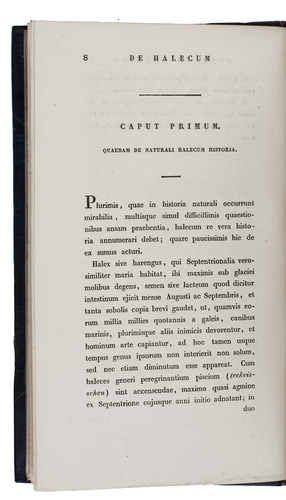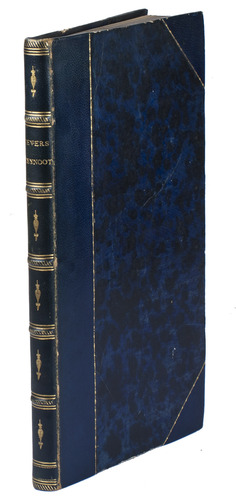 GEVERS DEYNOOT, Willem Theodorus.
Specimen oeconomico-politico-juridicum inaugurale, de magno sive halecum piscatu Belgico, (Haringvisscherij).
Leiden, J.W. van Leeuwen, 1829. 8vo. 19th-century blue half morocco, gold-tooled spine. [6], 116 pp.
€ 600
First and only edition of the thesis of Willem Theodorus Gevers Deynoot (1808-1879) on herring fishery in the Low Countries. It discusses the Dutch laws and legislation concerning herring fishery as well as internal cooperation and foreign relations. After his studies Gevers Deynoot became a lawyer in The Hague, and later a member of the town-council in Rotterdam and member the States General. There he mainly dealt with economical subjects, waters and fishery.
With the small bookplate of the Dutch professor of anatomy and medicine Willem Vrolik (1801-1863) on half-title. His "Vrolik Museum" was and is well known for its collection of anatomical, zoological and teratological preparations. In very good condition, binding only slightly rubbed along the extremities. D. Mulder Bosgoed, Bibliotheca ichthyologica et piscatoria (1874), 3299.
Related Subjects: