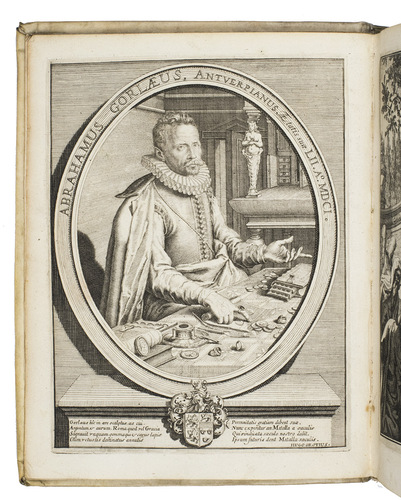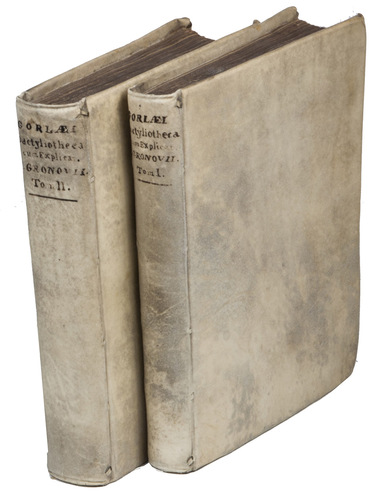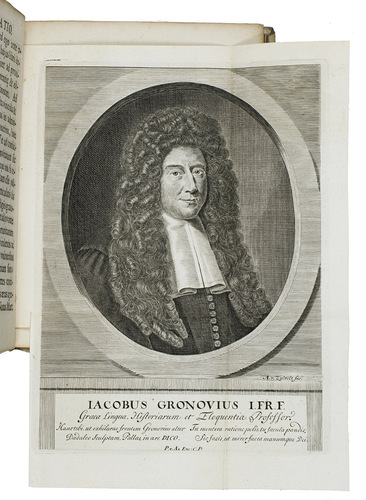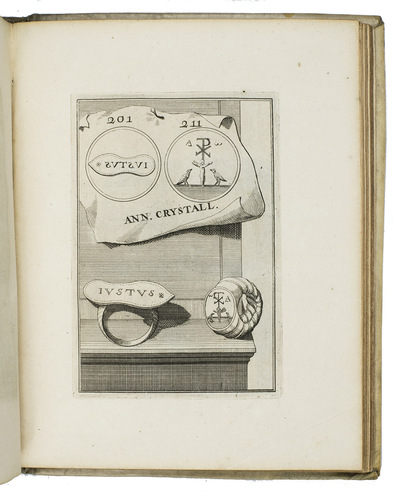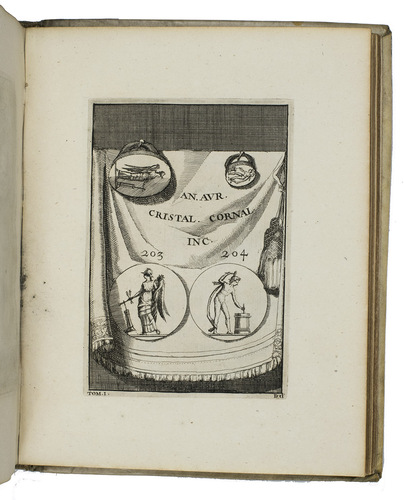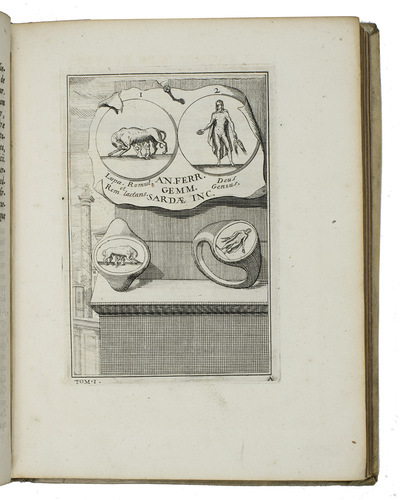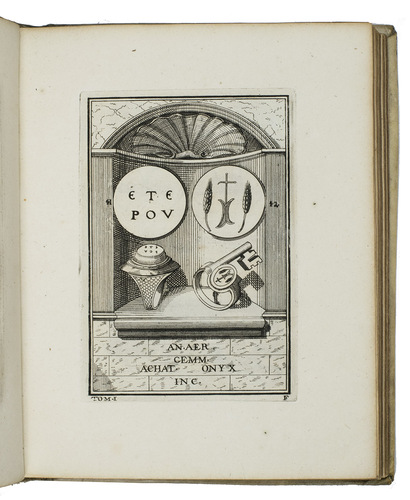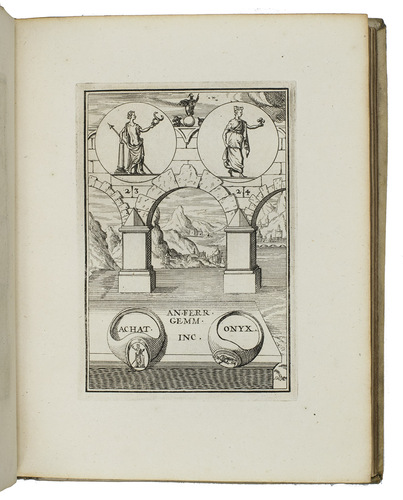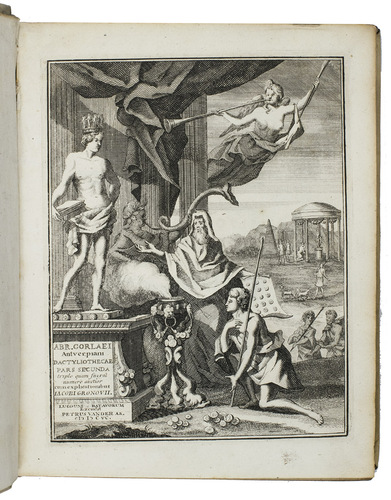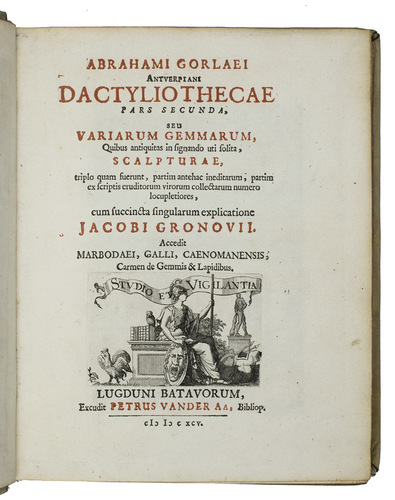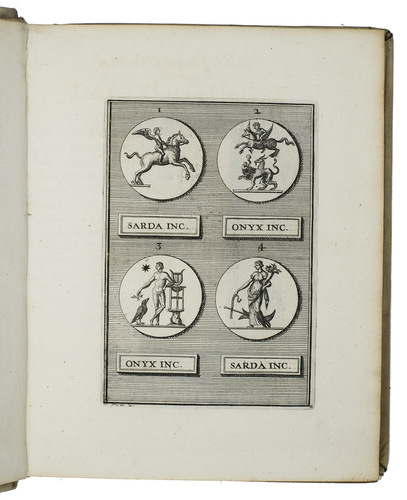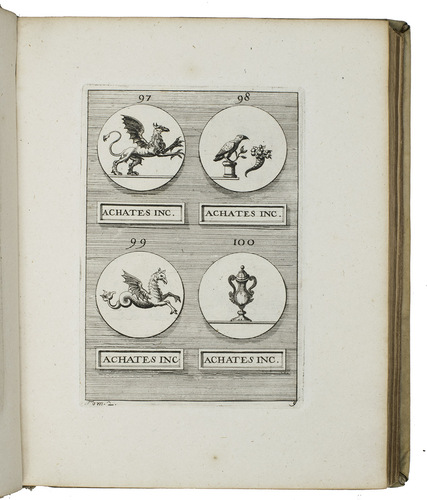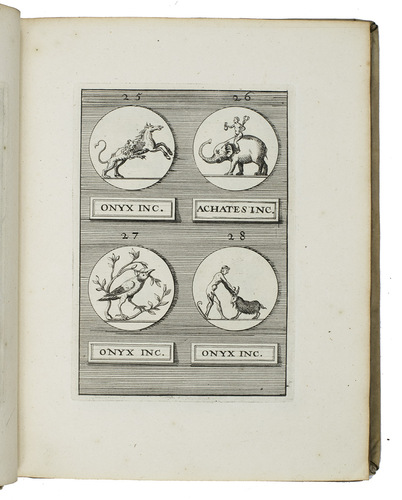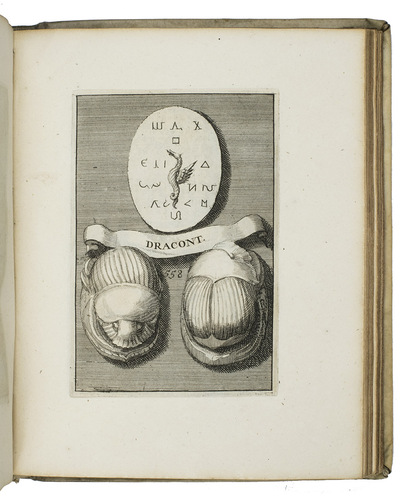 GORLAEUS, Abraham.
Dactyliotheca, seu annulorum sigillarium quorum apud Priscos tam Graecos quam Romanos usus, ex ferro, aere, argento & auro promptuarii ... collectis aliunde & ineditis & editis annulorum figuris auctior; cum explicationibus Jacobi Gronovii.
Leiden, Petrus van de Aa, 1695. 2 volumes. 4to. With 2 different engraved allegorical title-pages (reflecting the themes of rings and intaglio-carved gems), 2 letterpress title-pages in red and black with one of Van der Aas engraved allegorical devices (Minerva/Athena, books, a cock and Hercules/Heracles, with motto "studio et vigilantia"), a portrait of the author by Jacques de Gheyn with a calligraphic verse by Hugo de Groot below, 138 engraved plates: 196 numbered illustrations of ancient rings with carved gems shown at actual size on 101 engraved plates, and 148 numbered illustrations of carved gems alone on 37 engraved plates). Contemporary limp vellum, manuscript title on spine. [22], 28, [16], 16 pp. plus 109 plates; 64, 32 pp. plus 173 plates.
€ 2,950
The second, much enlarged edition by the Dutch classical scholar Jacobus Gronovius of the first extensive repertory of Greco-Roman rings with intaglio-carved gems by Abraham Gorlaeus (Van Goorle; 1549-1608), which Gorlaeus had published in 1601 with the title Dactiliotheca seu annulorum sigillarium quorum apud priscos tam Graecos quam Romanos usos (1601) as a catalogue of engraved gems in his cabinet of curiosities.
The present edition is also remarkable as one of the earliest books too incorporate - at the end of vol. 2, pp. 1-32 - a medieval treatise on precious stones by Marbodi, the bishop of Rennes (ca. 1035-1123): Marbodaei Galli Poetae vetusti, Carmen de gemmis sive lapidibus pretiosis. The poem is written in exquisite Latin metre and each of the 63 sections is devoted to a single gem, explaining its formation, appearance, etymology, exotic origins, medical properties and preparations. In his prologue Marbodi says it is partly based on a work on the subject by the first century Arabian King, Evax, addressed to Emperor Tiberius.
With three inserted pages with titles in German translation, written by a 19th-century hand, and one leaf inserted with 43 tracings of rings, etc. from the book, also in a 19th-century hand-writing. Bindings a little dust-soiled, otherwise in very good condition. Brunet II, 1671; Ebert, 8711; Kockel-Graepler, Daktyliotheken (Kat. 2006), pp. 111-112; Simoni G126; Sinkankas 2470; Ter Meulen & Diermanse 247; STCN (5 copies, incl. 2 incomplete); Vinet, 1609; cf. Ciconara 2871; J. G. van Gelder, "Notes on the royal collection - IV: the 'Dutch gift' of 1610 to Henry, Prince of Wales'...", in: The Burlington Magazine, 105 (December 1963), pp. 541-545; David Jaffé, "Aspects of gem collecting in the early seventeenth century, Nicolas-Claude Peiresc and Lelio Pasqualini", in: The Burlington magazine, 135 (February 1993), pp. 103-120; Sinkankas 2472; P. & H. Zazoff, Gemmensammler, pp. 31-34; for the author: NNBW, 5 (1921), cols. 209-210.
Related Subjects: