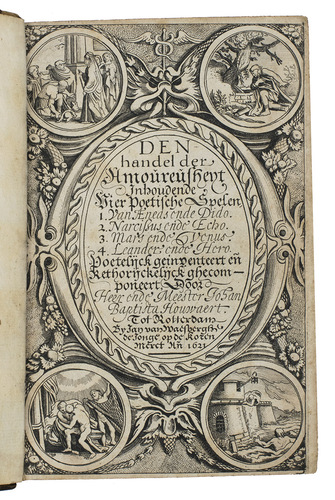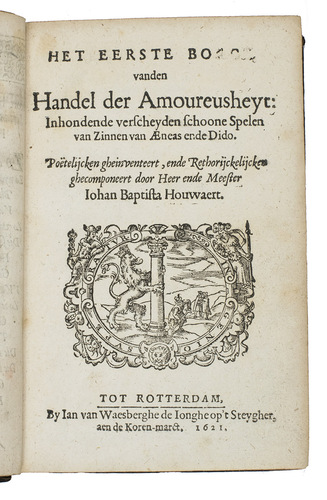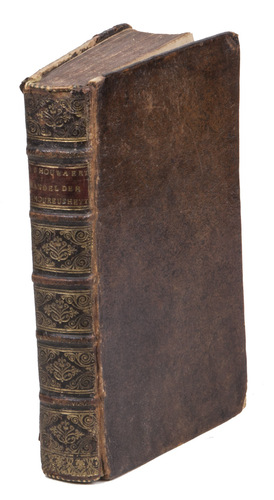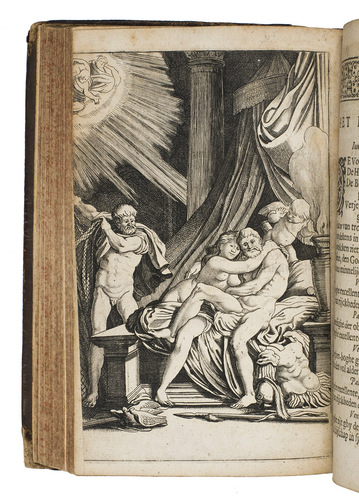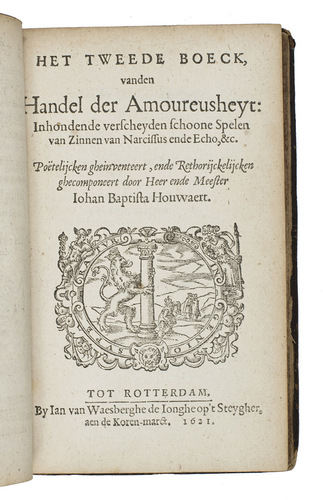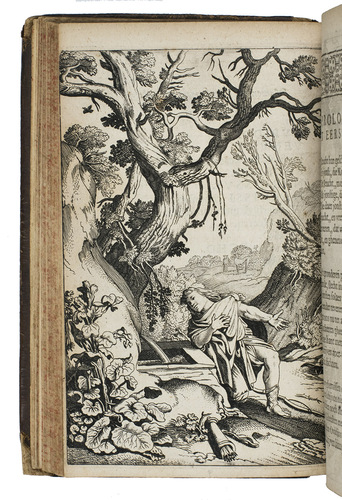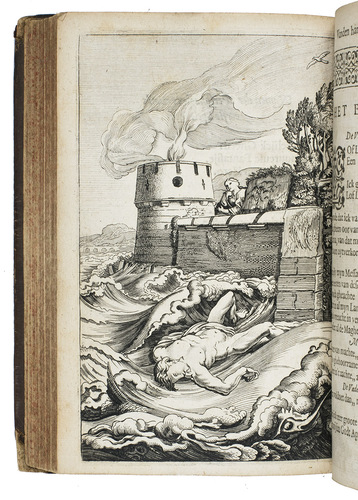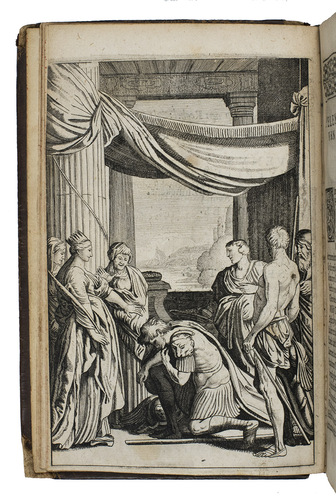 HOUWAERT, Johan Baptista [recté: MOL, Jacob de, Colyn KEYART and "SMEECKEN" (Jan SMEKEN?)].
Den handel der amoureusheyt inhoudende vier poetische spelen, 1. Van Aeneas ende Dido. 2. Narcissus ende Echo. 3. Mars ende Venus. 4. Leander ende Hero. Poetelijck geinventeert ende rethorijckelijck ghecomponeert.
Rotterdam, Jan van Waesberghe III, 1621. 4 parts in one volume. 8vo. With an engraved ornamental title-page with the title in an oval cartouche and 4 roundels in the corners with scenes from the four plays; 4 full-page engraved plates with similar scenes, one in the preliminaries of each play. Contemporary calf, spine richly gold-tooled in compartments with red title label lettered in gold, gold-tooled board edges. 237 ll.
€ 5,500
First and only edition of four morality plays or dialogues, often wrongly attributed to the famous Antwerp rhetorician Jean Baptiste Houwaert (1533-1599). In fact, they were written by Antwerp rhetoricians ca. 1550, when Houwaert was only about seventeen. It has mistakenly been described as a second edition of Houwaert's Den handel der amoureusheyt (Brussels 1583) - see Bibl. Belg. III, p. 538, H 189 bis, but in fact it has nothing to do with that work: if Houwaert wrote anything for the present edition, it would be the entr'actes of the third play.
After four preliminary poems, on 5 pages, by a poet calling himself "Niet Snel Al-be-recht", four plays follow:
1. Verscheyden schoone spelen van zinnen van Aeneas ende Dido (A1-F3; 43 ll.), written by the rhetorician Jacob de Mol of the Chamber of rhetoric "De Goudsblom" in Antwerp, performed for the first time in 1552 (cf. Vinck-Van Caeckenberghe in her book on Cornelis van Ghistele (1996), who attributes this play to Van Ghistele).
2. Verscheyden schoone spelen van zinnen van Narcissus ende Echo, &c. (F4-P7; 76 ll.): three separate plays, together 2193 verses, by Colyn Keyart, with entr'actes possibly by Johan Baptiste Houwaert.
3. Verscheyden schoone spelen van zinnen van Mars ande Venus, &c. (Q1-Z1; 57 ll.): three separate plays, together 1128 verses, probably by Smeecken.
4. Vier schoone spelen van zinnen van Leander ende Hero (Z2-Gg2; 57 ll.): this play, according to Knuttel also by Colyn Keyart, is preserved only in this edition.
The book is a very important source for the history of the rhetoricians in the Southern Netherlands.
One plate shaved, otherwise in good condition. Bibl. Belg. III, pp. 538-539, H 26; G. Kalff, in: Tijdschrift Ned. letterk., 8 (1888), pp. 231-235; STCN (9 copies, incl. 1 incompl.); F. van Veerdeghem, in: Tijdschr. Ned. letterk., 12 (1893), pp. 202-205, 320; W. de Vreese, in: Tijdschr. Ned. letterk., 12 (1893), pp. 206-211; Te Winkel, Ontwikkelingsgang, 2nd ed., II, p. 395; J.A. Worp, in: Tijdschr. Ned. letterk., 20 (1901), pp. 27-29.
Related Subjects: