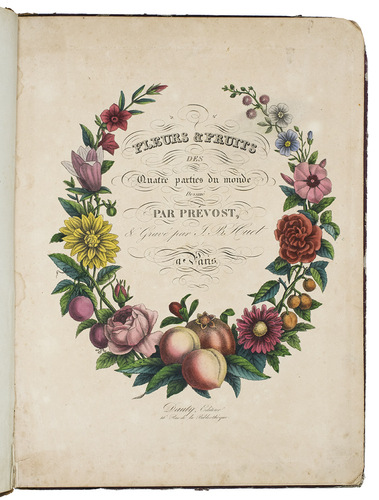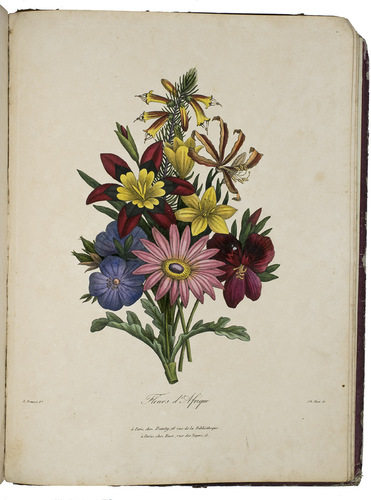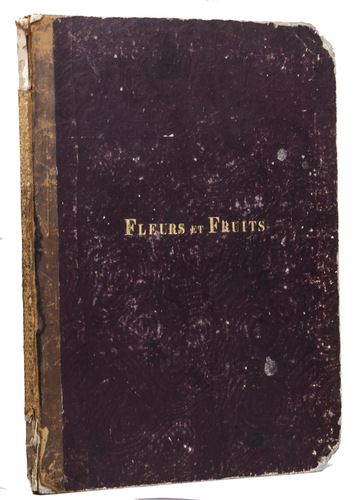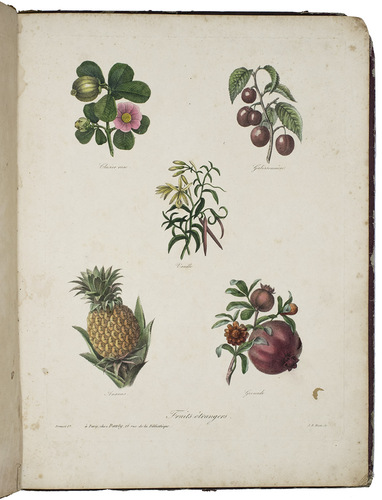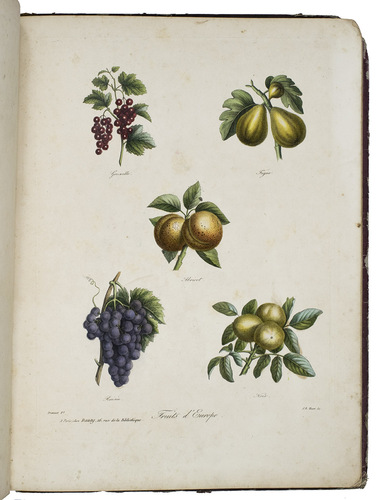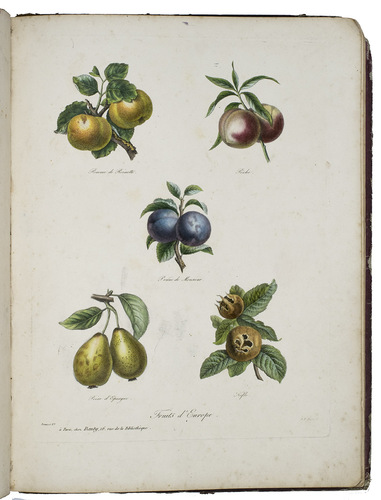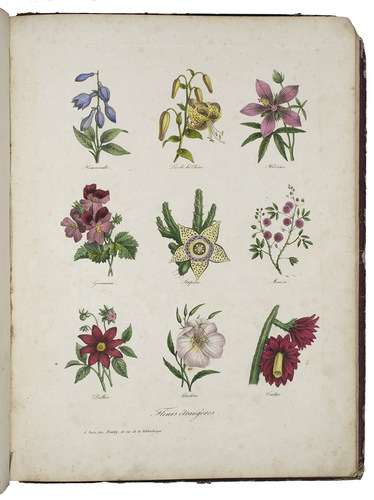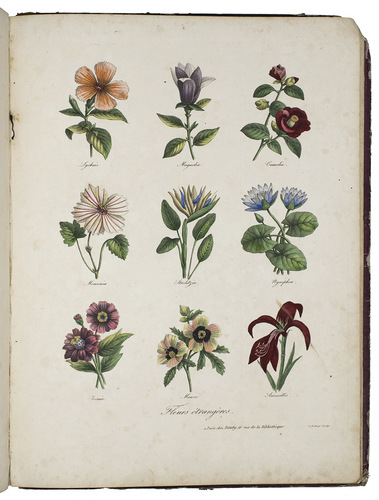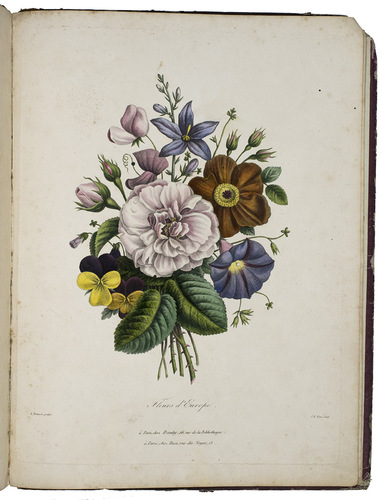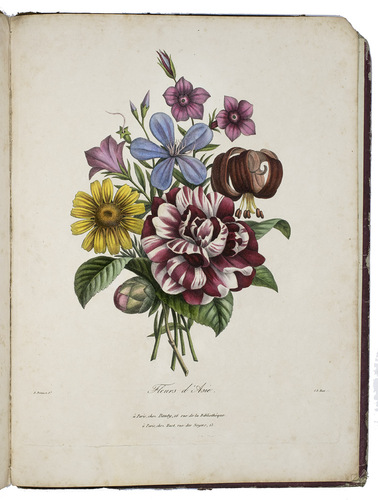 HUET Jean-Baptiste (the younger); Benoît-Louis or Jean-Louis PRÉVOST.
Fleurs & fruits des quatre parties du monde desseine par Prévost & gravé par J.B. Huet.
Paris, Dauty, [ca. 1837/1838]. Folio (ca. 35 x 26.5 cm). With an engraved title-page and 11 (of 23) engraved botanical prints: 4 showing 5 kinds of fruits each, 3 showing 9 types of flowers each and 4 showing flower bouquets. All prints are stipple engravings and coloured by a contemporary hand, some parts glazed with egg white. Contemporary half sheepskin. [12] ll.
€ 3,250
Extremely rare botanical print series showing both European and exotic fruits and flowers, engraved by Jean-Baptiste Huet the younger (1772-1852) after designs of Benoît-Louis Prévost (1735?-1804?) or Jean-Louis Prévost (1760-1810). It also includes four plates showing bouquets from Europe, America, Asia and Africa. Only one complete copy is known, at the Bibliothèque nationale de France, we have traced no copy in sale or auction records and it is not mentioned in the usual botanical bibliographical works. The BnF copy is described in the Inventaire du fonds français après 1800 where the series consists of 23 prints issued all together under this title. The BnF and the IFF date the work ca. 1837-1839, but it is more likely that it is ca. 1837-1838, as Dauty died in 1838 and he printed at Rue de Bibliothèque no. 16 only in 1827 and 1835-1838. The BnF ascribes the designs for the prints to Benoît-Louis Prévost, but Jean-Louis Prévost remains a possibility, for he produced another famous print series of flowers and fruits in the same style of stipple engravings, Collection des fleurs et fruits (1805).
With a contemporary inscription "A? M.elle Vincent" on the first free endleaf, dedicating it to or belonging to the famous French 19th-century botanical painter Henriette Vincent (1786-1834), who was a student of Gerard van Spaendonck and Pierre-Joseph Redouté. Head and foot of the spine damaged and spine slightly worn, boards a little rubbed, edges slightly worn, corners bumped. Some light browning and foxing throughout, title-page a little more browned and with a light marginal water stain. Lacking 12 plates, according to IFF. Otherwise in good condition. An extremely rare botanical print series, vividly hand-coloured. BnF FRBNF40503621; IFF (Inventaire du fonds français après 1800), Huet, p. 518; not in Nissen BBI; Pritzel; Stafleu & Cowan.
Related Subjects: