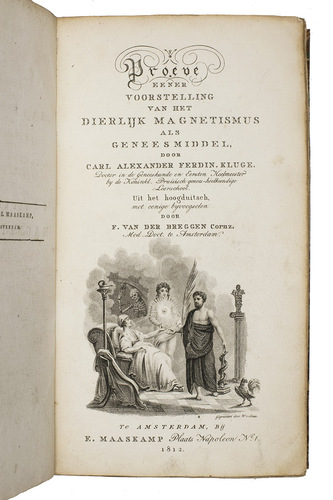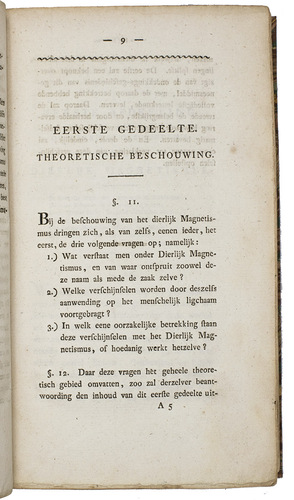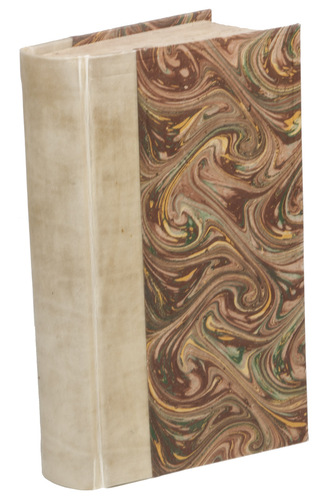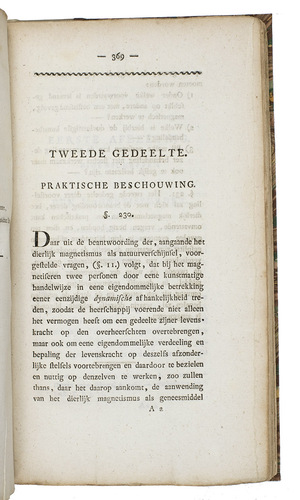 KLUGE, Carl Alexander Ferdinant (F. VAN DER BREGGEN, transl.).
Proeve eener voorstelling van het dierlijk magnetismus als geneesmiddel. Uit het Hoogduitsch met eenige bijvoegselen door F. van der Breggen.
Amsterdam, Evert Maaskamp, 1812. 8vo. With an engraved title-page including an allegorical scene engraved by W. van Senus showing Asklepios and Hypnos chasing Death away from a sick man. Modern half vellum, marbled sides, new endpapers. [4], 551, 50 pp.
€ 950
First edition of the Dutch translation of Kluges important work Versuch einer Darstellung des animalischen Magnetismus als Heilmittel (1811), which the Dutch expert in the field, Joost Vijselaar, calls Kluge's magnum opus. It gives a complete and systematic overview of the science at that time. Kluge treats the history of animal magnetism and gives a detailed overview of the life of Franz Mesmer, together with descriptions of all aspects of magnetism, ordered in six grades.
With a library stamp of P.F. Dubois on the half-title. Index at the end of the book (pp. 1-50) with some bolts unopened. In very good condition. ADB, 16 (1882), pp. 250-251; BMN, I, p. 153; Bulletin des sciences médicales, 7 (1828), p. 267; DSB, IV, p. 560; Joost Vijselaar, De magnetiche geest. Het dierlijk magnetism 1770-1830 (Nijmegen 2001), pp. 220-221, 359-360.
Related Subjects: