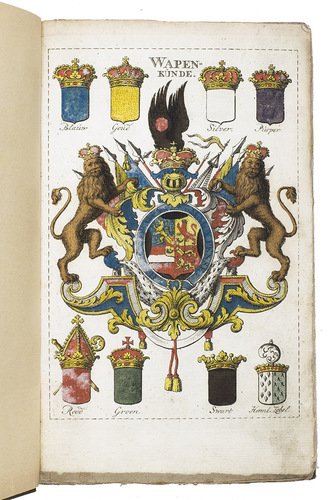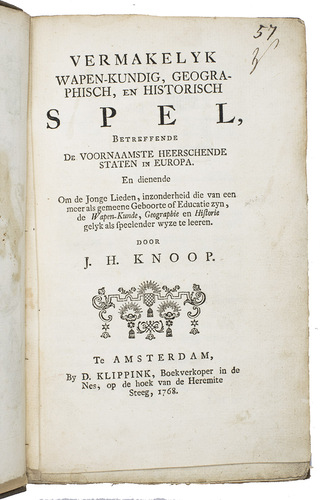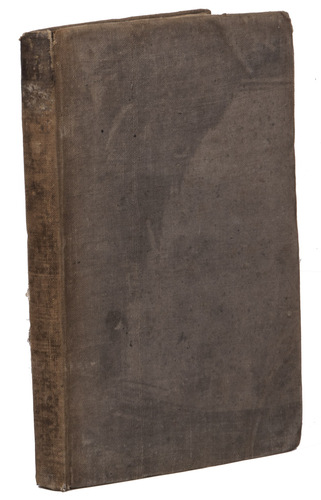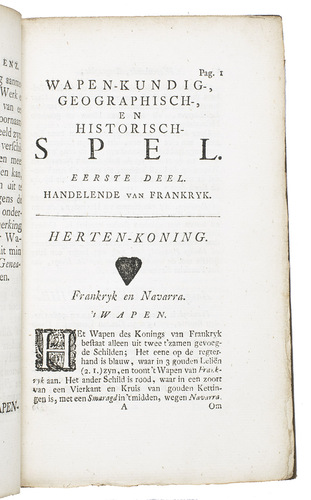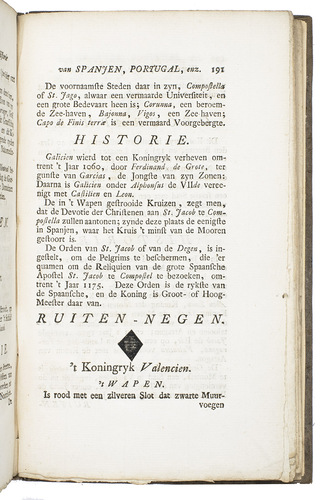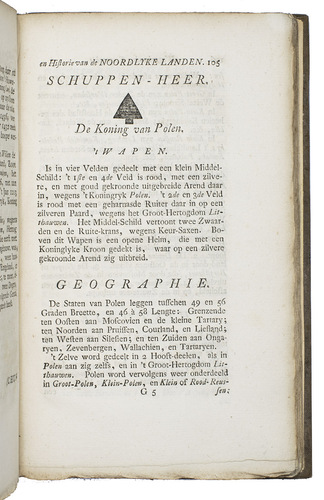 KNOOP, Johann Hermann.
Vermakelyk wapen-kundig, geographisch, en historisch spel, betreffende de voornaamste heerschende staten in Europa. En dienende om de jonge lieden, inzonderheid die van een meer als gemeene geboorte of educatie zyn, de wapen-kunde, geographie en historie gelyk als speelender wyze te leeren.
Amsterdam, David Klippink, 1768. 8vo. With a full-page engraved armorial plate with the coat-of-arms of the British chivalric Order of the Garter with their motto "Honi soit qui mal y pense" and small woodcut hearts, clubs, spades and diamonds in a card game in the text. 19th-century brown cloth, yellow endpapers. [24], 203, [5] pp.
€ 1,250
Second and last issue of the rare first and only edition of a heraldic game for young noblemen to learn the heraldry, genealogy, geography and history of the main European kingdoms, duchies, counties, electorates and other states. This was considered very important, since many of these young men were to one day take part in political and governmental activities. The game is to be played with a pack of ordinary playing cards and a map of the world spread over the playing table. Each player takes a turn by randomly drawing a card and describing the genealogy, heraldry, geography and history of the region that the book associates with that card. One of the players serves as arbiter and when a player fails to give a correct and sufficient description, he must pay a fine. The book itself provides the information for describing the heraldry, genealogy, geography and history of the regions it associates with the cards. The preface presents not only the rules of the game, but also several variant versions, and it concludes with a general educational text on heraldry and the lay-out and symbolism of coat-of-arms.
This booklet for the heraldic game was written by Johann Herman Knoop (1700-1778), who was curator of the garden of Princess Maria Louisa in Leeuwarden.
Binding slightly worn around the edges, cloth a little discoloured at some places and iwht some stains. Only a few spots throughout, untrimmed and therefore the paper edges are a little frayed, but overall in good condition. Buijnsters, Bibliografie van Nederlandse school- en kinderboeken 1700-1800, 1291; Buijnsters, Papertoys, p. 145; STCN 169093832 (6 copies).
Related Subjects: