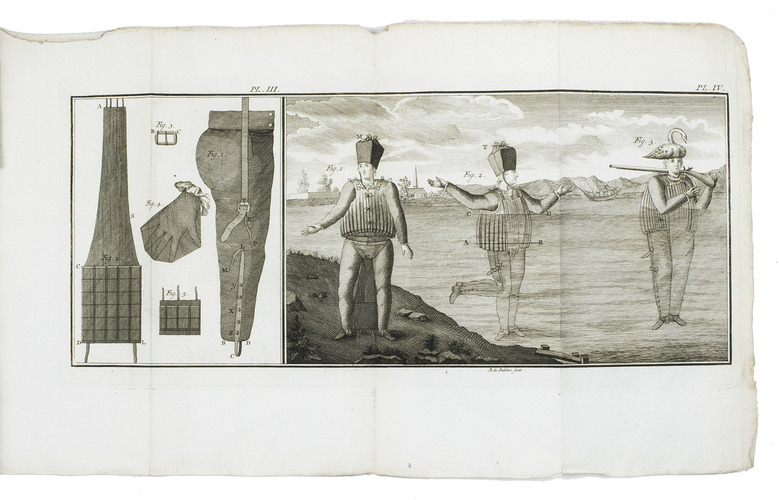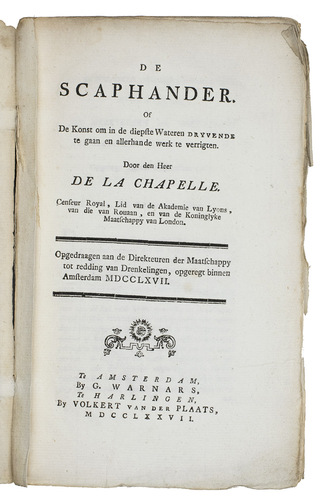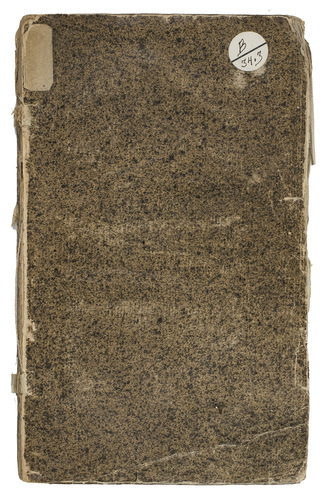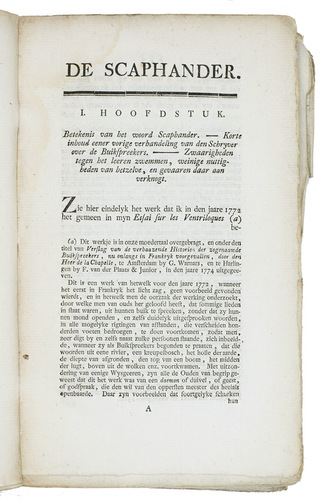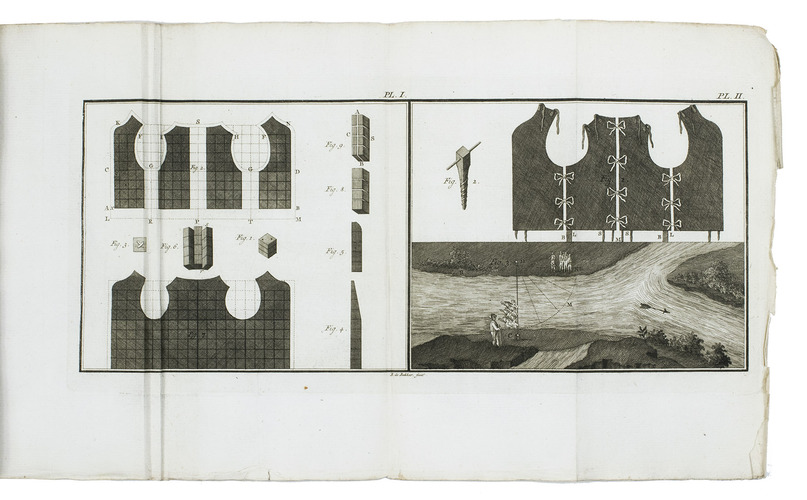 LA CHAPELLE, Jean Baptista de (Cornelis van ENGELEN, transl.).
De scaphander of de konst om in de diepste wateren dryvende te gaan en allerhande werk te verrigten.
Amsterdam, G. Warners & Harlingen, Volkert van der Plaats, 1777. 8vo. With 4 engraved plates on 2 large folded sheets by B. de Bakker after the plates in the original French edition, charmingly illustrating the water-jacket and water-pants discussed in the text. Contemporary brown sprinkled paper wrappers. [2], VIII, 139, [1] pp.
€ 3,000
First and only Dutch edition of an interesting treatise describing and depicting the practical use of a newly invented life jacket (water jacket and water pants) enabling men to remain in water for extended periods of time and to walk upright through the deepest waters or to enable people to execute work to be done in water, deep or shallow.
The present flotation suit was according to the author a big improvement on earlier inventions by Thevenot, Digby, Wynman, Gelaci, and especially on the more recent invention by Wilkinson. La Chapelle's invention consisted of a sleeveless jacket covering the upper body, and a pair of trousers, the jacket comprising floats to transform the wearer so to speak into a human boat, as is indicated also by the French title. The floats could be altered to allow the wearer to submerge.
Spine lost, back wrapper and title-page loose, book block broken into two parts and slightly frayed along the edges. Otherwise an uncut copy of a rare work in good condition. Bierens de Haan 844 (erroneously dated 1787); cf. Poggendorff I, 1338 (French ed.); Quérard, La France litt. IV, 361 (idem).
Related Subjects: