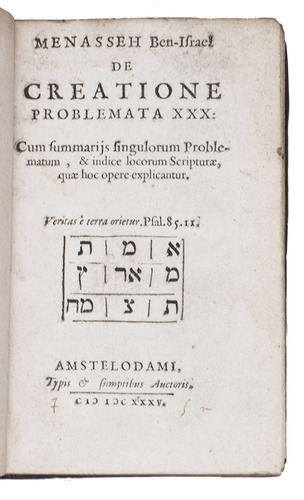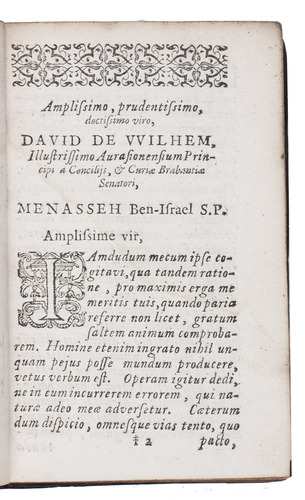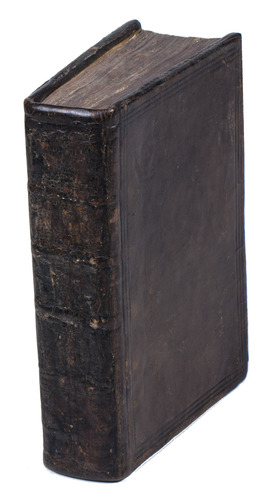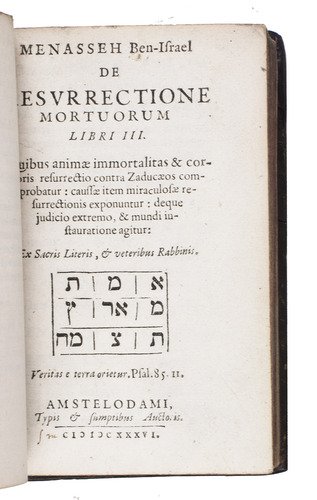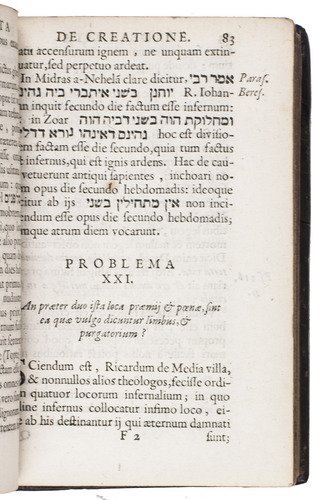 MENASSEH Ben Israel.
De creatione problemata XXX: cum summariis singulorum problematum, & indice locorum Scripturae, quae hoc opere explicantur.
Amsterdam, the author, 1635.
With: (2) MENASSEH Ben Israel. De resurrectione mortuorum libri III. Quibus animae immortalitas & corporis resurrectio contra Zaducaeos comprobatur: caussae item miraculosae resurrectionis exponuntur: deque judicio extremo, & mundi instauratione agitur...Amsterdam, the author, 1636. 2 works in 1 volume. 8vo. Contemporary calf, rebacked, with the original backstrip laid down. [16], 156, [2], [2 blank]; [40], 346, [6] pp.
€ 6,000
Ad 1: First edition of a work on God's creation of Earth, by the well-known Portuguese rabbi, writer and printer Menasseh Ben Israel (1604-1657), who established the first Jewish printing office in the Netherlands. The work presents 30 questions, or "problems", concerning God's creation of the Earth, which Menasseh tries to answer and explain, citing or referring to passages of the Tenach. Problems include "on which day were demons created?" and "was there another world or earth before God created this one?". The preliminaries including an important poem by Caspar Barlaeus, which caused the Amsterdam authorities to consider the reintroduction of censorship for Jewish publications. As this didn't happen, Barlaeus's poem can be seen as an indicator of the relationship between Jews and Christians, and the religious tolerance in Amsterdam during the Golden Age.
Ad 2: First edition of a work on the resurrection of the dead by the same author. The work is divided into three "books" and opens with several dedicatory letters, an index of the chapters, and 3 laudatory poems. The last page of the preliminaries gives a short list is of books translated from Hebrew into Spanish. The main text deals with the Last Judgment, the resurrection of the dead and the immortality of the soul.
With a bookseller's ticket and bookplate. Title-page of ad 1 slightly smudged, browned throughout, some water stains and small spots, but still in good condition. Binding rubbed along the extremities and sides somewhat scratched, rebacked, with the original backstrip laid down. Ad 1: Fuks & Fuks-Mansfeld, p. 107; STCN 843242612 (7 copies); ad 2: STCN 084840250 (9 copies); for Menasseh in general: Fuks & Fuks-Mansfeld, pp. 99-135; NNBW X, cols. 604-613.
Related Subjects: