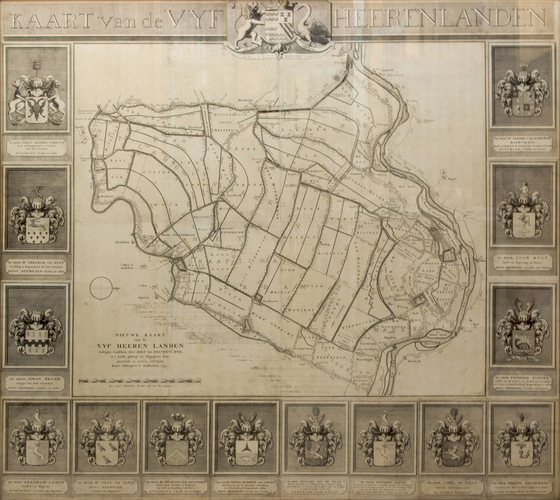 OTTENS, Reinier and Josua OTTENS.
Nieuwe kaart van de Vyf Heeren landen gelegen tusschen den Dief en Zouwen dyk.
Amsterdam, Reinier and Josua Ottens, 1741. Engraved map on 4 sheets (85 x 98 cm as assembled), with an engraved title ("Kaart van de Vyf Heerenlanden") with the coat of arms of the water district at the head, and surrounded by 14 engraved coats of arms at the left, right and foot (measuring 122 x 134 cm in total). The map with the title and publisher at the foot left, together with a scale (ca. 1:19,000) and the name of the engraver at the right (Jan van Jagen). Framed.
€ 6,500
First state of a topographical wall map of the Vijfheerenlanden, a Dutch (polder) district south of Utrecht and the river Lek. Here including the very rare engraved borders, containing the coats of arms of the water district and its board members. The area is bordered by the Lek at the right (the north), the river Linge at the left, the Diefdijk at the foot and the Zouwendijk at the head, and includes the cities Vianen and Leerdam, and the towns and villages Ameide, Oosterwijk, Leerbroek, Lexmond, Nieuwland and Everdingen.
The 14 coats of arms of the members of the water district board are those of: Hendrik Verboom, Abraham van Hoey, Simon Brand. Abraham Cleyn, Paul van Alen, Jacob Pieter Balguerie, Georg Robbert van Croin, Gerard Callenburgh Baertmans, Joan Host, Frederik Kuenenn, Testard Jan de Lille, Hendrik Cleyn, Carel de Lille and Willem Kelderman.
The four leaves of the map have visible folds, one leaf has a restored tear along the fold (not touching image itself), and some faint spots, otherwise in very good condition. Donkersloot-De Vrij (1981) 809 (locating 1 copy with the coats of arms); Fockema Andrae, Geschiedenis der kartografie van Nederland, p.72; Koeman, handleiding 184.
Related Subjects: