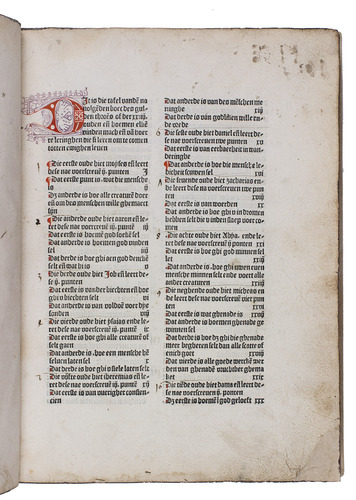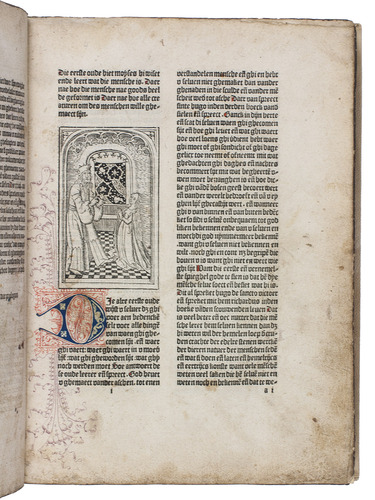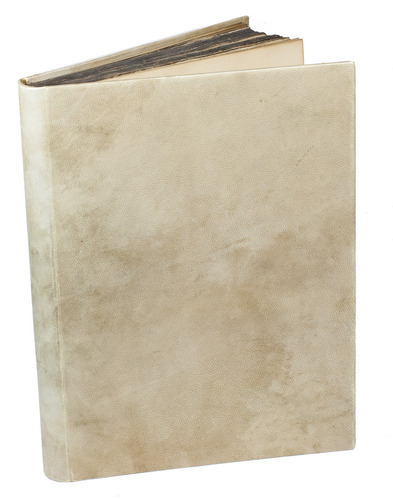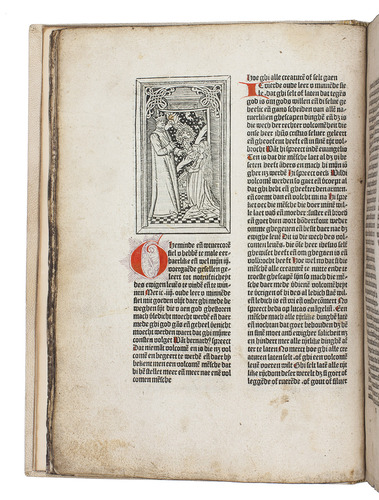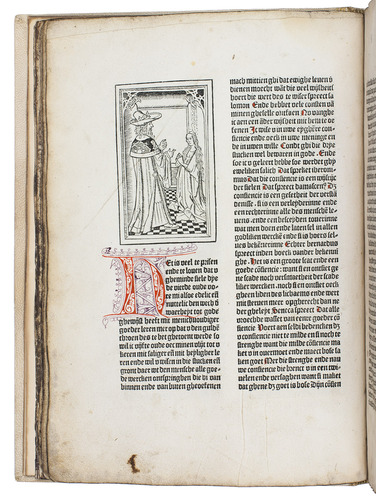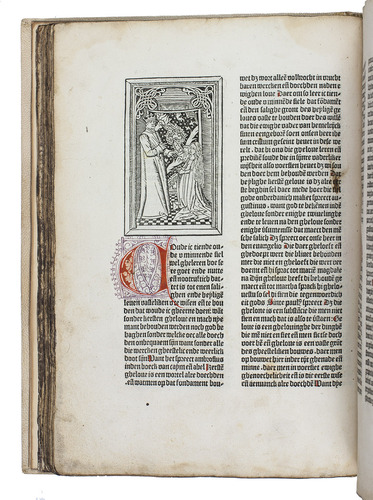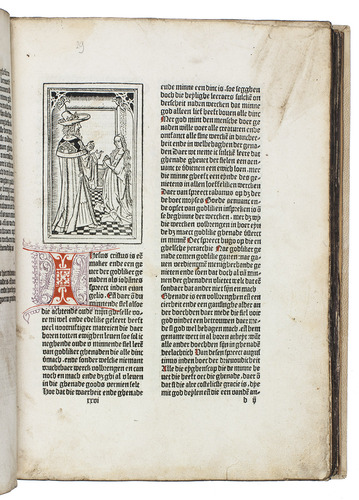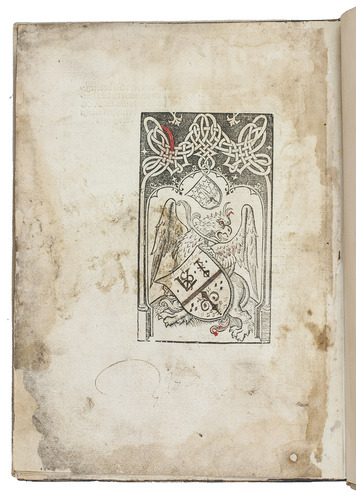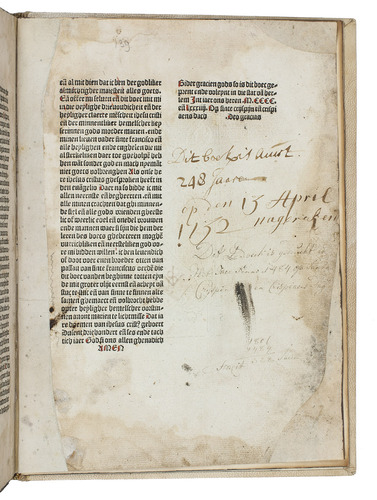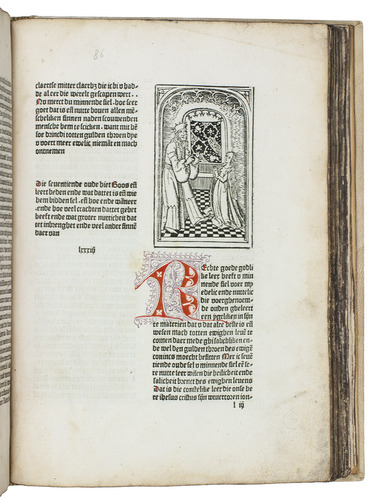 OTTO VON PASSAU.
Boec des gulden throe[n]s of der xxiiij. ouden en[de] hoemen elke[n] vinden mach en[de] va[n] hoerre leringhen die si leren om te comen totten ewighen leven.
(colophon: Haarlem, [Jacob Bellaert], 25 October 1484). Folio (29 x 21.5 cm). With large woodcut printer's device (142 x 82 mm) on verso of last leaf (with the arms of the city of Haarlem above an eagle holding a larger blank shield, here filled in by a contemporary owner); 4 woodcut illustrations and 20 repeats, representing the 24 elders, each showing one of the male elders, standing, teaching a female novice kneeling before him. Further with spaces left for initials, all filled in with uncials by hand, about 25 with penwork decoration in 1 or 2 additional colours: 1 blue 6-line initial with decorations in red and violate extending far into the margin, about 24 red 3 to 9-line (mostly 7-line) initials with lavendar penwork (1 with 2 green dots), some extending into the margin, and more than 70 2-line red initials without penwork decoration; a few spaces left for ¶-marks, also filled in in red; capitals rubricated throughout. Set entirely in Baellart's textura (99 or 100 mm/20 lines or about 14.5 point). Lacking leaf 137 (the second to last text leaf) and the final blank. Modern sheepskin. [1 blank, 3], "136" [= 135 (of 136)], [1] ll.
€ 75,000
The second Dutch edition of Otto von Passau's religious instructive work, first published at Utrecht in 1480. The golden throne of the 24 elders is the only work known to survive by Otto von Passau, a Franciscan preacher who lived in the second half of the 14th century. It has been dated ca. 1383 and represents a subtle mixture of Christian and Pagan wisdom. It is divided into 24 chapters, each containing a lecture about the Apocalypse by one of the male elders. It is supposed to teach nuns and brothers of lay orders a way of life that will lead them to the "Golden Throne" of eternal bliss. Each lecture has its own theme, like the essence of God and man, mourning, confession and penance, love, hope, the sacraments, friendship, death, the chosen, hell, the last things, etc. The work remained popular into the beginning of the 17th century. The present edition is well printed in two columns, with 39 lines of textura type to each column. It is also most attractively illustrated with charming woodcuts, printed from four different blocks, which came originally from Haarlem block books. "It is primarily Bellaert's illustration-material which makes him such an interesting figure in the history of book-production in the Low Countries. ... here Bellaert's independence of Leeu finds clear expression. ... he succeeded ... in giving his editions a style of their own." (Hellinga). The first four leaves contain the table of contents and prologue. The excellent textura type made its first appearance in Bellaert's first books in 1483 and then in Gheraert Leeu's books at Gouda in 1484. Leeu must have taken his matrices with him to Antwerp in that year, for Bellaert's and Leeu's versions of the types introduce independent variations in later years. The present copy is furthermore richly and beautifully adorned with decorated initials in colour supplied by hand, and is rubricated throughout.
With contemporary owner's inscription on verso of first blank, the blank shield in the printer's device filled in with the motto "Versint eer ghij begint" and in the upper half a monogram LSvH[?] and a personal mark, and in the lower half a fleur-de-lis with clusters of black and white lozenges. On the blank page facing the opening of the text the bookbinder and teacher Leonardus Lendert Nabben (1588-post 1633) in Venray (not named here) has recorded exact details of the birth of his 7 children from 1613 to 1633 (see www.genealogieonline.nl/en/stambook-hendrix/I4074.php). Below the colophon is a 17th-century(?) inscription clarifying the colophon, a 1732 inscription above it calculating the age of the book, and an 1801 inscription below it, again calculating the age of the book. Lacking leaf 137 (the second to last text leaf) and the final blank, with marginal restorations in the last 9 leaves and marginal water stains in those and a few others. Otherwise in good condition and with very large margins (3.5 to 5 cm, giving a leaf size of 28.5 x 20.5 cm). BMC IX, 101; Campbell 1343; Goff O125; Hain-Copinger 12132; Oates 3649; Polain 2941; Proctor 9171; Van Thienen & Goldfinch, ILC 1675.
Related Subjects: