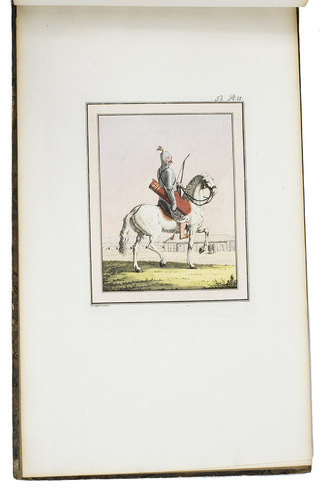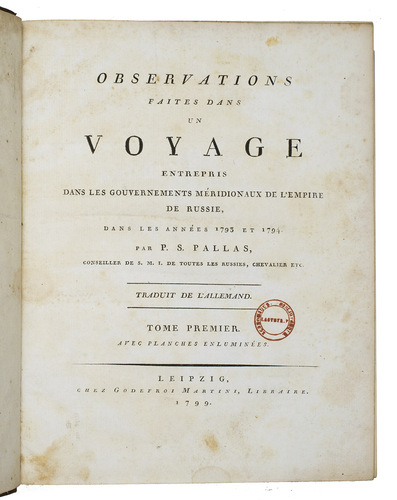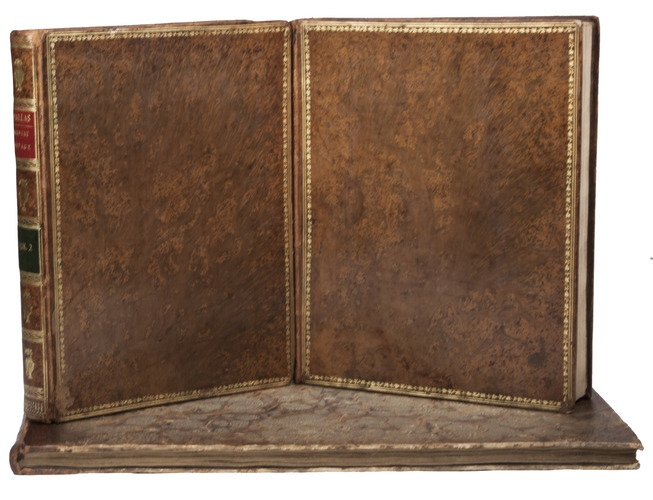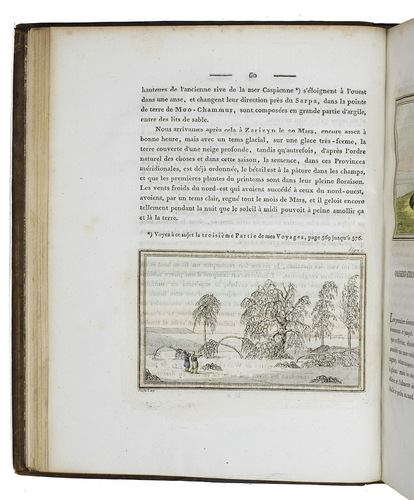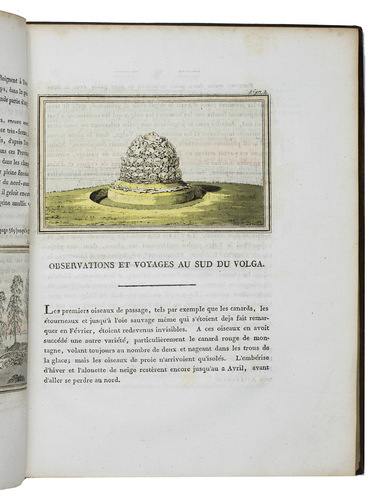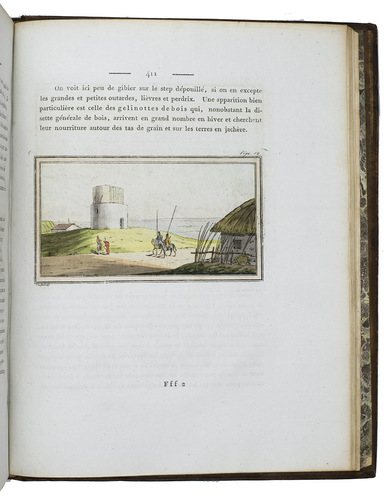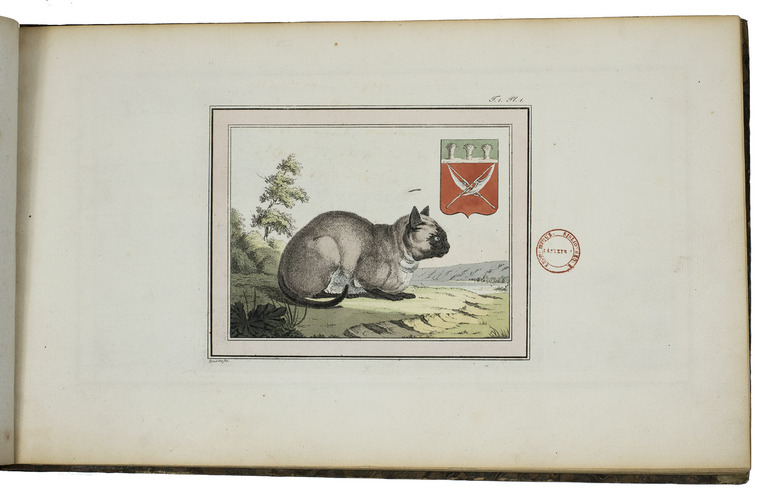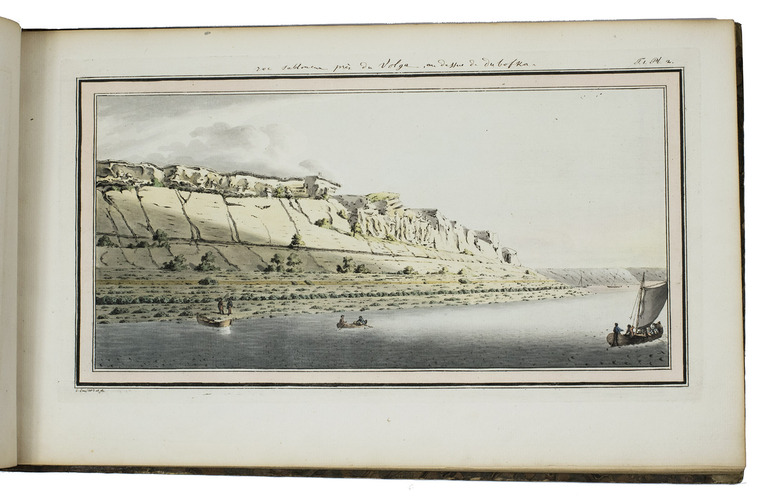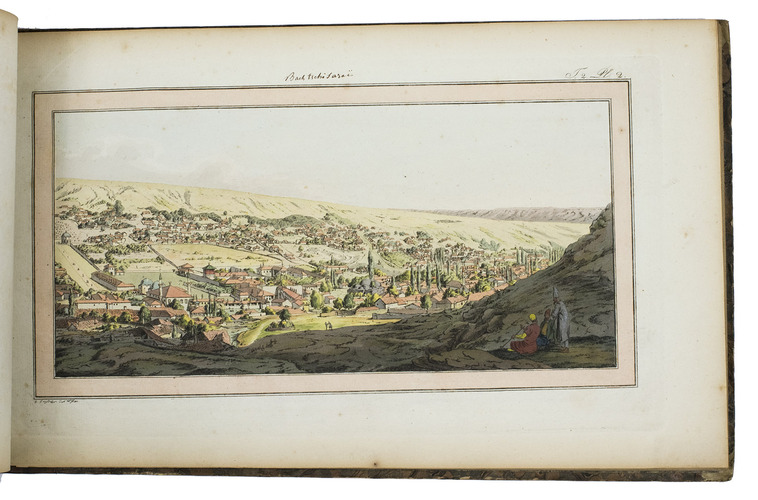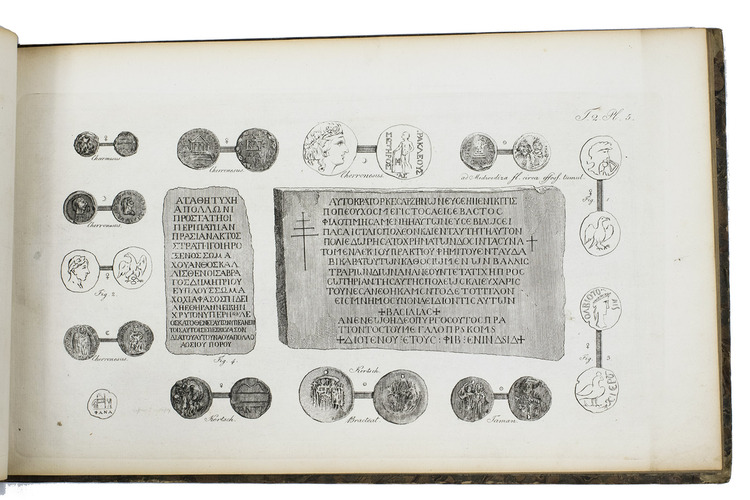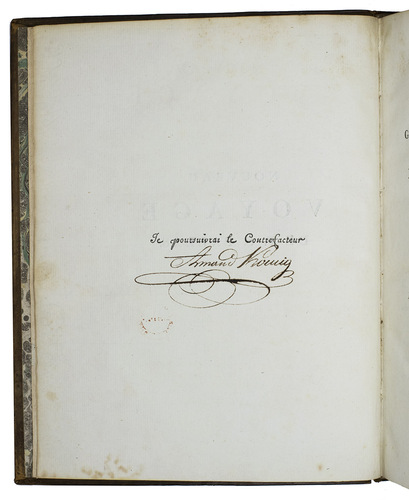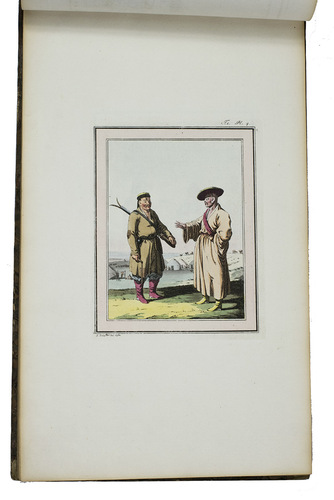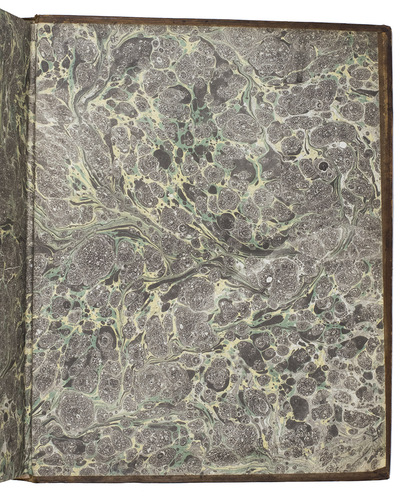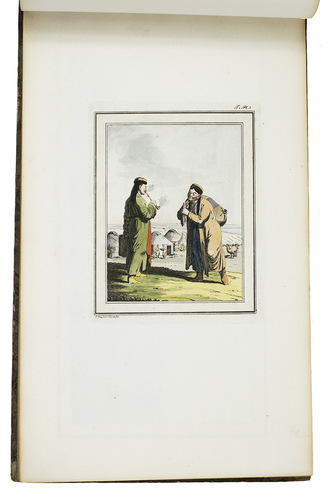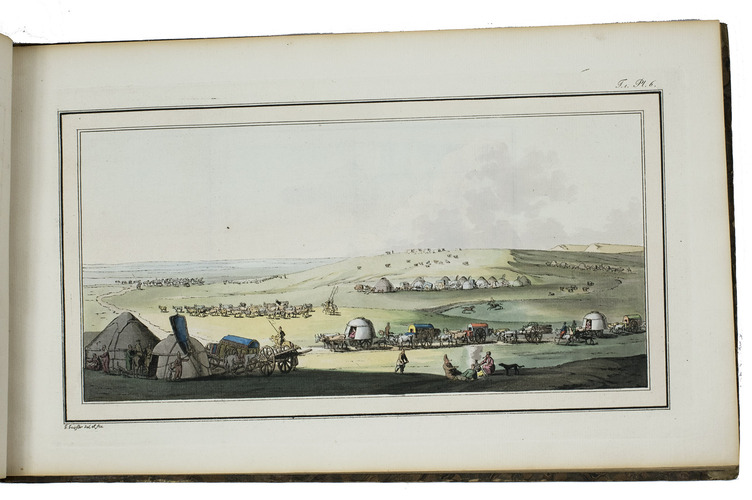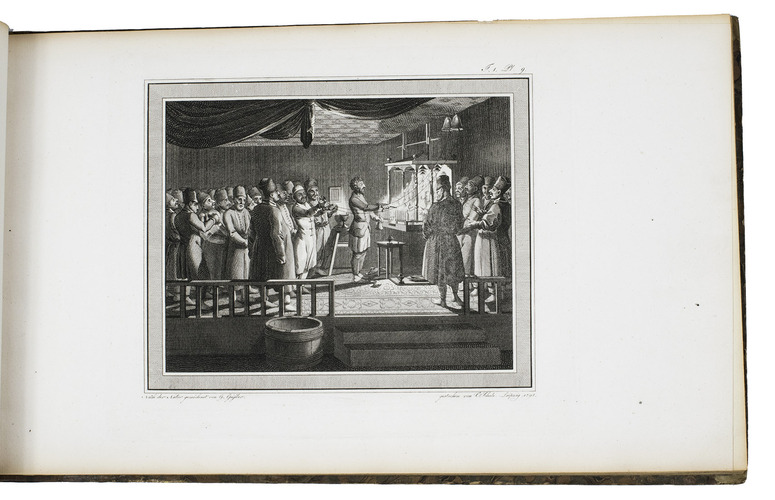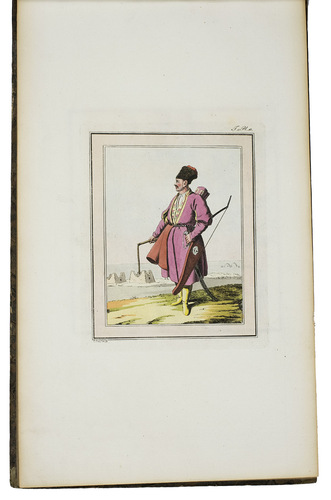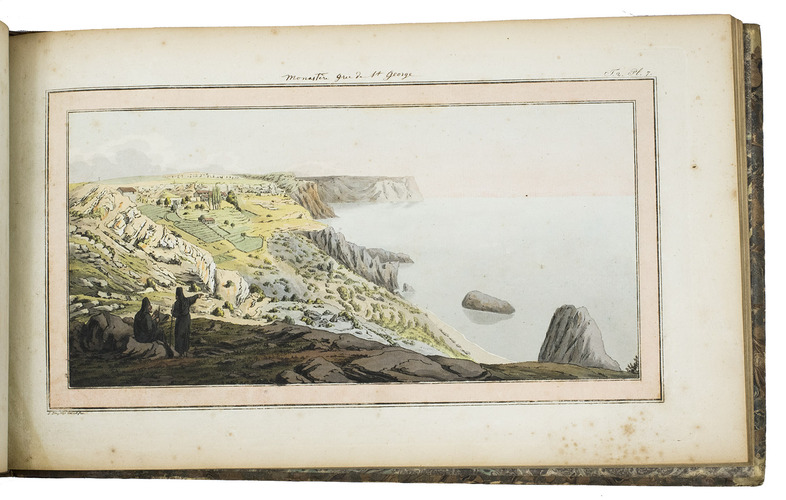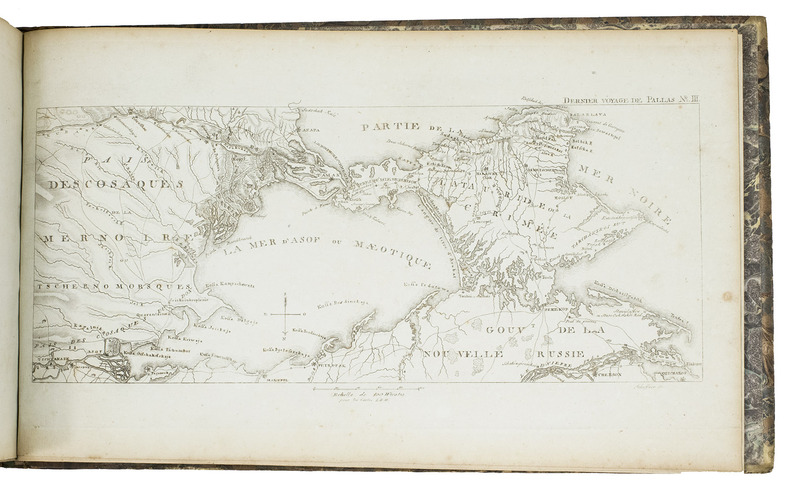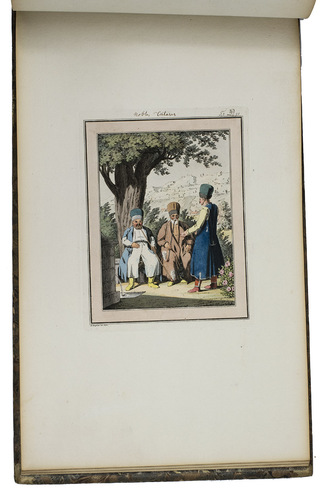 PALLAS, Peter Simon.
Observations faites dans un voyage entrepris dans les gouvernements méridionaux de l'Empire de Russie dans les années 1793 et 1794.
Paris, Strasbourg, Amand Koening; Leipzig, Godefroi Martini, 1799-1802. 2 text volumes and 1 atlas volume. 4to (text) and oblong folio (atlas: 24 x 40 cm). With 28 engravings in the text and 1 woodcut in each text volumes (23 hand-coloured), and 55 engraved plates and maps (43 hand-coloured) in the atlas volume. Text volumes in contemporary and uniform gold-tooled mottled calf. Atlas in matching contemporary mottled half calf. XXXII, 438; XVI, 452 pp. ; 55 ll.
€ 8,500
Very rare account by Peter Simon Pallas (1741-1811) of his second expedition to Russia in 1793-1794. This time he studied the southern provinces of Russia, especially the steppes near the Caspian Sea, the northern Caucasus, the Crimea and the Black Sea. Although Pallas published an extensive account in German of his second expedition in 1799-1801, it never gained as much attention as the first expedition to Russia and Siberia (1768-1774). The present work is the French translation of this German account.
In this account of his travel to South Russia, the Crimea and the Black Sea, Pallas not only describes his route through the Russian Empire, he also - as a geologist and naturalist - gives an excellent physical and topographical description of the landscape. He notes the differences in the landscapes he faces along his way, not only differences in nature, but also how these Crimean landscapes have historically changed over years. He describes their historical geological changes based on fossils and antiquities he finds. He also discusses the flora, fauna and climatology of the area. Next to this, he gives a more cultural and anthropological description of South Russia and the Crimea. He gives his own remarks on the Crimean peoples, economy and trade.
With a bookplate on the front paste-downs of all volumes. Annotation on second endpaper of the atlas volume, some of the 55 plates with manuscript captions in French, in ink. With a library stamp on the title-page of both text volumes and on the first plate of the atlas volume. Bindings of the two volumes very slightly worn, corners of the atlas volume bumped. Some browning and foxing, not affecting the text or images. "Avertissement" in vol. 2 erroneously bound in before the "Supplement de la liste des souscripteurs du premier tome". Catalogue de la section des Russica P59; Howgego P10; Schuh 3613; cf. Abbey Travel 222 (English edition, London 1802-1803); WorldCat (3? complete & a few incompl. copies of the 1799-1801 issue); for the author: DSB X, pp. 283-285; Wendland, Peter Simon Pallas (1742-1811): Materialien einer Biographie I (1992), pp. 479-481.
Related Subjects: