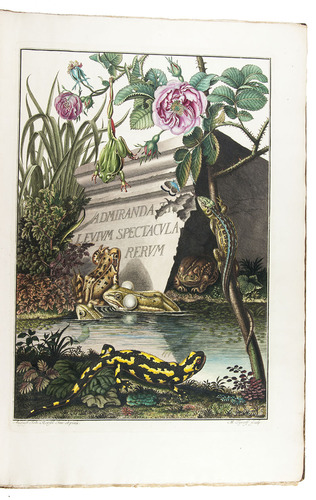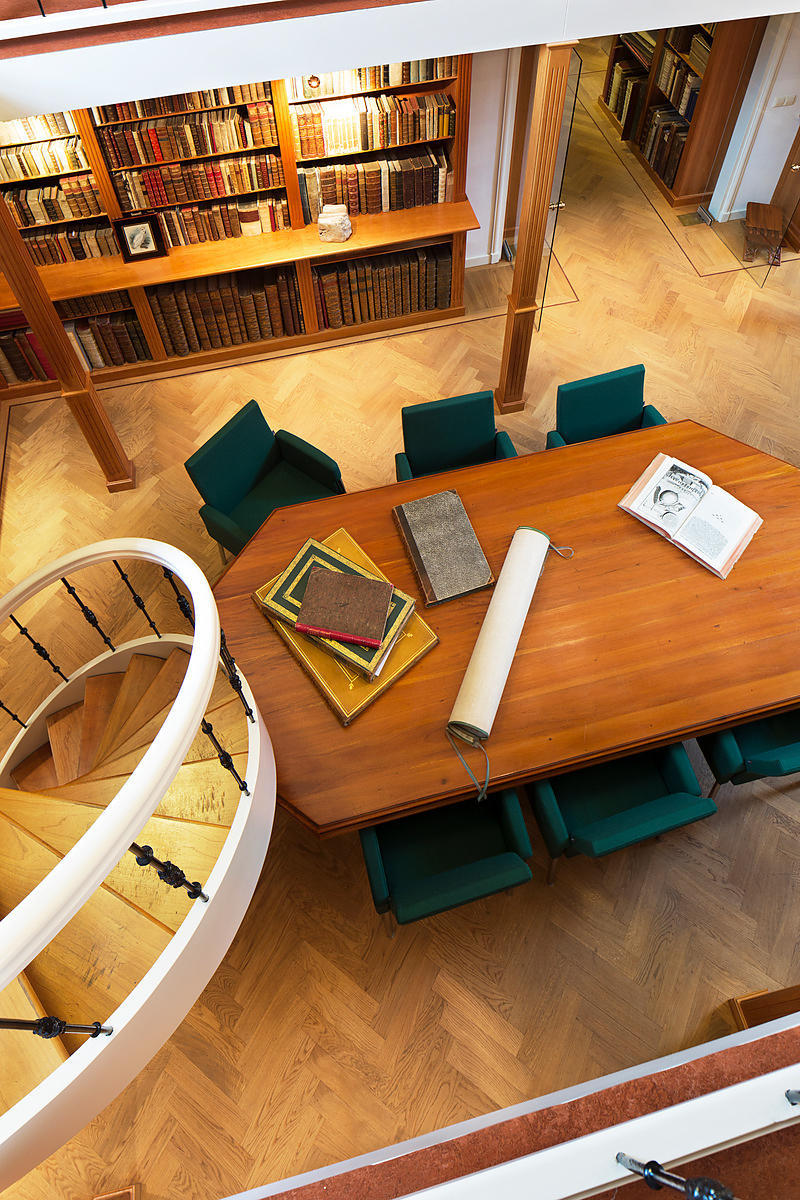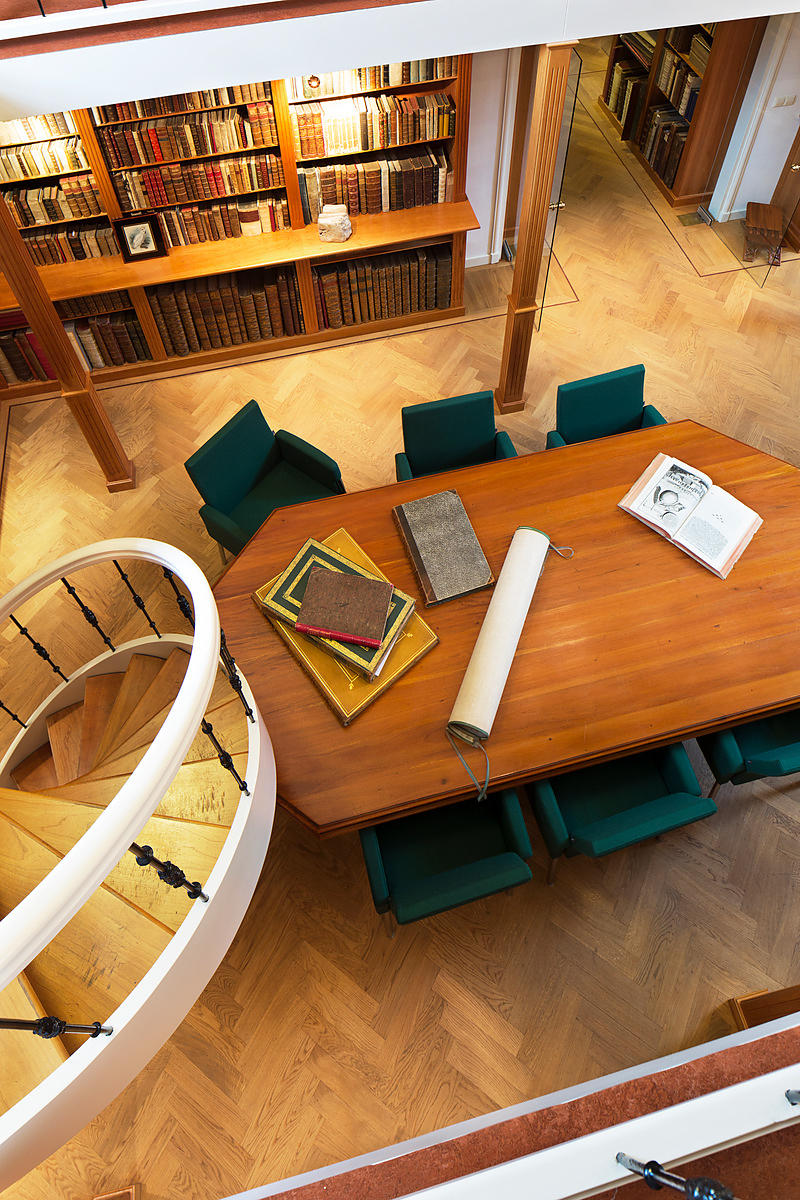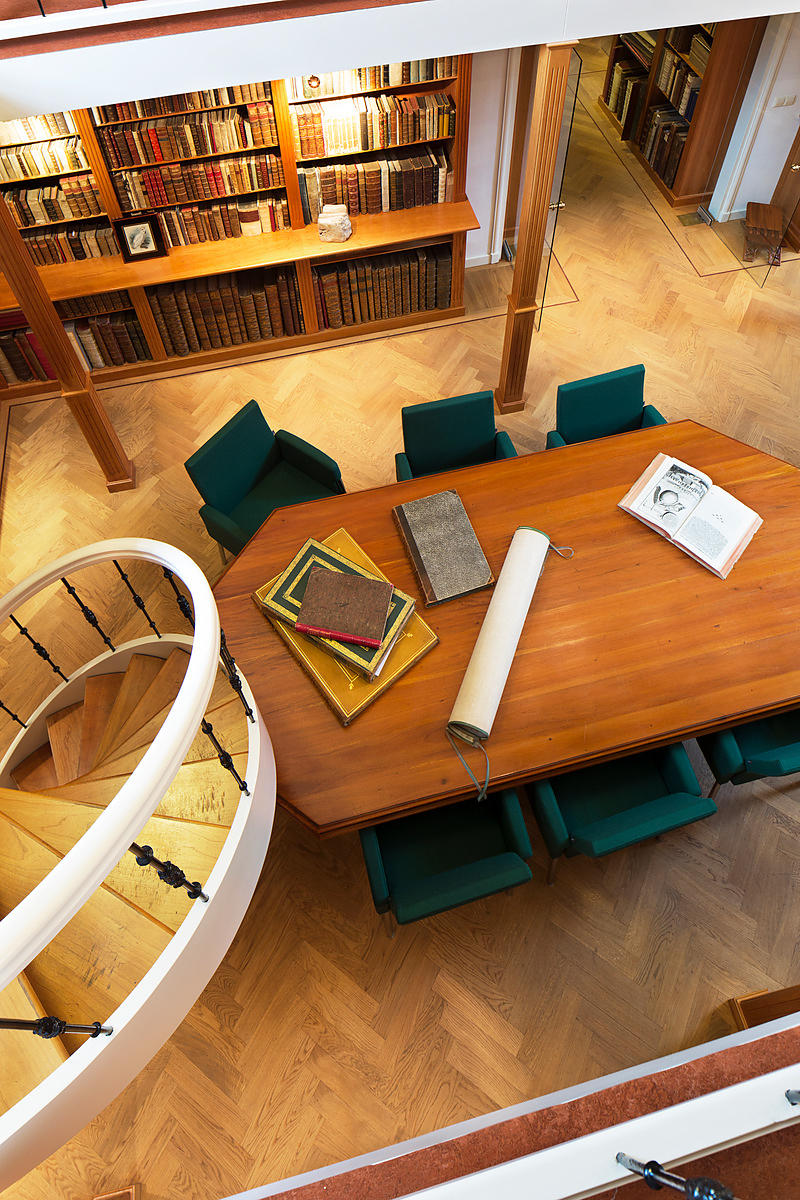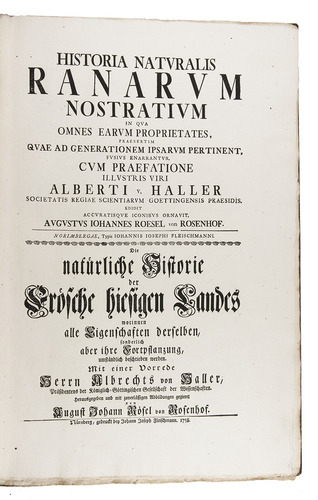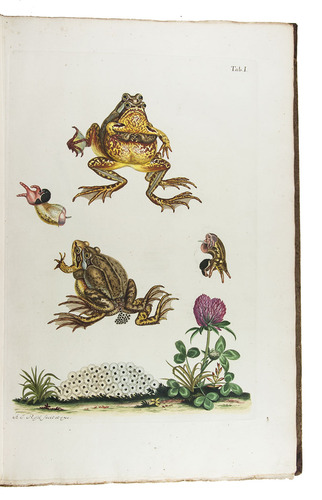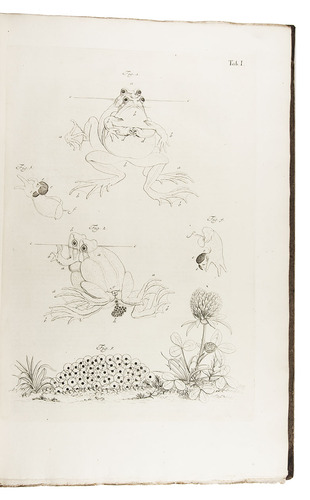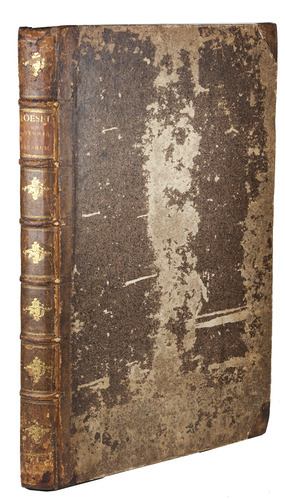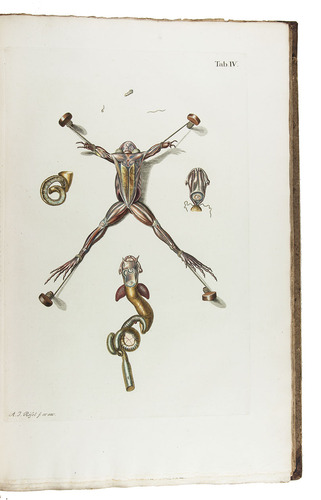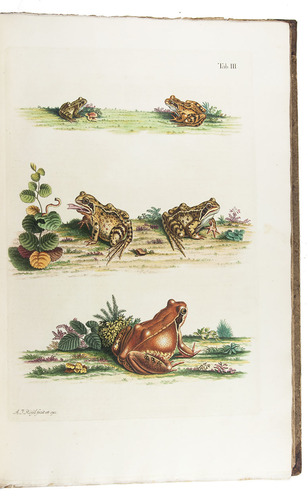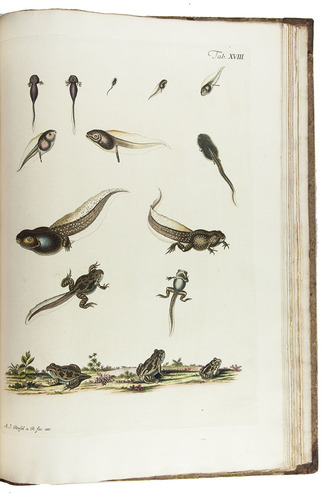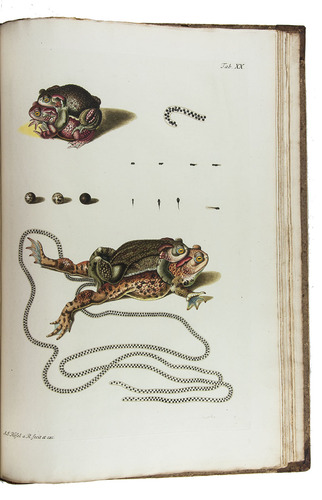 RÖSEL VON ROSENHOF, August Johann.
Historia naturalis ranarum nostratium in qua omnes earum proprietates, praesertim quae ad generationem ipsarum pertinent, fusius enarrantur. | Die natürliche Historie der Frösche hiesigen Landes worinnen alle Eigenschaften derselben, sonderlich aber ihre Fortpflanzung, umständlich beschrieben werden.
Nuremberg, Johann Joseph Fleischmann, [1753]-1758. 2 parts in 1 volume. Royal folio (48 x 33 cm). With hand-coloured engraved frontispiece and 2 sets of the 24 engraved plates. Each of the 24 plates is present twice: beautifully hand-coloured with the figures still unnumbered, and in black and white with the figures numbered (and key letters added) but with Rösel's name erased. Contemporary half calf, gold-tooled spine. [2], VIII, [6], 116 pp.
€ 22,500
First and only edition, in Latin and German, of a beautiful work on frogs and toads, important from both an artistic and scientific point of view. August Johann Rösel (1705-1759), the author and artist, was the only natural historian of his time who studied both entomology and amphibians and reptiles, an essential combination in today's study of ecosystems.
The text is printed in 2 columns, Latin on the left and German on the right, describing the natural history of all German frogs and toads in great detail. While the text proved valuable, the book's greatest fame lies in its plates. They are well designed from a practical point of view, highly artistic and skilfully executed, providing detailed and accurate information, and are beautifully and naturally coloured by hand. The 24 plates are present twice as intended by the publisher. One suite, in the earlier state without figure numbers or key letters, is beautifully coloured by hand, while the other, in the later state with figure numbers and key letters added, but with Rösel's name erased, is in black & white.
In fine condition and virtually untrimmed, with only the half-title slightly spotted and occasionally very minor foxing or spots in the text. The binding is worn and scuffed but remains structurally sound. A beautiful copy of a beautiful book: a classic of natural history illustration in colour and an important contribution to the study of frogs and toads. Nissen ZBI 3464; DSB XI, pp. 502-503; Junk, Rara, pp. 162-163.
Related Subjects: