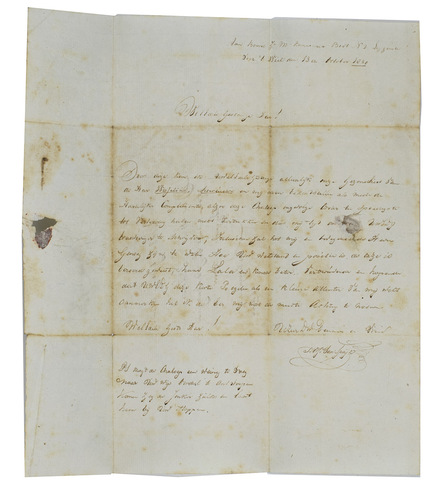 SPEIJK, Jan Carel Josephus van.
[Autograph letter to Johan Arnould Zoutman jr].
On board his gunboat "Z.M. kanonneerboot no. 2" off the coast level with 't Wiel, near Antwerp, 13 October 1830. 4to (25 x 22.5 cm). Folded. [1] leaf.
€ 3,500
Signed autograph letter written by Jan van Speijk, four and a half months before his heroic death on 5 February 1831 and only nine days after Belgium declared its independence from the United Kingdom of the Netherlands. He inquires after the health of his colleague in arms, first class lieutenant at sea Captain J.A. Zoutman and the position of his brig: both ships were in the Schelde River not far from Antwerp. The letter is addressed to Johan Arnold Zoutman, likely the son (with the same first names), born in 1775, of the well-known rear admiral Johan Arnold Zoutman (1724-1793), the leading admiral of the Battle at the Doggersbank during the Fourth Anglo-Dutch War in 1781. Only a few days before, Van Speijk and Zoutman - together with several Dutch warships - had bombarded Antwerp, where Belgian separatists controlled most of the city, though its citadel was still in the hands of the Dutch under General Chassés command. The citadel was to be captured by the French, who supported the separatists, just two years later, in December 1832.
Jan Carel Josephus van Speijk (1802-1831) was a Dutch naval lieutenant who became a national hero in the Netherlands for his opposition to the Belgian Revolution after he blew up his gunboat, which had drifted away in a gale, at the quays of Antwerp. Shouting "Dan liever de lucht in" (Id rather be blown up): he preferred to die than to surrender his ship to the Belgians.
With a hole in the left margin and a tear in the paper (slightly affecting the text) where the letter was formerly sealed with wax. With the address of Zoutman on the back. Some browning and foxing, otherwise in good condition. For the circumstances: A.J. Lastdrager, Belegering en verdediging des kasteels van Antwerpen (1846), pp. 34-36; F. Rovers, "Dan liever de lucht in": Jan van Speijk en de Belgische opstand (2000).
Related Subjects: