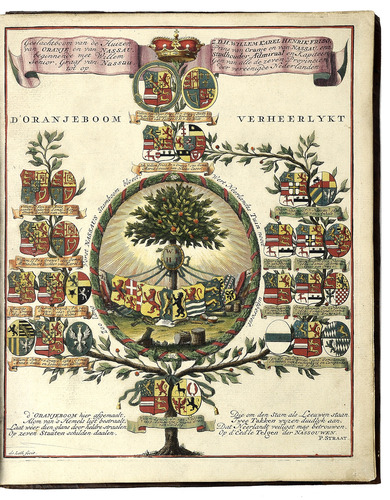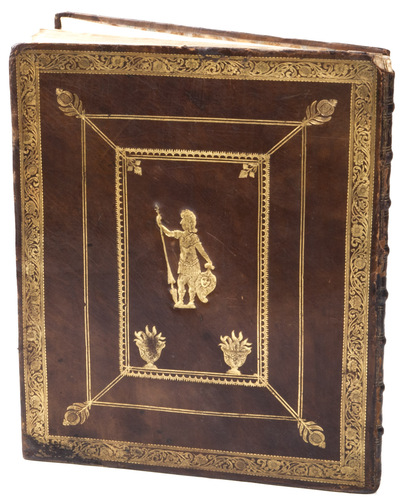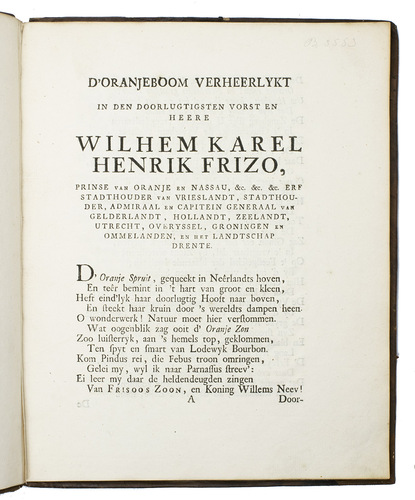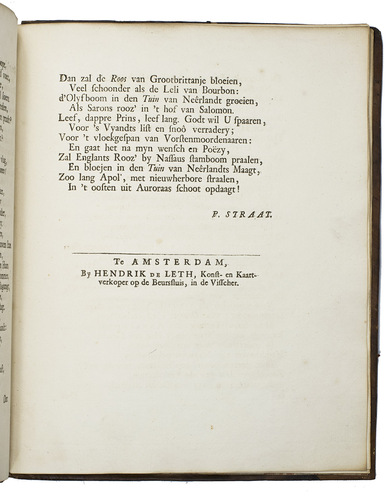 STRAAT, Pieter.
D'Oranjeboom verheerlykt [above:] Geslachtboom van de huizen van Oranje en van Nassau, ...
(Colophon: Amsterdam, Hendrik de Leth), [1747]. 4to. With an engraved armorial title-page by Hendrik de Leth, with the subtitle in a banderol at the head, a crowned tree representing the family tree of the houses of Orange and Nassau (with 27 family coats of arms), a wreath with an orange tree, the 7 arms of the Dutch provinces and military attributes, the whole beautifully hand-coloured as published. Contemporary gold-tooled calf, by the Van Damme bindery in Amsterdam, each board in a panel design with a figure of Athena as centre-piece, 2 urns with flames and 2 (pommegranate?) flowers as cornerpieces for the inner border, larger pommegranate cornerpieces for the next border, the whole in a third border (withflower and pommegranate roll), a rosette and fillets in each of the spine compartments, gold-tooled board edges, gilt edges, marbled endpapers. Engraved title-page plus [17], [1 blank] pp.
€ 1,750
Laudatory poem in praise of the new stadholder William IV also known as Willem Karel Hendrik Friso of Orange-Nassau (1711-1751), son of Johan Willem Friso, stadholder of Friesland and Groningen, who drowned at Moerdijk in the year of Willem Karel's birth. The family tree on the engraved title-page shows the coats of arms of the successors to the houses of Orange (left) and Nassau (right) and their wives, both beginning with William of Nassau (1487-1559) and his wife Juliana van Stolberg, the parents of William the Silent, and ending with Willem Karl and his wife. The poem celebrates the fact that Willem Karel, having already inherited the stadholdership of Friesland, Groningen and Drente from his father, and being stadholder of Gelderland since 1720, was proclaimed stadholder of all seven provinces of the Republic in May 1747, after the French had invaded Zeeuws-Vlaanderen and Brabant and had captured Maastricht and Breda. The Van Damme bindery in Amsterdam was one of the best and most important bindries of it time and remained active from ca. 1747 to 1786.
In very good condition and with large margins. The binding is chipped at the head of the spine, slightly worn along the hinges and shows other minor surface damage (some restored), slightly affecting 1 cornerpiece and some corners of the outer border, but remains generally in very good condition. Atlas van Stolk 3576 (plate only, erroneously dated 1734); STCN (3 copies, including 1 lacking the title-page); not in Muller, Historieplaten; for the binding: Storm van Leeuwen, Dutch decorated bookbinding, I (2006), pp. 460-96, esp. 485 (roll V), p. 491 (tools 126 & 141) and p. 494 (stamp C: Athena).
Related Subjects: