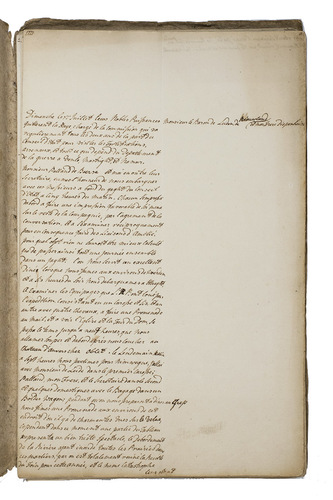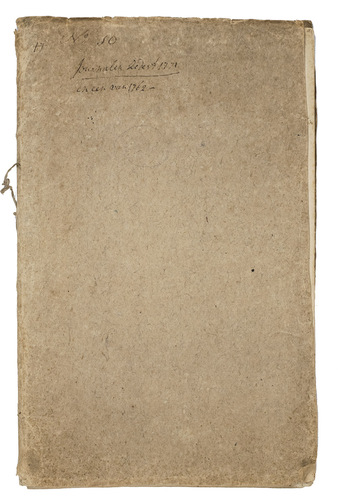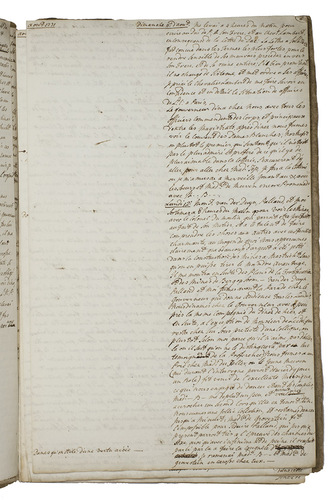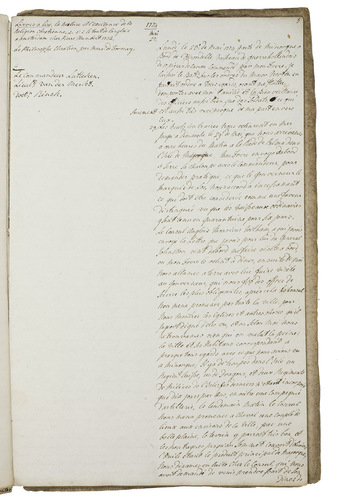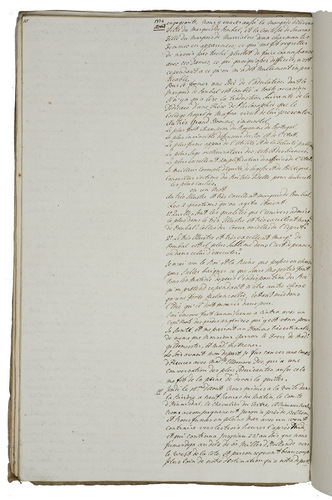 [BENTINCK, Volkier Rudolph].
[Wrapper-title:] Journael zedert 1771.
[Maastricht, Bois-le-Duc, Bergen op Zoom, Namur, etc., 7 July - 3 September 1771 & The Mediterranean and Portugal, 23 May - 18 August 1774]. 2 matching journals. Folio (32.5 x 20.5 cm). Two manuscript journals in French, written in brown ink on laid paper. Contemporary coarse brown paper wrappers, with the 1771 journal in loose bifolia (never sewn) inserted. [2], [2 blank], [11], [1 blank]; 18, [6 blank] pp.
€ 5,950
Two journals kept by the Dutch Lieutenant Colonel Volkier Rudolph Bentinck (1738-1820), usually called Rudolph or sometimes Rudolphus, in the Dutch and British army, who had earlier fought alongside George Washington in the British army in America. They give an intimate and very personal view of daily life in the army, especially social life. It does show Bentinck inspecting fortifications (at least once climbing to the top) and mines in Maastricht (including the fort on "Montagne de St Pierre" [= Sint-Pietersberg]), Den Bosch (Bois-le-Duc), Bergen op Zoom, Namur (also an armaments foundry) and elsewhere. It shows his enthusiasm for Captain Schoesters collection of battle plans ("Il me montra une fort belle collection de plans des battailles des deux derniers gueres" and later "Je passai chez Monsr de Shoester le matin, pour en tirer encore quelques informations concernant ma collection de livres et plans militaires") and he later views fortification plans with Colonel Carel Diederik du Moulin (1727-1793), a well-known Dutch fortifications engineer.
Rudolph Bentinck had served as a Lieutenant in the British Royal American Army from 1756 to 1762, during the Seven Years War, often known in the United States as the French and Indian War, when he fought side by side with Colonel George Washington, the future first president of the United States. On his return he served as a Lieutenant Colonel in Jersey from 1769 to 1771 (also Guernsey according to the NNWB). The present journals fill part of a gap in his biography: that of 1771 begins in The Hague, where he took a Dutch commission for two years in July 1771 to inspect the fortifications in Venloo, Maastricht and Namur, but the 1774 journal shows he was in British service on Menorca by May 1774, when the journal begins with his departure (Bentinck, Echte stukken, 1784, notes his return from Menorca on 29 May 1775). He left British service in 1776 and returned to the Dutch army. He was granted an Overijsel knighthood as Heer van Schoonheeten in 1777 and made a Baron in 1819.
Although neither these journals nor the earlier American one (formerly kept with this one and written in a similar hand) names its author, the events in the American journal clearly identify him as Lieutenant Rudolph Bentinck, who visited William Bentinck, 2nd Duke of Portland, on his way to America. In the present 1771 journal he sets off on 7 July 1771 with (Cornelis Pieter) Baron van Leiden, (Nicolaas Baron van Denike, Heer?) van Nieuwland, (Adolf Warner), Baron van Palland(t) tot Beerse (1745-1823) and "mon frere Diepenhein" [= Derk Bentinck van Diepenheim (1741-1813)], the reference to his brother confirming his identity as Volkier Rudolph Bentinck (1738-1820). They travelled mostly by coach.
A contemporary manuscript note on the front wrapper reads "Journael zedert 1771 | en een van 1762", and Bentincks American journal of 1756-1762 was formerly loosely inserted with the present journals of 1771 and 1774.
In very good condition, with only the wrapper showing some wear and tear at the extremities. Two detailed and very personal journals of a Dutch Lieutenant Colonel in the Netherlands (1771) and the Mediterranean and Portugal (1774), interesting for its accounts of fortifications, mines and troops, but even more for the social life of officers and their relations with women, from princesses to servants. For background information: V.R. Bentinck, Echte stukken door Volkier Rudolph Bentinck, Colonel ..., The Hague, 1784; Stevens, Kent & Leonard, eds.,The papers of Henry Bouquet, 6 vols., 1972-1994, esp. I, pp. 4-5, IV, pp. 282-286, V, pp. 42, 226, 378-379, 433, 458-459, 487, 645, VI, pp. 479, 784-788; for Bentinck genealogy: www.twentebestand.nl.
Related Subjects: