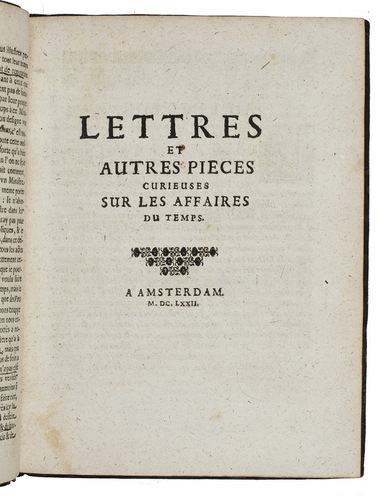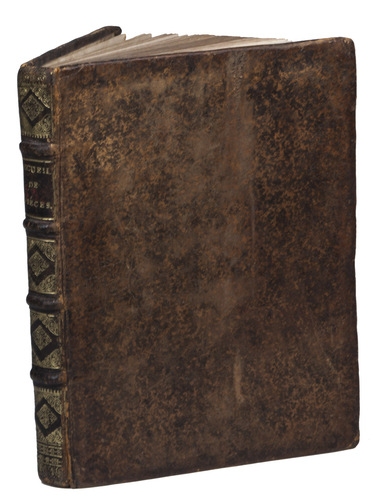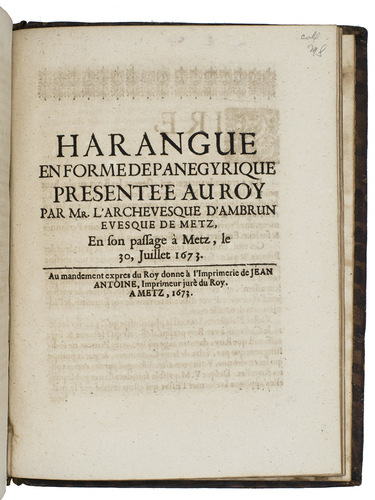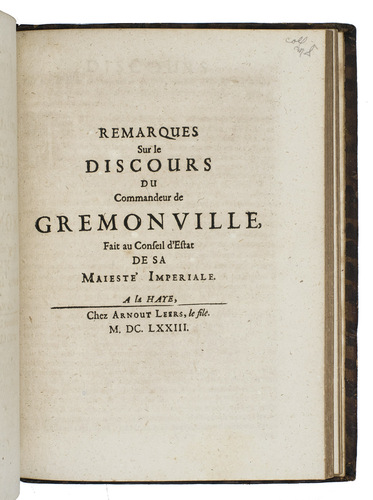 [LISOLA, François Paul de; Daniel Johannes CAMPRICHT].
Le denovement des intrigues du temps par la response au livret intitué, Lettres et autres pieces curieuses sur les affaires du temps. Fait par le S.I.P.P.B.
Brussels, 1673.
With: (2) [WICQUREFORT, Abraham de (attributed to)]. Remarques sur le discours du commandeur de Gremonville, fait au Conseil dEstat de sa Maiesté Imperiale.
The Hague, Arnout Leers, 1673.
With: (3) [AUBUSSON de la FEUILLADE, Georges]. Harrange en forme de panegyrique presentée au Roy par Mr. lArchevesque dAmbrun Evesque de Metz, en son passage à Metz, le 30, Juillet 1673.
Metz, Jean Antoine, 1673.
With: (4) [CHARLES II, King of England]. Declaration du Roy dAngleterre sur la mediation offerte par Mr. LElecteur de Mayencé, faite à Whitehal. Le 15. Feuvrier. Anno 1673.
4 works in 1 volume. 4to. Mottled calf, gold-tooled spine. [1], 1-15, 17-222, [2]; 47, [1 blank]; [8]; [4] pp.
€ 3,500
Ad 1: Second edition of a highly interesting collection of letters by some of the key-figures on the European political stage during the years 1668-1672, mirroring the often changing coalitions: from the Triple Alliance concluded in 1668 between the Dutch Republic, England and Sweden in order to restrain the expansionist ambitions and policy of Louis XIV, King of France, ultimately leading to the so-called rampjaar (disastrous year) 1672, when the Dutch Republic was attacked by France, England and the German bishoprics of Munster and Cologne.
The first edition of this collection had appeared already in 1672 at Liege and Amsterdam, followed in the same year by an English translation.
Ad 2: Remarks made at the court of Leopold I in Vienna, probably by Abraham de Wicquefort (1608-1682), diplomat and friend of Johan de Witt, regarding the position of the Holy Roman Emperor in the war in the Netherlands and his claims on the Southern Netherlands.
Ad 3: Laudatory oration by Georges d'Aubusson de La Feuillade (1609-1697), a French Roman Catholic clergyman under Louis XIV who served as Archbishop of Embrun (1649-1668), then Bishop of Metz (1669-1697).
Ad 4: Answer by Charles II to the memorandum of the liberal and enlightened Elector-Archbishop of Mainz, Johann Philip von Schönborn (1605-1673), presented to him by one of the Electors relatives, Baron (Franz) von Schönborn. In the memorandum the Archbishop had offered mediation between England and the Dutch Republic in order to end the war. A few months later the Archbishop died; he was called the "Salomo Germaniae".
Binding slightly worn, some quires browned, otherwise in good condition. Ad 1 & ad 3: not in WorldCat; ad 2: WorldCat (5? copies: eds. not clearly distinguished); ad 4: WorldCat (7 copies).
Related Subjects: