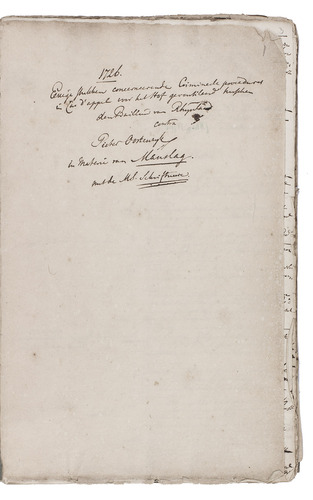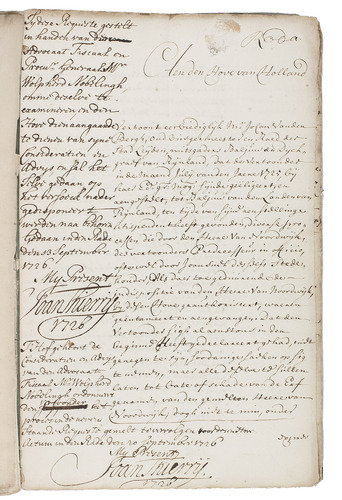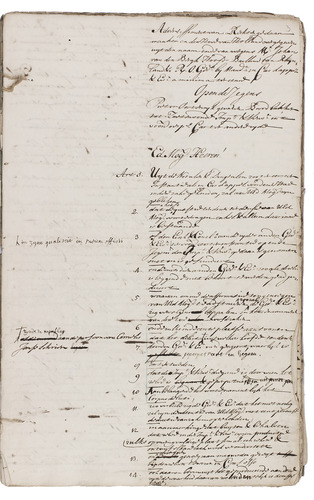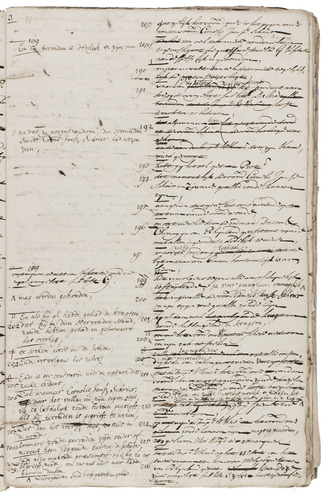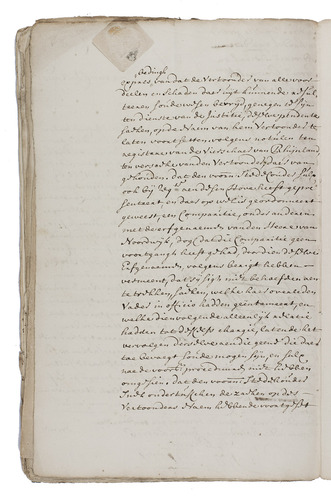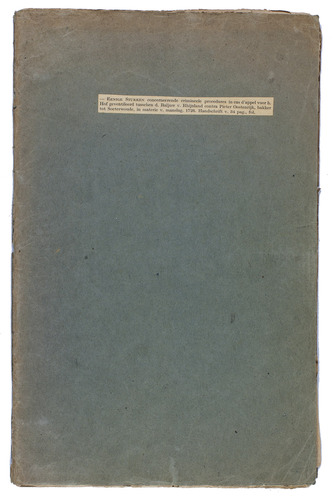 [MANUSCRIPT]. BERGH, Johan van den.
Eenige stukken concerneerende criminele procedures in cas d'appel voor het hof geventileerd tusschen den bailluw van Rhijnland contra Pieter Oostenryk in materie van manslag met de ms. schriftuuren.
[Leiden], 1726-1729. Folio. Manuscript, in Dutch, on laid paper, with 2 embossed seals. Later blue paper wrappers. 28 pp. (and 8 pp. blank).
€ 1,750
The original, heavily revised, juridical documents of a case handled by the bailiff of Rhineland, Johan van den Bergh, at the supreme court of Holland, against Pieter Oostenrijk "Broodbakker tot Soeterwoude", who killed the town's blacksmith Cornelis Jansz. Schrier using a knife. Pieter Oostenrijk was banned from Holland and West-Friesland for the next 50 years. In the Leydse courant of 2 May 1725, we can find and advertisement of the sale of the blacksmith's workshop, so the actual murder must have happened before that date.
Johan van den Bergh (1664-1755), from 1725 to 1755 bailiff of Rhineland and several years burgomaster of Leiden, was the man who in 1741 bestowed the Leiden University library with the famous Psautier de Saint Louis.
In very good condition, spine of the wrappers tattered. For Van den Bergh: NNBW IV, cols. 116-117.
Related Subjects: