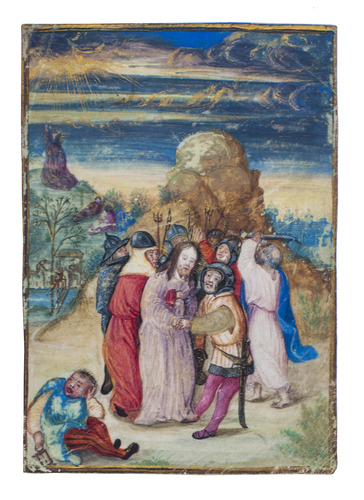 [MINIATURE - GERMAN].
[The Arrest of Christ].
[Flanders (Bruges?), or Nürnberg, ca. 1520]. Miniature painted on vellum (7.8 x 5.6 cm) in numerous colours, highlighted with gold and in a gold border, probably from a book of hours, but with no text.
€ 7,500
A finely rendered miniature showing great detail in bright colours, highlighted with gold, depicting the Arrest of Christ, most likely from a diminutive book of hours. Surrounded by a bustling throng of Roman soldiers carrying spears and wearing halberds, Christ appears calm just at the moment when a soldier takes him captive. An elder of the Jewish Temple stands directly behind him, dressed in red. To the right stands Simon Peter, sword raised, having cut off the ear of the High Priest's servant, Malchus, who sits nursing his bleeding ear in the lower left corner of the composition. An earlier episode, Christ's Agony in the Garden of Gethsemane, when he learns that one of his disciples will betray him, appears in the background at left. A genre scene, with men working the fields and crossing a river on a narrow plank bridge, occupies the middle ground to the left of the main scene, and the towers of a castle or city the middle ground to the right.
The general style recalls the art of the last generation of Ghent-Bruges painters, especially that of the famed Simon Bening. Though the anonymous artist owes much of his style to Bening's model, he was most likely German. The acidic palette, bright yellow juxtaposed with blue and lime green, and the facial types (remarkably expressive, even at this tiny scale) recall Nürnberg painters in the circle of Glockendon. It is worth remembering that Bening himself collaborated with several Nürnberg painters whose presence in Flanders is thus confirmed.
With some fine superficial cracks and an occasional tiny abrasion (mostly near the edges), but generally in good condition. A lovely miniature of Christ's arrest, rendered in remarkably fine detail. For the general style: U. Merkl, Buchmalerei in Bayern in der ersten Hälfte des 16. Jahrhunderts (1999).
Related Subjects: