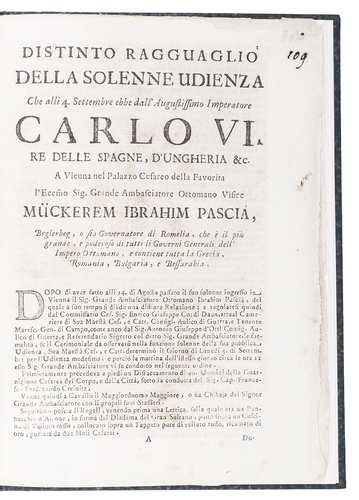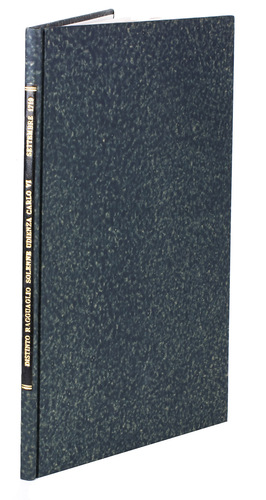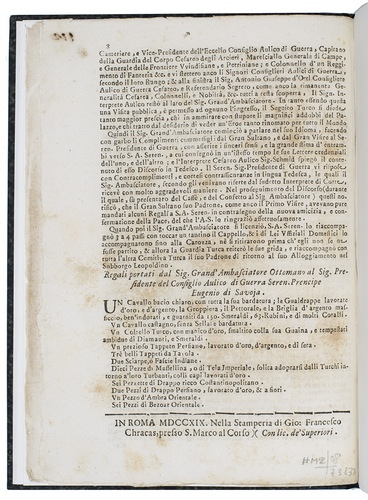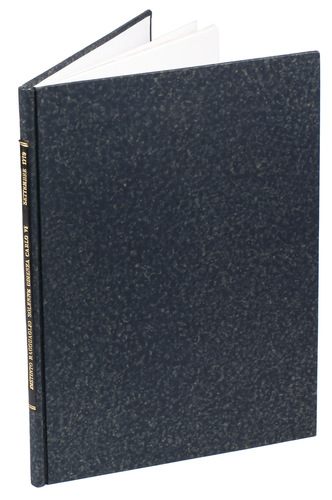 [OTTOMAN EMPIRE].
[Drop-title:] Distinto ragguaglio della solenne udienza che alli 4. Settembre ebbe dall' Augustissimo Imperatore Carlo VI. re della Spagne, d'Ungheria &c. a Vienna nel Palazzo Cesareo della Favorita l'ecc[ellentissi]mo sig[nor]. grande ambasciatore Ottomano visire Mückerem Ibrahim Pascia, ...
Including:
Racconto della solenne visita, che alli 7. Di Settembre 1719. Il Sig[nor]. Grande Ambasciatore Ottomano Ibrahim Pascià diede al Seren[issimo]. Prencipe Eugenio di Savoja, ...
(Colophon: Rome, Giovanni Francesco Chracas, 1719). 4to. With a hatched roman capital used as an initial. Set in roman types with extensive italic. Modern boards covered with chemical-marbled paper, black morocco spine label. 8 pp.
€ 2,500
Extremely rare contemporary account of the audiences of the first Ottoman ambassador to the Holy Roman Empire before the Emperor himself and before Prince Eugene of Savoy, both in the year 1719. This signalled the beginning of the attempted transition from war to negotiation in the ever difficult relations between the great Islamic and Christian powers. The Holy Roman Emperor Charles VI (1685-1740) conducted the successful Austro-Turkish War against the Ottoman Empire in the years 1716 to 1718, lead by Prince Eugene of Savoy (1663-1736). After the Treaty of Passarowitz ended the war on 21 July 1718 the Ottoman Sultan Ahmed III sent Ibrahim Pasha to Vienna to serve as Ambassador and Charles VI sent Count Hugo von Virmont to Constantinople as Ambassador to the Sultan. This exchange of ambassadors was celebrated with a grand ceremony near the border where the two ambassadors met on 15 June 1719. The present publication begins by noting Ibrahim's arrival in Vienna on 14 August and gives an account of his audience before Charles VI on 4 September. The last two pages, with their own drop-title, give an account of Ibraham's meeting with Prince Eugene of Savoy on 7 September. Both accounts include lists of presents exchanged. Eugene was to receive Ibrahim Pasha again at his newly built Belvedere palace in Vienna on 2 October 1719.
We have located no other copy of the present edition, but the ICCU records one copy of an undated edition. It is also a 4to of 4 leaves, but the fourth leaf is blank and it apparently omits the account of Ibraham's meeting with Prince Eugene, which appears on the fourth leaf of the present edition. WorldCat records one copy of a German edition of the account of the meeting with Prince Eugene and three copies of a German publication on Ibrahim's arrival in Vienna.
Somewhat foxed but otherwise in very good condition and wholly untrimmed, preserving all deckles. An important document of the Ottoman Empire's relations with Christian Europe and a window into the opulence accompanying the diplomacy. Cf. ICCU, RMLE047805 (1 copy of undated ed., omitting meeting with Eugene of Savoy); KVK (same copy); WorldCat (1 copy each of 2 related publications in German); for the background: C.W. Ingrao, ed., The Peace of Passarowitz, 1718 (2011).
Related Subjects: