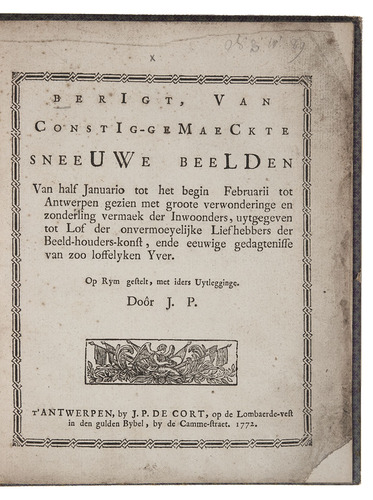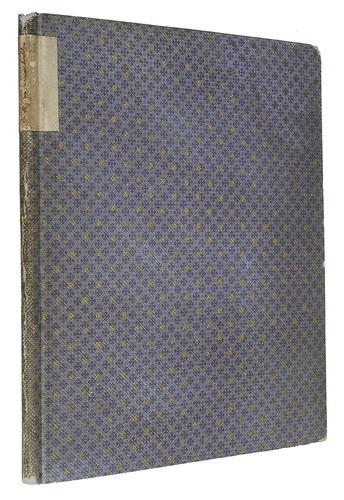 [PAUWELS, Jan Antoon Frans].
Berigt, van constig-gemaeckte sneeuwe beelden van half Januario tot het begin Februarii tot Antwerpen gezien . . .
Antwerp, Joannes Petrus de Cort, 1772. 4to. With title-page in a geometric border built up from cast fleurons and each page in a thick-thin border built up from cast units. 19th-century(?) decorated cloth, modern endpapers. 30 pp.
€ 1,600
Rare first and only edition a long poem, by the prolific Antwerp poet Jan Antoon Frans Pauwels (1747-1823), praising the many snow sculptures made in Antwerp during the severe winter of 1771/72. After an introduction praising the arts and the city of Antwerp, the poet tells us about his stroll through various parts of Antwerp, from the Raapstraat, along the Waag, Hoornstraat, Paardenmarkt, etc. to the Vlasmarkt and the Pande-straatje, observing many ingenious snow sculptures, including a horse fighting off a lion, a centaur, Hercules, Samson, Andromeda, Bacchus and a pyramid.
Title-page slightly soiled and its fore-edge corners restored (not affecting the printed image), and some minor dirt and smudges, otherwise in good condition. Cat. Rijksmuseum II, p. 29; UniCat (2 copies); WorldCat (2 copies); not in Kunst op Schrift; STCV.
Related Subjects: