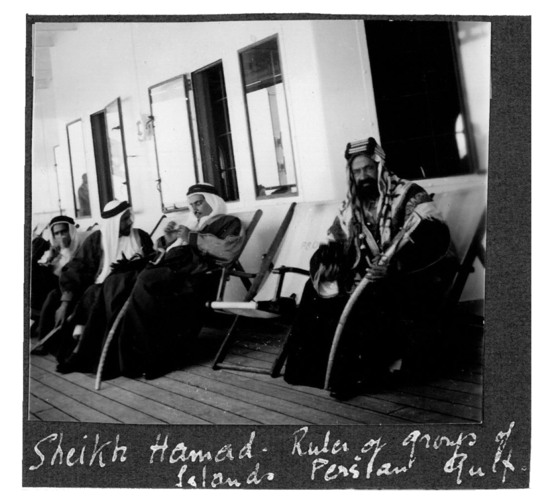 [PHOTOGRAPHY - BAHRAIN].
HH Sheikh Hamad ibn Isa Al Khalifa with three other sheikhs.
Gulf region, 1920s. Black and white photograph (gelatin silver print, 8 x 7 cm) mounted on brown cardboard (9 x 8.5 cm). Captioned in white ink.
€ 4,500
HH Sheikh Hamad ibn Isa Al Khalifa, KCIE, CSI (1872-1942) was the King (Hakim) of Bahrain from 1923 until his death. Throughout the 1920s and 1930s, his palace in Al-Sakhir was a centre where both Gulf Sheikhs and British nobility and political figureheads were regularly invited to dine and discuss foreign policy of the region. The photograph shows the monarch in a deck chair on a ship in the company of noble retainers. The caption reads "Sheikh Hamad. Ruler of group of Islands Persian Gulf".
A well-preserved, glossy print in good contrast.
Related Subjects: