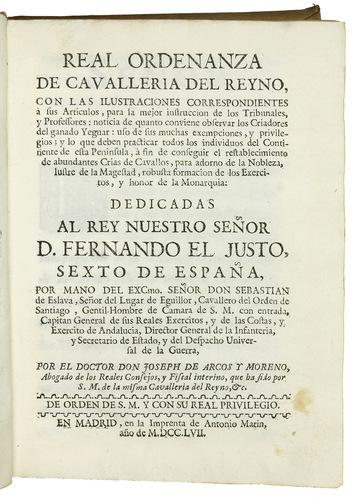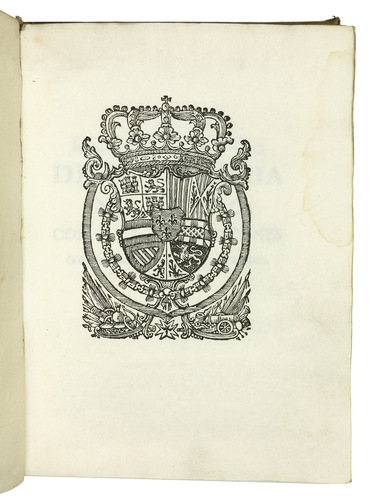 ARCOS Y MORENO, Joseph de.
Real ordenanza de cavalleria del Reyno, con las ilustraciones correspondientes a sus articulos, para le mejor instruccion de los tribunales, y professores ...
Madrid, Antonio Marin, 1757. 8vo. With the full-page woodcut arms of Ferdinand VI, King of Spain, before the half-title, a woodcut headpiece and several tailpieces, decorations built up from typographic ornaments, a decorated woodcut initial (plus 1 repeat) and a crowned A, M and E to represent the three autonomous southern crown lands. Contemporary vellum. [26], 406 pp.
€ 650
Only edition of a scarce legal manual written by the lawyer and experienced cavalryman Arcos y Moreno, laying down the rules and standards of the Spanish cavalry in 27 articles to facilitate the work of the courts. It includes sections on the abundance of horses, the use of stallions and their prohibition in Andalucía, Murcia and Extremadura, the prohibition of the removal of mares from the same areas, the duty of horse keepers to provide suitable horseshoes, and the cultivation of pastures, as well as an injunction on report violations. The woodcut that opens the book on ¶1r shows an elaborate form of the Spanish royal arms as introduced by King Philip V in 1700, the first Spanish king in the House of Burbon, and continued by King Ferdinand VI to his death in 1759. It is here shown with the royal crown and two chains (the Order of the Golden Fleece and the Order of the Holy Spirit).
Inner hinges broken. First and last leaves very slightly water stained; a small hole in a flyleaf. Armorial bookplate with motto "Stabo" of the Accorne or Kinninmond families of Scotland on the paste-down. Later in the collection of Thomas Fremantle, 3rd Baron Cottesloe (1862-1956), commander of the Territorial Army and president of the Society for Army History Research. Rare in the trade. Palau I, 15635; WorldCat 1024941751.
Related Subjects: