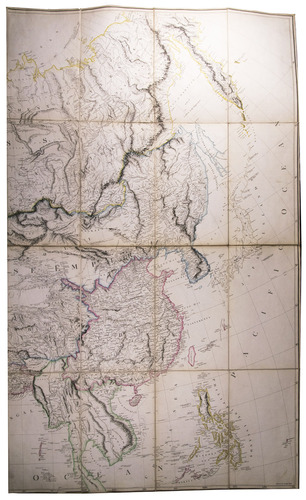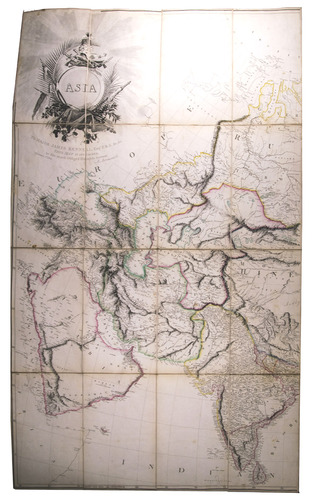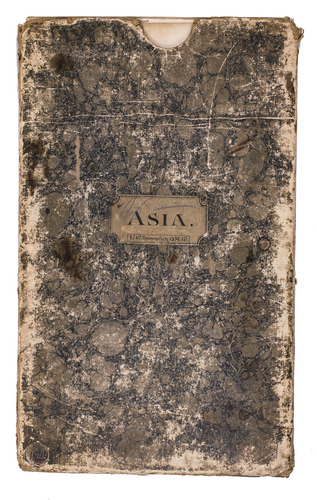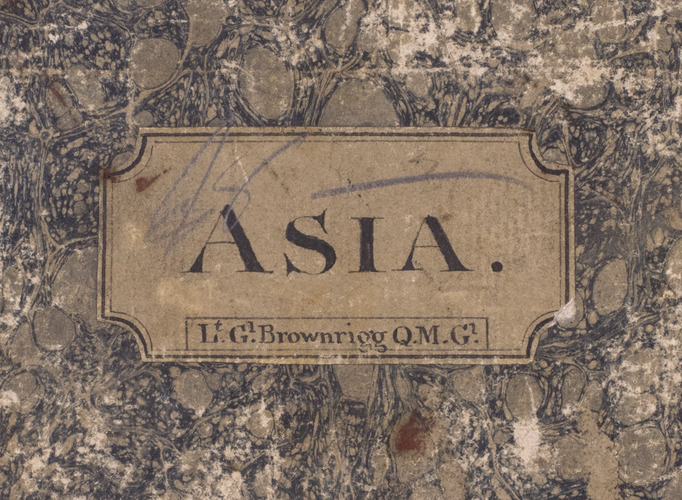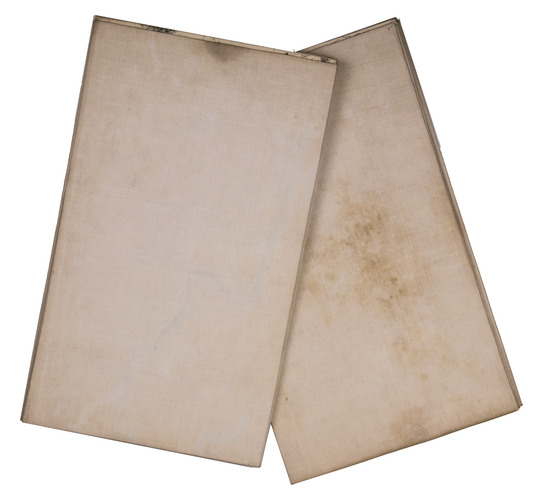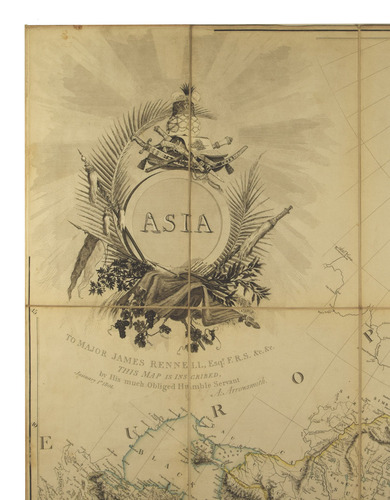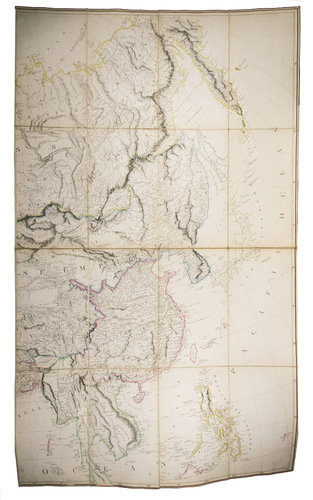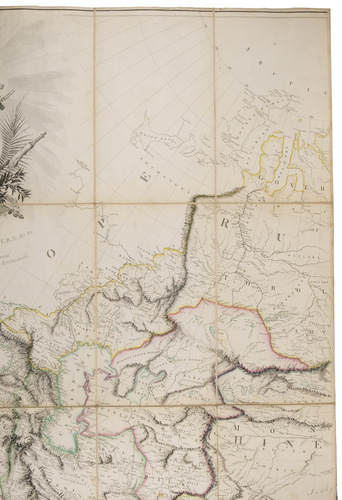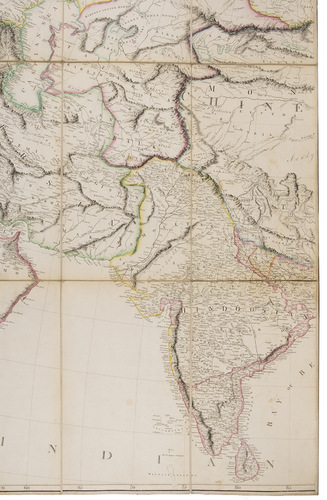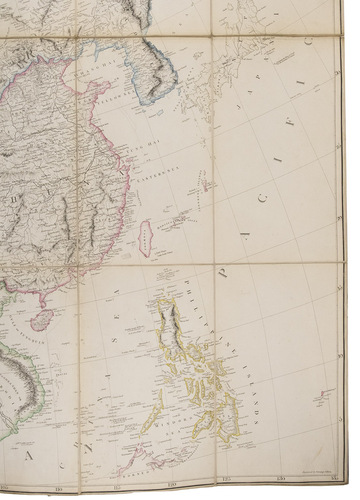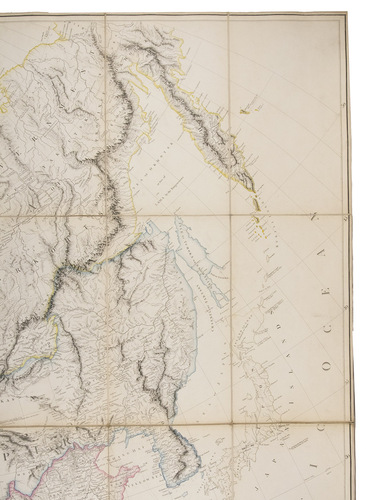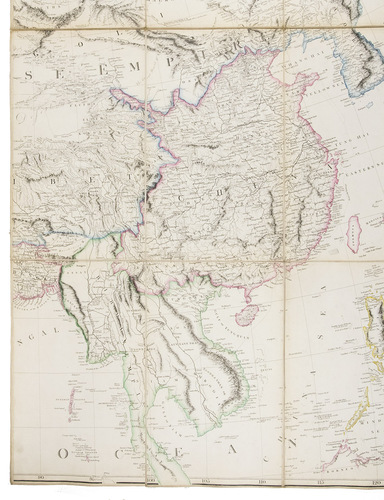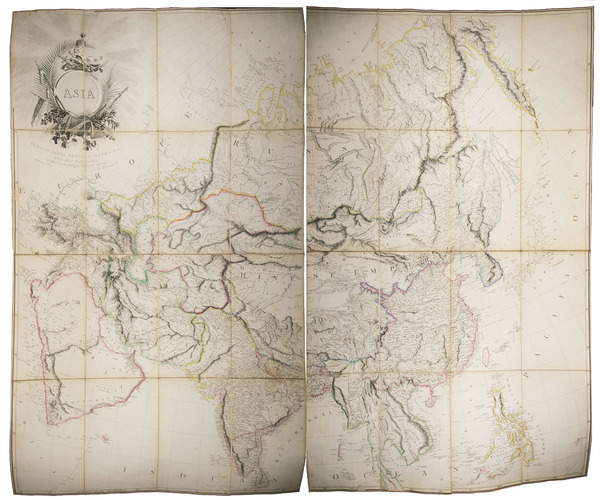 ARROWSMITH, Aaron.
Asia.
London, Aaron Arrowsmith, 1 January 1801. Engraved wall map, hand coloured in outline, on 4 sheets joined as 2 (measuring 124 x 147 cm in total) on a scale of ca. 1:6,490,880, with an elaborately decorated cartouche at the head left, a dedication below ("To major James Rennell, Esqr. F.R.S. &c. &c.") and the name of the engraver at the foot right (George Allen). Mounted on cloth and divided into 32 sections. Contemporary slipcase, covered with marbled paper and a manuscript title-label on front.
€ 7,500
Large, highly detailed wall map of Asia and the Arabian peninsula, giving a view from the Ural Mountains and Black Sea, across to China, Japan and the Philippines, including India and Ceylon, but stopping just above Singapore and Indonesia. Arrowsmith was "easily the foremost cartographer of his time" (Tooley) and presents here a very accurate map of the continent, which shows significant improvement over previous ones. The map is dedicated to James Rennell, surveyor general of the East India Company and the father of Indian cartography.
With an owner's inscription of the army officer and colonial governor General Robert Brownrigg on the title-label mounted on the slipcase. Brownrigg (1759-1833) was appointed Governor of Ceylon in 1815 and brought the last part of Sri Lanka, the Kingdom of Kandy, under British rule. Only a few minor spots, but otherwise in very good condition. David Rumsey 6907.001; not in Al Ankary; Al-Qasimi; for Arrowsmith: Tooley, p. 24; for Brownrigg: G.S. Powell, "Brownrigg, Sir Robert, first baronet (1759-1833)" in ODNB online.
Related Subjects: