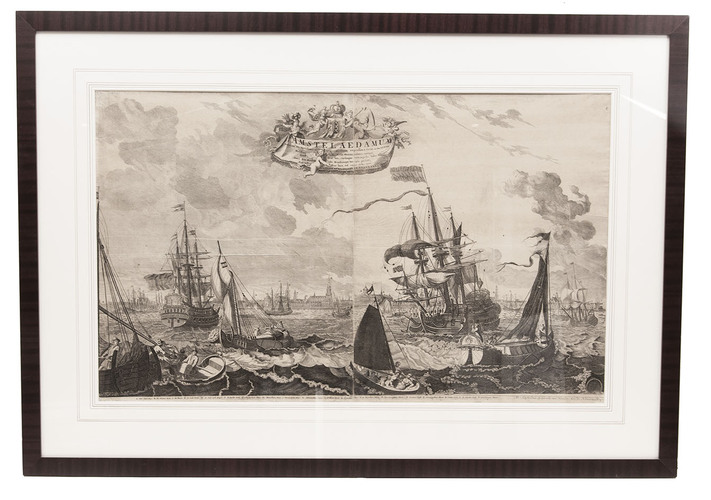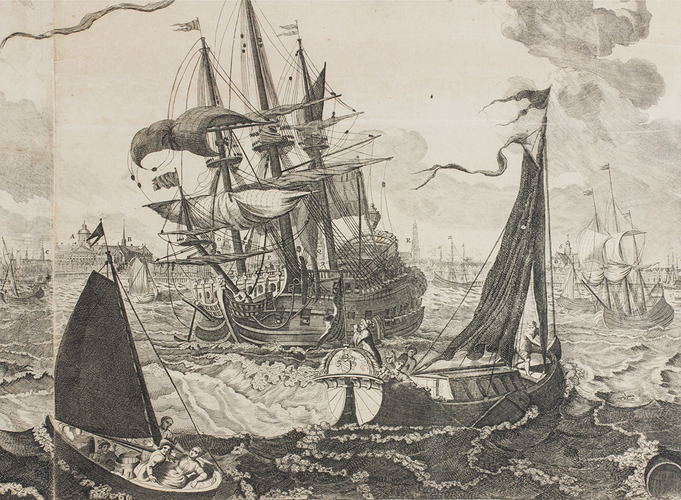 BERGE, Pieter van den.
Amstelaedamum omnium recentissimè et accuratissime expressum à Petro van den Berghe, Moschus, Arabs[,] Persae, Maurus, Judaeus, uterque[.] Quod ferat huc, rursusque auferat, Indus habet. Hanc dum mundus adit mundumque haec ipsa perrat[!], non urbs fixa loco, sed vagus orbis erit.
Amsterdam, Gerard van Keulen, [ca. 1720]. Etched view (50.5 x 81 cm) on two sheets. In a modern wooden frame.
€ 15,000
First state of a famous and rare large etching of ships and boats in the IJ inlet, with a panorama of the city of Amsterdam in the background, showing the city between the Oost Indische Zeemagazijn and the Haarlemmerpoort. This view is interesting for the central role that Peter the Great plays in the scene. The Russian Tsar, wearing a fur hat and standing in the stern of the yacht in the foreground to the right of the second East Indiaman, looks through a telescope at the warship he helped build.
After Tsar Peter's ship was finished the artist Pieter van den Berge (Amsterdam, 1659-1737) made this etching. It was printed on two leaves by Gerard van Keulen (1678?-1727), the son and scholarly partner of Johannes van Keulen, the famous Amsterdam publisher of maritime atlases. He took over from his father in 1715, dating this print between then and his death. The Tsar may even have been acquainted with the Van Keulen family, for his print collection included many of their prints.
The print depicts the city as it appeared ca. 1670, even though it depicts an event of 1698. A key below the engraving names the most important buildings (lettered A to T) including the city hall and the stock exchange. The presence of Tsar Peter and his ship makes this etching more than a topographic view of the city of Amsterdam: it forms a testament to Tsar Peter the Great's remarkable bond with the city of Amsterdam.
Slightly browned (primarily in the right sheet) and with a few creases, otherwise in fine condition. Rare etched view of Amsterdam, showing Peter the Great and the Dutch warship he worked on incognito. D'Ailly, Profielen der stad Amsterdam 119; R.W.P. de Vries, Amsterdamse stadsgezichten 20 (= 2nd state); Bakker & Schmitz, Het aanzien van Amsterdam 58; not in Hollstein.
Related Subjects: