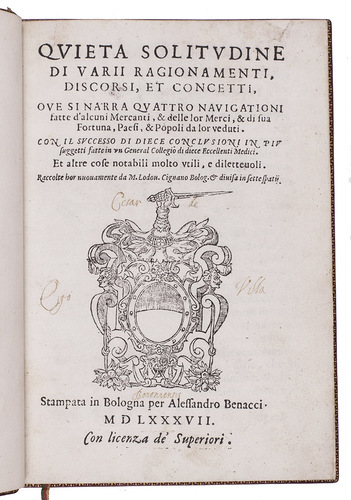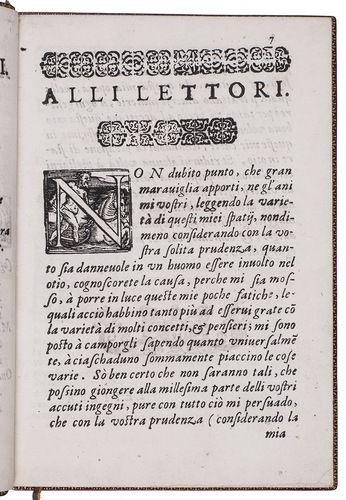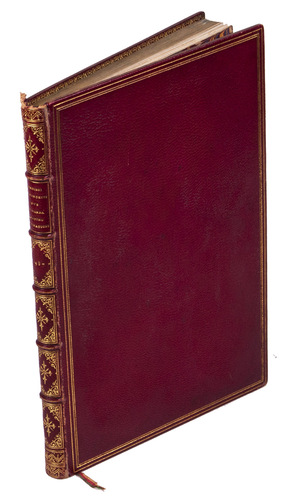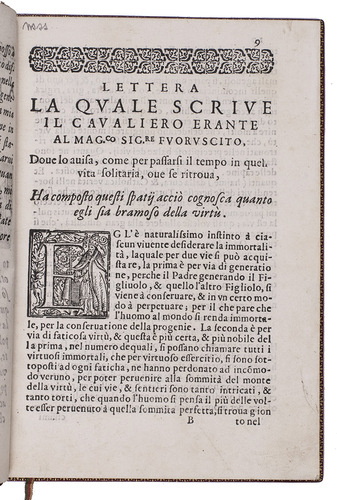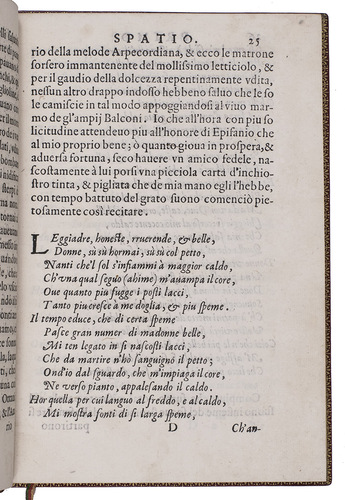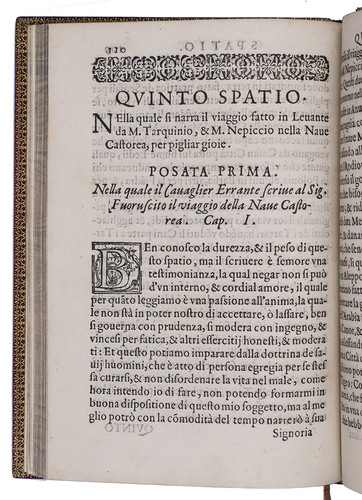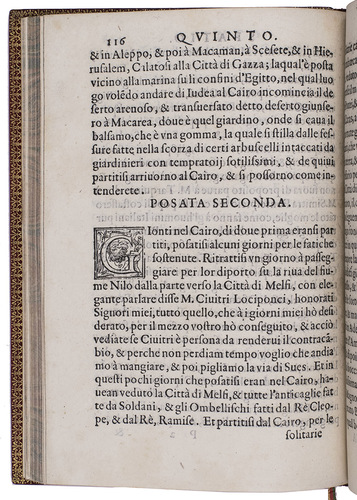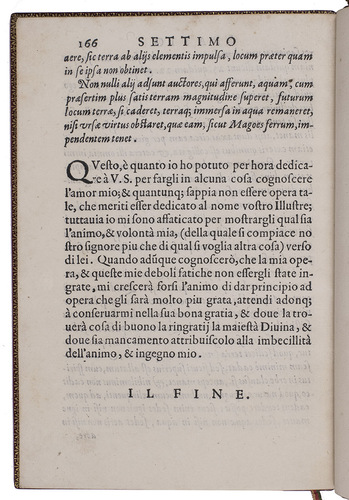 CIGNANO, Ludovico.
Quieta solitudine di varii ragionamenti, discorsi, et concetti, ove si narra quattro navigationi ...
Bologna, Alessandro Benacci, 1587 Small 4to. With the woodcut coat of arms of the dedicatee Giovanni Luigi Scappi, elaborately helmed, crested and mantled, on the title-page, a woodcut tailpiece (plus 1 repeat), woodcut decorated initials (at least 4 series), decorations built up from cast typographic ornaments.
Goatskin morocco (ca. 1870/80?), richly gold-tooled spine and turn-ins, signed in foot of front turn-in by the Paris bookbinders "DARLAUD FRÈRES", gold fillets on sides and board edges, combed curl-marbled endpapers, edges gilt over marbling, headbands worked in white and beige, and a yellow, red and green ribbon marker. 166 pp.
€ 45,000
First and only edition of a fascinating combination of Italian Renaissance travel account, literature and philosophy. The publication is rare and hardly appears in the literature, so it is little known and provides a wealth of curious information. Real and imaginary stories of mercantile voyages to the East are combined with philosophical reflections on travel, in an endeavour to lift travel to a higher philosophical level. There are seven numbered chapters. The fourth chapter lays out an extensive trade route from Italy to India that runs through the Arabian Peninsula, resembling the famous Silk Route. It names many Arabian locations including Aleppo, Mecca, Hormuz and Basra. The final destinations are the cities of Magalore and Canonore (Kannur) on the Indian west coast, which are reached via Cambaia (Khambhat). Another chapter tells the story of a mercantile voyage by ship to China, with a stopover in India. The traveller describes a stay of several days in Calicut (Kozhikode), where they acquired a certain liqueur from a tree that was "molto buono, & excellente". Some of the other destinations, as well as the names of some of the people and ships, seem to be allegorical.
With an early owner's inscription on the title-page ("Cesar de Ego Villa Bononiensis") and a modern bookseller's ticket on the paste-down, with an earlier owner's(?) label removed. Washed by the nineteenth-century binder but book and binding in very good condition. A charmingly bound copy of a rare and curious work on the Near and Far East. BMC STC Italian, p. 184; Edit 16/ICCU 14145 (5 copies); USTC 822630 (9 copies); not in Atabey; Blackmer; Howgego (neither real nor "invented and apocryphal"); Mortimer.
Related Subjects: