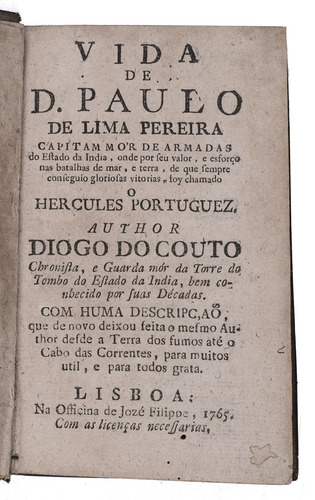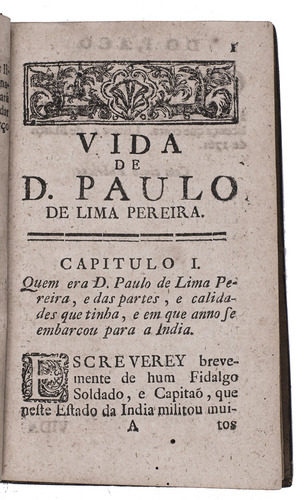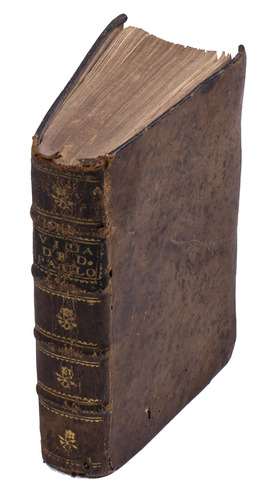 COUTO, Diogo do.
Vida de D. Paulo de Lima Pereira capitam mo'r de armadas do estado da India ... o Hercules Portuguez.
Lisbon, Jozé Filippe, 1765. 8vo. Contemporary mottled calf, gold-tooled spine. [16], 426, [5], [1 blank] pp.
€ 4,500
Rare first edition of the only account of the life of Paulo de Lima Pereira (1538-1589), leader of the Portuguese military campaign in India. It was originally written in 1611 by the captain's friend, the historian Diogo do Couto (ca. 1542-1616), but not published until the present edition, more than 150 years later, with a foreword by the celebrated Portuguese bibliographer Diogo Barbosa Machado. The section on the shipwreck and death of Paulo de Lima was taken from the manuscript and published in Brito's História trágico-maritima (1729-1736). It includes the attack on the Malabar pirate Khunali and the destruction of Johor Lama, Singapore.
Couto (1542-1616) impressed the Lisbon court in general and King João's brother Luis of Portugal in particular at an early age. Under Luis's patronage he studied at the Jesuit college and elsewhere. Luis died in 1555, however, and Couto set off for Portuguese India as a soldier in 1556. Aside from a visit to Portugal in 1569-1571, he was to remain in Asia for the rest of his life, staying mostly at Goa, but also serving the military in the Red Sea and the Gulf.
One quire heavily browned, some other leaves slightly browned, one leaf with a tear, wormholes throughout the foot margin, and the spine slightly rubbed and with a few wormholes, but mostly in good condition. Boxer, The tragic history of the sea 1589-1622; Innocêncio II, p. 155; G.P. Rouffae, "Encyclopaedie-artikelen" in: Bijdragen tot de taal-, land- en volkenkunde LXXXVI, pp. 196-201.
Related Subjects: