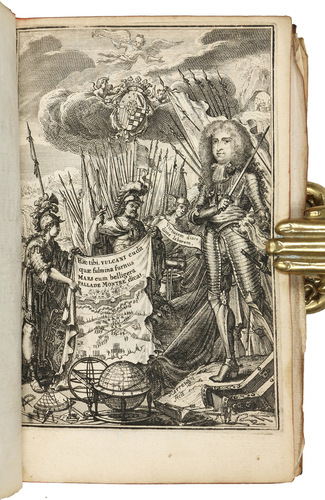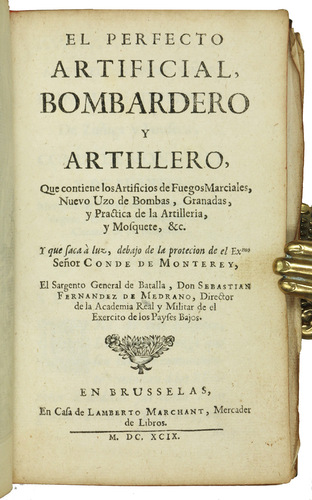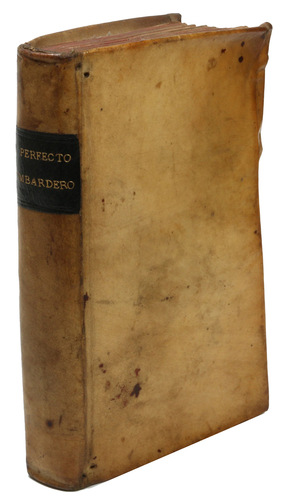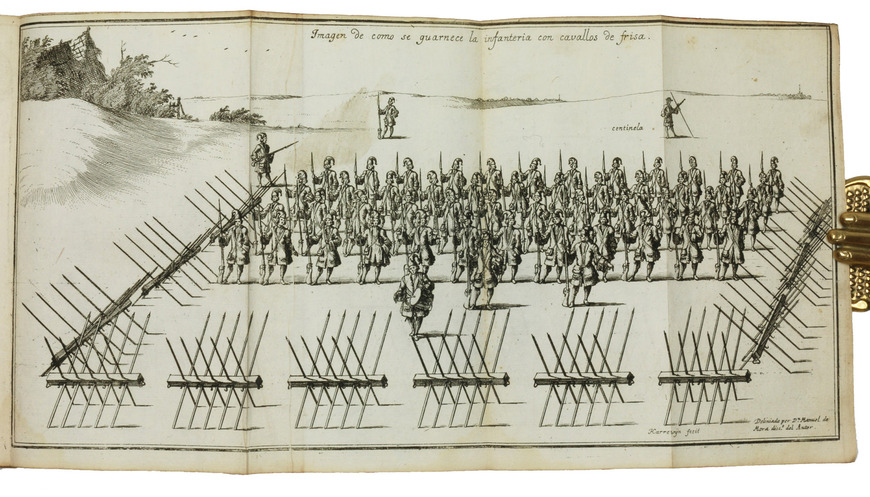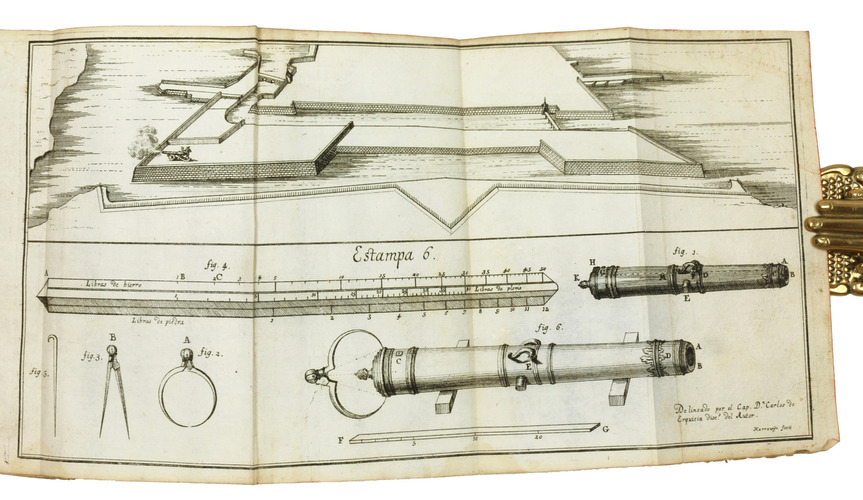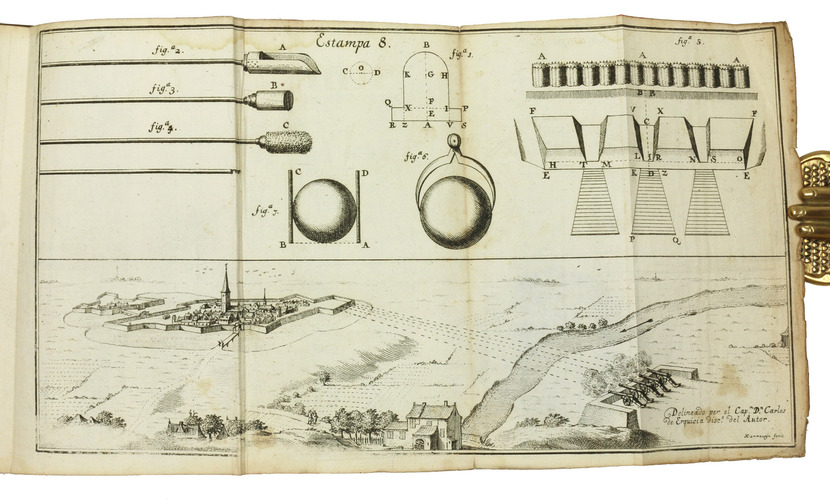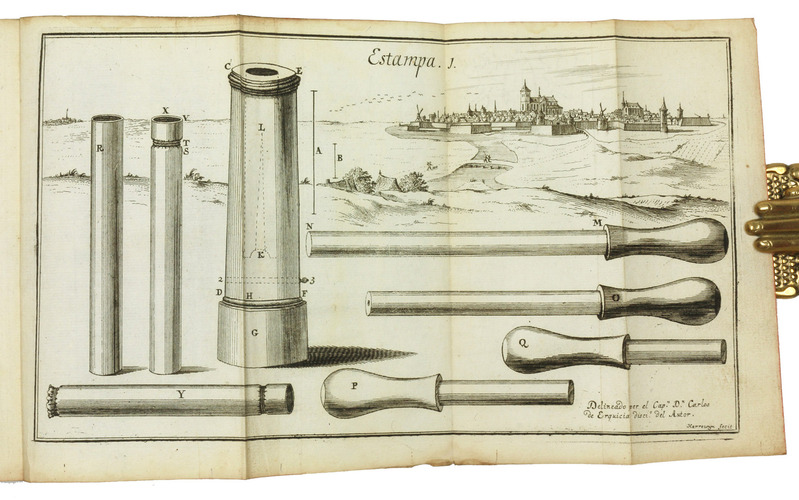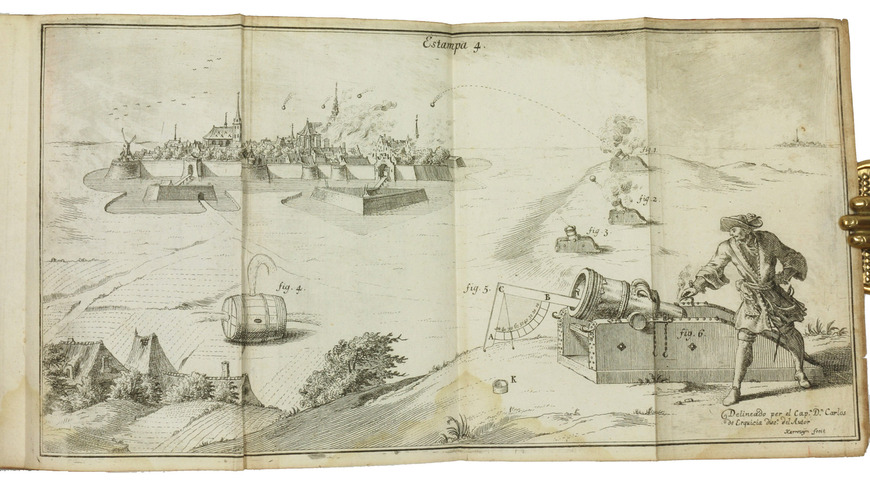 FERNÁNDEZ DE MEDRANO, Sebastián.
El perfecto artificial, bombardero y artillero, que contiene los artificios de fuegos marciales, nuevo uso de bombas, granadas, y practica de la artilleria, y mosquete, &c.
Brussels, Lambert Marcht, 1699. 8vo. With an engraved frontispiece and 9 numbered folding engraved plates. Contemporary vellum with a later black spine label lettered in gold, red edges. [1], [1 blank], [1], [2 blank], [13], "66" [= 196], [4] pp.
€ 2,800
First edition, in the original Spanish, of a rare manual for artillery warfare by the military engineer and general Fernández de Medrano (1646-1705), incorporating material from his 1691 El perfecto bombardero y práctico artillero and his 1680 El prático artillero. The Verdussen printing and publishing office in Antwerp brought out a second and third edition in 1708 and 1723, which are equally rare. The charming plates, drawn by some of de Medrano's students, were engraved by the Dutch artist Jacobus Harrewijn (1660-1727), active in Brussels from 1695 to 1714. They depict ordnance and munitions, as well as towns under heavy artillery fire.
Late 18th-century owners inscription by the artillery officer António Henrique Banazol de Ataíde e Campos on the half-title. Later in the famous Ashburnham library assembled by Bertram Ashburnham, 4th Earl of Ashburnham (1797-1878), with his purple ink shelfmark ("26.E") and note "Catal. M 1859" on the inside of the front board. The collection was dispersed by the 5th Earl and this book acquired by Thomas Fremantle, 3rd Baron Cottesloe (1862-1956), commander of the Territorial Army and president of the Society for Army History Research (purchased from Pickering & Chatto, 25 August 1899), with his armorial bookplate pasted on the front paste-down. Boards slightly bowed. Minor marginal tears in plates professionally repaired. The paste-downs have lifted from the boards, and an early owner has used the underside of that at the back to make a pencil sketch of a church. Palau 89222; Peeters Fontainas 449 (3 copies); STCV 12912060 (1 copy).
Related Subjects: