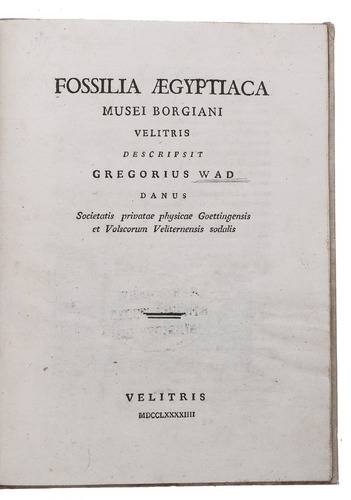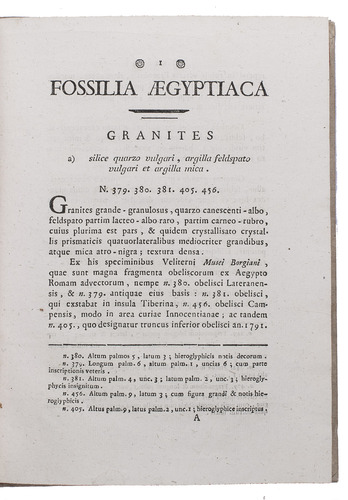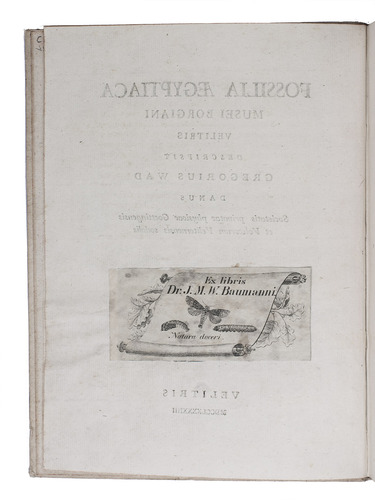 WAD, Gregers.
Fossilia Aegyptiaca Musei Borgiani Velitris.
Velletri, 1794. 4to. Contemporary boards. VIII, 32 pp.
€ 3,250
First and only edition of a catalogue describing the ancient artefacts, fossils and minerals contained in the immense Egyptian collection of cardinal Stefano Borgia, in Rome and Velletri. The core of the collection was assembled in the early part of the 17th century by cardinal Scipione Borghese, and was later expanded by cardinal Borgia through his office as secretary of the Congregation for the Propagation of the Faith and financed by the sale of his jewels and his yacht.
While the main part of the collection is described by the Danish mineralogist and zoologist Gregers Wad, the descriptions of items with hieroglyphs and art (primarily gems) are by the Danish archaeologist Jörgen Zoëga.
With the lovely near-contemporary engraved bookplate of Joachim Moritz Wilhelm Baumann on the back of the title-page, covering a library stamp, and an early presentation inscription to Joan D. Schaeffer on pastedown. In very good condition. Boards slightly soiled. Curtis Schuh's Bibl. of Mineralogy, Wad 1 (www.minrec.org); Ibrahim-Hilmy II, p. 314; Murray II, p. 129; not in Sinkankas.
Related Subjects: