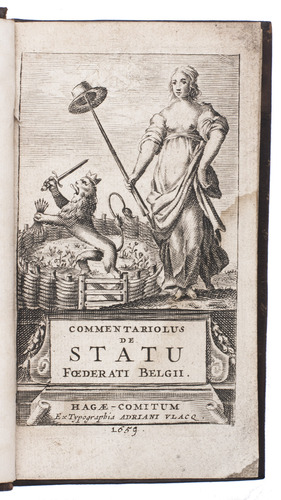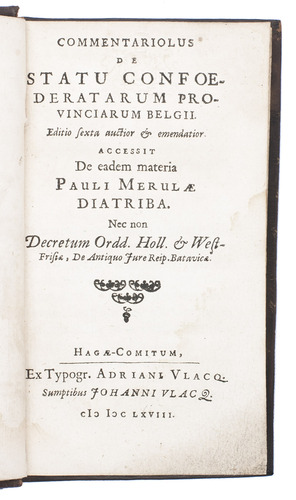 [BOXHORN, Marcus Zuerius].
Commentariolus de statu confoederatarum provinciarum Belgii. Editio sexta auctior & emendatior. Accessit de eadem materia Pauli Merulae Diatriba. Nec non Decretum Ordd. Holl. & West-Frisiae, De antiquo iure Reip. Batavicae.
The Hague, Adriaan Vlacq for Johannes Vlacq, 1668. 12mo. Contemporary calf, gold-tooled spine, boards and board edges, gilt edges. [12], 202 pp.
€ 850
Sixth, enlarged edition of a treatise on the legal and political status of the Dutch Republic. Addressing the main political issues of the republic in the 17th century, the book provides a summary of the constitution of the Republic, discussing provincial sovereignty, the separation of church and state, international relationships, economics and the position of the stadholder. Other topics it deals with are the Union of Utrecht, the army, finances, and foreign relations during the Eighty-Years War, but also economy, such as taxes and the Dutch East India Company (pp. 117-39). On p. 135, for example, is a passage discussing slavery, and the employment of slaves on sugar plantations in Brazil. The work is of eminent importance for giving the crucial texts of treaties, instructions for high officials, oaths, etc.
With the bookplate of the Earl of Macclesfield and his embossed library stamp on frontispiece and title-page. A waterstain throughout the first half, some leaves soiled. A fair copy. Hinges partly cracked and spine a bit rubbed, but the binding otherwise good. Cf. Klashorst, Blom & Haitsma Mulier, 154; NNBW VI, cols. 178-180.
Related Subjects: