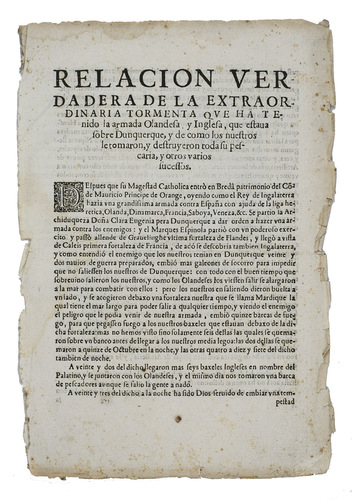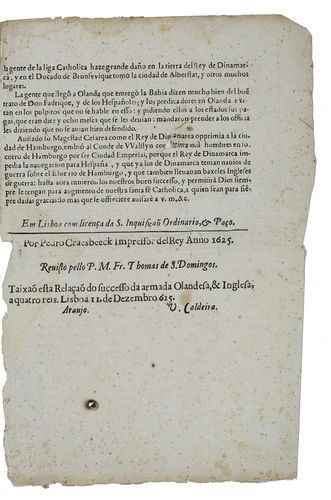 [CÁDIZ EXPEDITION].
Relacion verdadera de la extraordinaria tormenta que ha tenido la armade Olandesa, y Inglesa, que estava sobre Dunquerque, y de como los nuestros le tomaron, y destruyeron toda su pescaria, y otros varios successos.
Lisbon, Pedro Craesbeeck, 1625. Folio. Not bound. [3], [1 blank] pp.
€ 2,000
Rare Spanish propagandistic news publication emphasizing the success of the Spanish fleet against the English and Dutch during the Anglo-Spanish and Eighty Years' War, discussing the heavy losses of the Anglo-Dutch fleet on their way to Cádiz in 1625. In 1624, negotiations for the marriage between Charles, Prince of Wales, son of King James I, and the Spanish infanta Maria, sister of Philip IV, broke down and war broke out because the Spanish court could not accept a marriage as long as Charles refused to convert to Catholicism. In 1625, the English prepared a fleet to sail to Spain, more specifically Cádiz, an important trading port of the Spanish silver fleet.
In October 1625, approximately 100 ships, including 15 Dutch warships, sailed for Cádiz. Soon the ships were plagued with difficulties, especially storms. Many ships were left barely seaworthy and it caused major delays. On 1 November 1625 fleet entered the Bay of Cádiz, but in the end, the mission failed.
The present publication can be seen as Spanish propaganda presented as "news", emphasizing their victories. While sailing to Cádiz, the Anglo-Dutch fleet came in heavy weather near Dunkirk. The text describes in great detail how ships went down or how they were captured, but also the drowning of many people on board. The present publication in Spanish was printed in Lisbon, in 1625 still under the rule of the Spanish monarchs (the Crown of Portugal was united with the Crowns of Castile and Aragon from 1580 to 1640). It is an outstanding example of the Spanish annus mirabilis, praising the Spanish victories during the wars with England and the Dutch Republic.
Edges frayed and slightly browned, with a few spots, the two leaves nearly separated at the fold, some minor foxing and a small jagged tear in the second leaf with minor loss of text. Otherwise in good condition. A rare piece of news and propaganda on the successes of the Spanish fleet against the Dutch and English ships. Ensayo de bibliografía marítima Española 2467; Palau 257848; Pohler, Bibliotheca Historico-Militaris, p. 246; USTC 5025988 (9 copies); Wilkinson & Lorenzo (eds.), Iberian Books 55774; WorldCat (1 copy? noting no place of publication or publishers name).
Related Subjects: