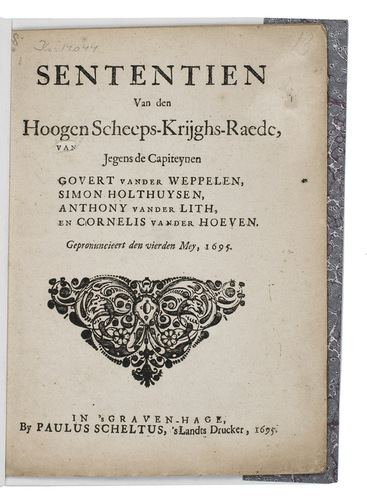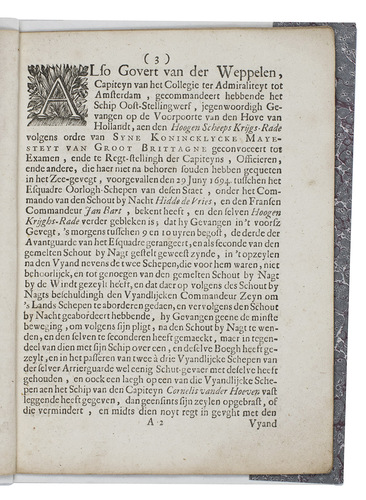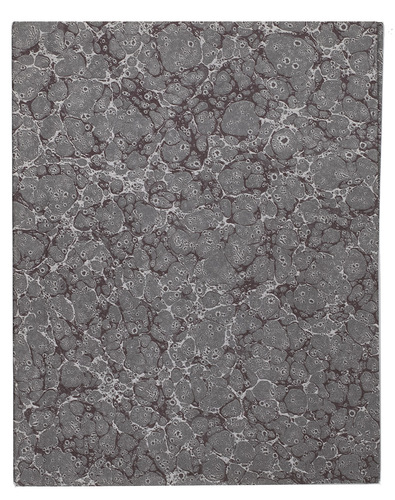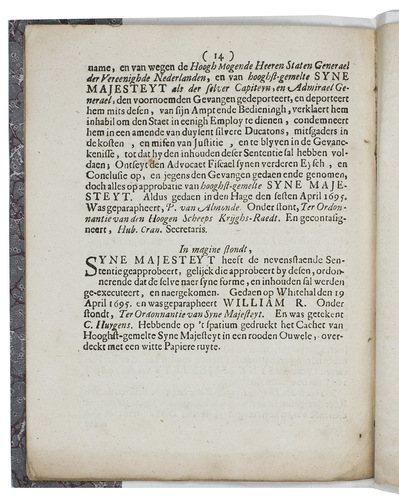 [MARITIME HISTORY - PIRACY - BATTLE OF TEXEL].
Sententien van den hoogen scheeps-krijghs-raede, jegens de capiteynen Govert vander Weppelen, Simon Holthuysen, Anthony vander Lith en Cornelis vander Hoeven. Gepronuncieert den vierden Mey, 1695.
The Hague, Paulus Scheltus, 1695. 4to. With woodcut vignette and woodcut initials. Modern grey and purple marbled paper wrappers. 14, [2 blank] pp.
€ 850
First and only edition of this pamphlet, discussing the condemnation of 4 Dutch captains for their cowardly conduct in the Battle of Texel on 29 June 1694 against the French privateer Jan Baert (1650-1702). They are Govert van der Weppelen, Simon Holthuysen, Anthony van der Lith and Cornelis van der Hoeven. All four were removed from their functions and sentenced to a thousand silver ducatons fine, including imprisonment until they payed this fine. All four charges and sentences are described in this pamphlet.
The Battle of Texel took place during the Nine Years' War and was a sea battle fought at night between a small group of Dunkirk privateer ships commanded by the pirate Jan Baert and a group of Dutch warships, commanded by the rear admiral Hidde Sjoerds de Vries (1645-1694). Since there was famine in France due to a shortage of grain and therefore high grain prices, Jan Baert was ordered to sail to Norway and bring a convoy of 120 grain ships back to France. However, this convoy, which did not wait for Baert, was immediately captured by the Dutch. Baert searched for the fleet and found it near Texel on June 29. After a fierce battle Baert conquered the fleet, hijacked the grain and also captured Hidde Sjoerds de Vries, who subsequently died in Dunkirk, where the fleet was sailing back to.
With a vertical fold in the front wrapper, with a small hole in the title-page (not affecting the text), very slightly foxed and browned, but overall in good condition. Knuttel 14044; STCN 851209629; Tiele 9358.
Related Subjects: