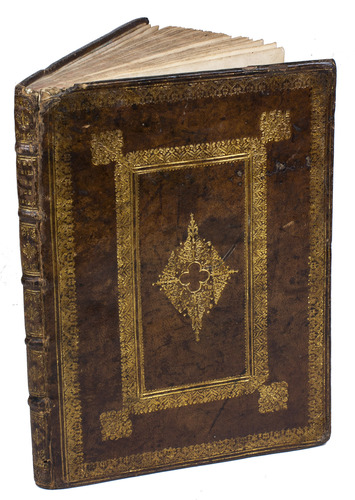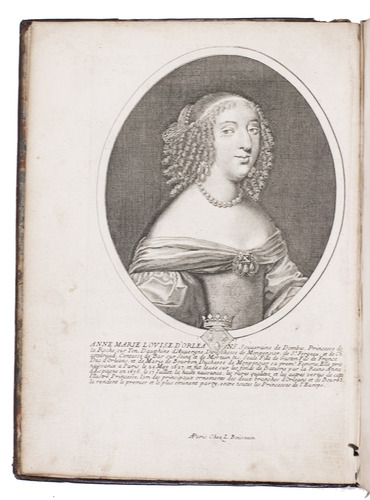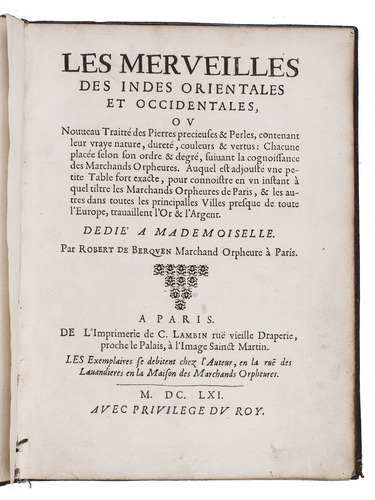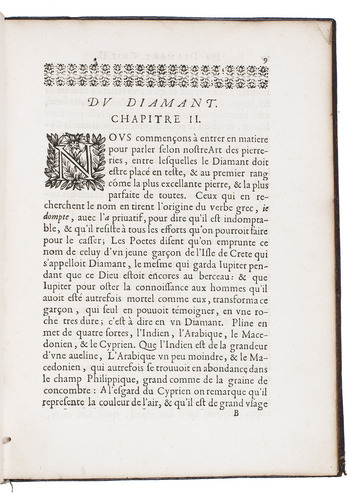 BERQUEN, Robert de.
Les merveilles des Indes Orientales et Occidentales, ou Nouveau traitté des pierres precieuses & perles, ...
Paris, Christophe Lambin, 1661. 4to. With an engraved portrait of Anne Marie Louise d'Orleans facing the dedication. Contemporary gold-tooled, tanned sheepskin, gold-tooled sides. [12], 112 pp.
€ 25,000
First edition, first issue, of a rare work on precious stones and pearls found in what the title calls the East and West Indies (but including the Gulf region), written by a Paris "marchand orphevre". It is most important for the author's new information on diamonds, pearls and pearl fishing, this last with considerable detail on the various pearl fishing sites in the Gulf. The book is dedicated to Anne Marie Louise d'Orléans, Duchess of Montpensier and first cousin of Louis XIV. The extensive chapter devoted to pearls and pearl fishing notes the Persian Gulf as the most important source and names specific sites: "on pesche les perles en divers endroits du monde. Dans le Golfe Persique, principalement aux environs de l'Isle d'Ormus [= Hormuz] & Bassora [= Basra]: aupres de Baroyn [= Bahrain][,] Catiffa [= Qatif], Juffa [or Jafu?], Camaron [= Gamron/Bandar Abbas], & autres lieux de ce Golfe ..." (p. 74). "Very early, and important treatise on gemstones, gold & silver, ..." (Sinkankas).
With marginal worm holes mostly at the head but slightly affecting the running head or first line of text in a few leaves, occasional marginal water stains, but otherwise in very good condition. Hinge slightly damaged, a few small worm holes and small tears in the spine and a few scrapes and scratches, but otherwise good. First edition of an important work on gems and pearls, especially interesting for pearl fishing in the Gulf, in an attractive French binding. Alden & Landis 661/14 (7 copies, some possibly 2nd issue); GSabin 4957; Sinkankas 592 note.
Related Subjects: