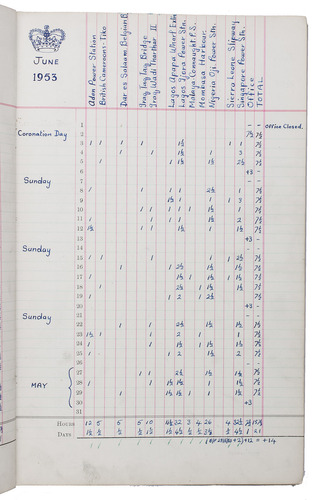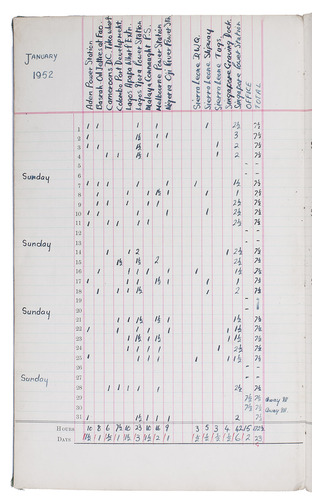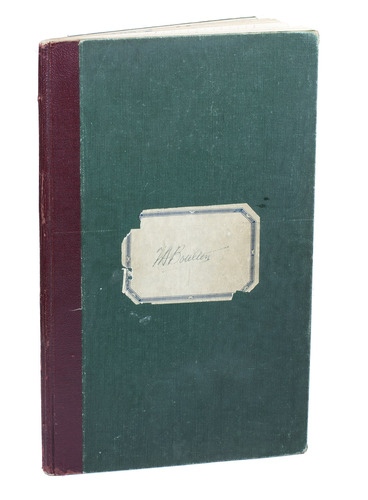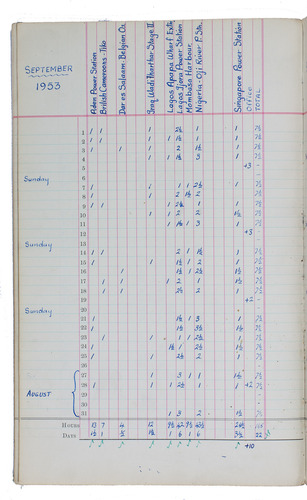 BOULTEN, F.A.
[Manuscript ledger recording the time spent working on infrastructural projects].
[London?,] 1952-1955. Folio. Lined journal, each page ruled for monthly tallies, with some extra annotations. Contemporary cloth. [48] pp.
€ 1,250
Manuscript ledger recording the work hours of F.A. Boulten, from 1952 to 1955. Although Boulten's specific field of work, or even the company he worked for, is not stated, he worked on engineering and infrastructure projects in the British colonies, the Commonwealth and other states in Britain's sphere of influence (most notably Iraq). Each day he devoted 1 to 3.5 hours to multiple power plants, oil terminals, bridges, dams and harbours. As Boulten worked on most of the projects before construction had started, it is probable that his firm was related to the initial financing of the project. A probable suspect for the latter is the Colonial Development Corporation, founded by Great-Britain after World War II for the economic development of its colonial territories. The CDC provided loans for many of the projects mentioned in the ledger. These projects include: the power stations of Aden, Melbourne and Singapore, the oil jetties at Al-Faw near Basra, the harbours of Sierra Leone, Lagos and Mombasa and in Iraq the Adhamiyah Bridge, Darbandikha Dam, Taq Taq Bridge, Lake Tharthar and the Mujarah Canal.
Boulten worked 7.5 hours, five days in a week and mentions the days the office was closed, Bank Holidays, sick leave and days off, including one to have an X-ray taken. One of his off days was 2 June 1953, Coronation Day, and he drew a crown above the name of the month. On 15 February 1952 he marked the funeral of King George VI, but spent the day at the office.
Binding worn at the extremities; slightly thumbed; in very good condition.
Related Subjects: