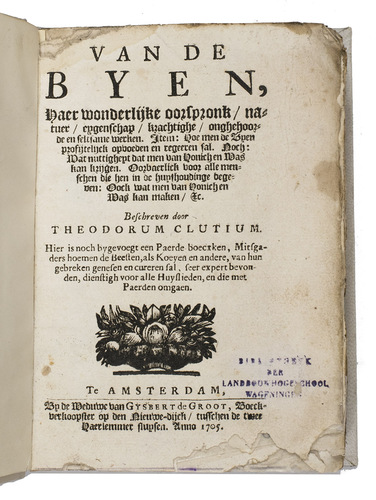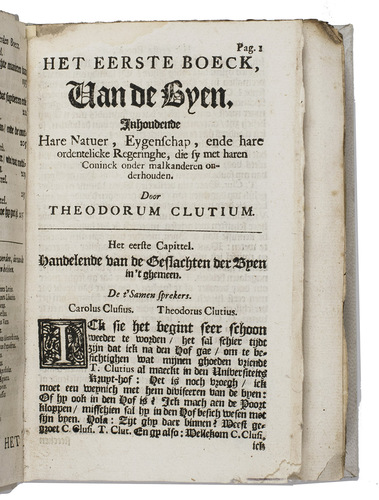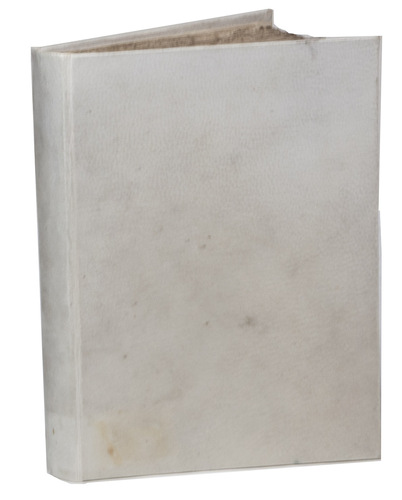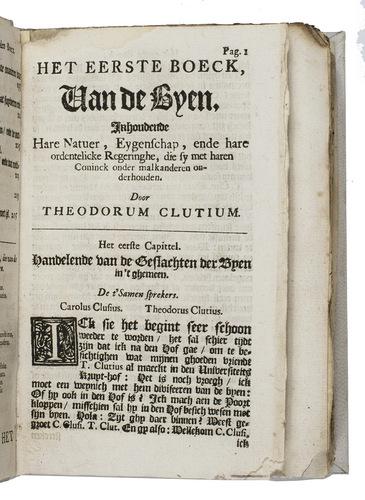 CLUTIUS, Theodorus (Dirk Outgaertsz CLUYT).
Van de byen, haer wonderlijke oorspronk, natuur, eygenschap ... Item hoe men de byen profijtelijck opvoeden en regeeren sal. Noch: Wat nuttigheyt dat men van honnich en was kan krijgen ...Including: (2) Meesterye voor de paarden, om te weten alle de secreten, alsoo men die gebruyckt by den maerschalk des keysers ende eertz-hertogen keyser Carolus de vijfde. ...
Amsterdam, widow of Gysbert de Groot, 1705. 2 works in 1. 8vo. Modern vellum over boards. [12], 218, [22]; [42] pp.
€ 1,800
Sixth edition of a treatise, in form of a dialogue between Carolus Clusius and Theodorus Clutius, (based on their correspondence) on bees, beeswax and apiculture, edited by Clutius for the first time in 1597, followed by editions in 1619, 1627, 1648, 1653 and 1705.
Theodorus Clutius (1546-1598) was a pharmacist in Haarlem, later in Delft where he managed a famous pharmacy and where he was William of Oranges court pharmacist. In 1593 he was asked by the Leiden University to lay out, in concert with Prof. Carolus Clusius, the first Hortus botanicus (Cruyt-tuin) in the Netherlands. Carolus Clusius (1526-1609), a physician and botanist from the Sothern Netherlands was appointed professor of botany at the Leiden University in 1593 where he also managed the Hortus botanicus together with Clutius.The added Paerde-boecxken (Book on horses, cows and other animals and the treatment of and medicines for their diseases) has a separate title-page with a note, stating that the book was written by the maerschalck (marechal, master of the horses) of Emperor Charles V at Brussels in 1547 (apparently in German) and translated into Dutch by D.W.C. The book consists of three parts: (1): Notabel boecxken van de meesteryen der paerden, alsoomen die dagelijcks gebruyckt ... (pp. (3-27); (2): Het tweede Mester-boeck van de paerden, daer in begrepen worden veel nutbare saken voor de gene dei met de paerden omme-gaan. (pp. 27-35); and (3): Volght een noodig boecxken, voor de gene die met koeyen en diegelijck nutbare beesten haer generen... (pp. 35-42).
With the library stamp of the Landbouw Hogeschool Wageningen on the title-page. Paper edges frayed (especially the first quire, partly repaired), some marginal soiling and staining (especially the last quires), otherwise an untrimmed copy in good condition. Ad 1: H. Bosman-Jelgersma, "Clusius en Clutius", in: P. Nijs & C. de Backer eds., Recente bijdragen tot de gesch. v.d. farmacie (1981), pp. 41-45; cf. Typ. Bat., 11892 (1st ed.). Ad 2: not in Mennessier; Podeschi.
Related Subjects: