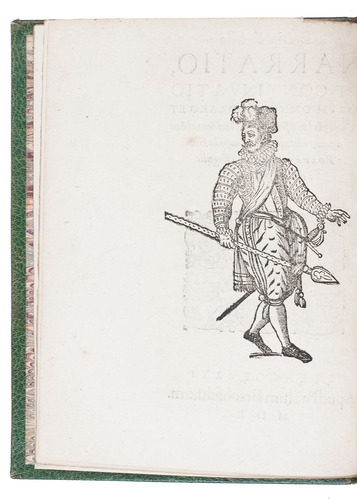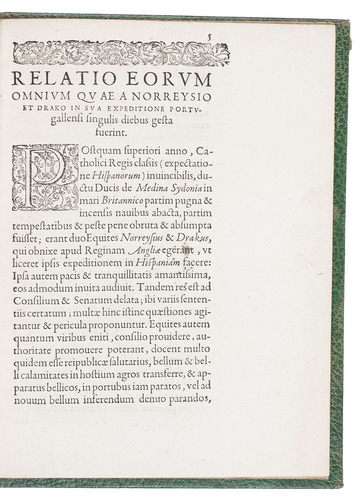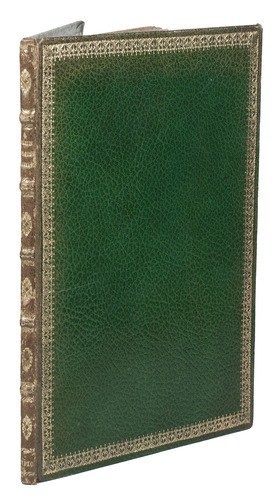 DRAKE, Francis (subject).
Brevis & fida narratio, et continuatio rerum omnium a Drako et Norreysio (post ex Occidentalibus Insulis, reditum) in sua expeditione Portugallensi singulis diebus gestarum.
Frankfurt am Main, Paul Brachfeldt, 1590. 4to. With the woodcut arms on the title-page, the upper related to that of Queen Elizabeth of England and the lower that of King Philip I of Portugal (Philip II of Spain), each supported by putti, a full-page woodcut standing soldier with sword and spear, perhaps intended as Francis Drake. Gold-tooled green morocco (2nd half of 19th century). [2], 29, [1 blank] pp.
€ 15,000
Second edition (the first published outside England), in the original Latin, of a news/propaganda booklet reporting on Sir Francis Drake and Sir John Norris's failed 1589 attack on Portugal, first published in London as Ephemeris expeditionis Norreysii & Draki in Lusitaniam in 1589. They had intended to destroy what was left of the Spanish Armada in northern Spain after the English and Dutch (with help from a storm) sank most of it in 1588, then invade Lisbon where King Philip I of Portugal (who was also King Philip II of Spain) was to be dethroned. They would then take the Azores. Although they succeeded in destroying some remnants of the Armada, they failed to raise a rebellion against Philip in Lisbon and returned home disgraced by the debacle. "One of the most important original sources for the history of the Drake-Norris attack ...; it has never been translated into English ... Historians of the era have generally overlooked it." (Kraus).
In very good condition, with only very slight browning and an occasional minor spot. The binding shows a few minor scuff marks and a faded spine, but it is also very good. A rare news book chronicling Francis Drake and John Norris's abortive attempt to unseat the King of Spain and Portugal. Beers Quinn, Sir Francis Drake as seen by his contemporaries, pp. 45-46 note; Sabin 10123 note; VD16, B8229; cf. Kraus, Sir Francis Drake 25, 25a & p. 161.
Related Subjects: