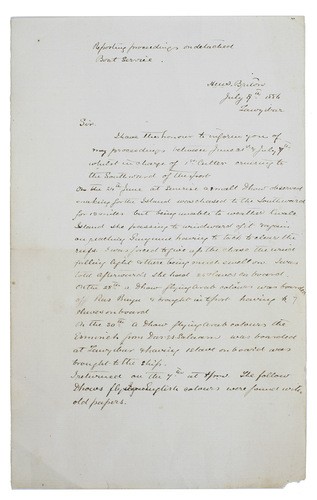 LLOYD, Rodney Maclaine.
Reporting proceedings on detached boat service.
Zanzibar, 9 July 1886. Folio (ca. 20 x 32 cm), with the Britannia watermark. Signed manuscript letter. Loose single sheet. [1] pp.
€ 3,500
Handwritten eye witness account of British chasing Arab slavers at sea near Kwale and Pungume Islands at Zanzibar (Tanzania), for the purpose of suppressing the African slave trade. Written onboard the HMS Briton by Royal Navy Admiral Rodney Maclaine Lloyd (1841-1911) of Thornbury, Gloucestershire. From 21 March 1884 to 14 July 1887 he commanded HMS Briton and worked at suppressing the African slave trade, spending much time patrolling around Zanzibar. In the present manuscript he reports on specific events in attempting to suppress the ongoing slave trade at Zanzibar, revealing also the skill and agility of Arab navigators to ply the waters even in winds and turbulent waters. He further mentions Arab dhows being disguised by flying British flags. He gives details on the amount of slaves: "On the 28th a Dhow flying Arab colours was boarded off Ras Buyu & brought in to port having 7 slaves on board." and "On the 30th a Dhow flying Arab colours the Emineh from Dar-es-Salaam was boarded at Zanzibar & having 1 slave on board was brought to the ship." The text ends abruptly without naming the Arab vessels as the final sentence suggests would do.
The Zanzibar slave market was closed on 5 June 1873, but slave trading continued in East Africa until well into the 1880s, as is described in the present document. In 1907 slavery was finally abolished entirely in Zanzibar and Pemba.
Some creasing and age-toning primarily at extremities, otherwise in very good condition.
Related Subjects: